California Boat Donations
Donate Your Vehicle and Save Lives!
Join the Fight against Breast Cancer By Participating in California Boat Donations
Take an extra mile in making breast cancer patients feel loved by giving your unwanted boat away through our California boat donations program. Even a simple act of kindness can do a lot in the lives of people who are battling this dreadful disease. We at Breast Cancer Car Donations, together with the nonprofit organizations that we are in partnership with, are helping provide free and accessible breast health services to all individuals, regardless of gender, race and socio-economic background, across the United States.
The Impact that Breast Cancer Makes on Those It Touches
Being diagnosed with breast cancer is one of the scariest things that can happen to anyone. According to breastcancer.org, it's the most commonly diagnosed disease in women in the United States next to skin cancer.
The sad fact is that every woman has a 12.4 percent chance of developing the disease in her entire lifetime. It's been projected that in 2018, an estimated number of 266,120 breast cancer cases will be diagnosed and 40,920 women are expected to die from it.
Breast Cancer Treatment is Costly
One of the biggest problems that every family faces when one of its members is diagnosed with breast cancer is the financial strain. Even insured individuals eventually find it difficult to keep up with the treatment costs. How much more for those who are uninsured?
According to the American Cancer Society Survey, this is the reason why a lot of women diagnosed with breast cancer cut down on their prescriptions, stop going to doctor's appointments and discontinue their treatments. Moreover, the survey also showed that one in eight patients has declared bankruptcy before treatment could be finished.
We can, however, help these women in their battle against breast cancer. The very purpose of California boat donations is to generate funds that will go directly to our nonprofit partners so that they can focus on saving the lives of the individuals in California who are suffering from breast cancer. The services that will be provided for them are the following:
Women empowerment programs that offer women with words of encouragement that would help them get through this difficult trial;
Financial assistance for the early detection, medicines, lab tests, as well as treatment;
Educating the public on the importance of the preventive measures as well as the early detection of breast cancer; and
Providing funds for the continued research for an improved breast cancer treatment that will hopefully lead to the discovery of the ultimate cure for the disease.
How California Boat Donations Work
For our generous donors to experience a quick and hassle-free donation, Breast Cancer Car Donations has broken down the process into three easy steps. To start your California boat donations process, you'll only need to follow these three steps:
We'll need some of your personal contact details as well as bits of your boat's information such as its make and model, year, and location. It will only take a few minutes of your time — 10 minutes tops.
Let us pick up your vehicle.
After verifying the information you gave us, we'll call you to schedule a date, time, and place for your vessel's pickup. A professional towing company will pick up your boat at no cost to you because Breast Cancer Car Donations will shoulder all towing expenses!
A towing receipt that will release you from any liabilities from there on will be handed to you on the day of pickup. You can also use this when you cancel your boat's insurance and registration.
Since we partner with IRS-certified 501 (c)(3) nonprofit organizations, your car donation qualifies you for a tax deduction. Within 30 days after the sale of your boat at the auction, your tax-deductible sales receipt will be sent to your address. The receipt shows the final selling price of your car, which will also be the basis for tax deduction you are entitled to claim when you file your itemized federal income tax return for the next tax season.
The Perks of Participating in California Boat Donations
Donating to charity doesn't only benefit breast cancer patients because you'll have your own share of benefits as well! Here are some of the perks you'll get to enjoy when you decide to give your boat to Breast Cancer Car Donations:
Our donation process is easy and straightforward. Just one phone call and you're done!
Our services are free. You won't have to spend a single dime.
You'll receive a huge tax deduction.
You can cut off your boat's registration and insurance and stop paying for your boat's costly maintenance and storage.
You'll get to avoid the hassle of listing, showing, and negotiating with strangers for the sale of your boat.
You'll get to savor the joy of knowing that your boat donation will save the lives of thousands of breast cancer patients.
Let's Bring the Breast Cancer Numbers Down in California!
Help save the lives of thousands of breast cancer patients by joining California boat donations. Your donation will make life easier for them as they fight their biggest battle. Give your boat away by contacting us at 866-540-5069 today!
Donate Car to California Breast Cancer Nonprofits Today!
Looking for more information about donating in a particular area of California? Click on one of the cities closest to you from the list below.
or Call Us Now at 866-540-5069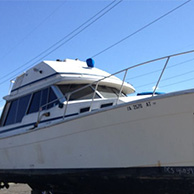 Excellent customer service!