Ready to Help Save Lives?It's Fast & Easy! Fill Out

the form or call 866-540-5069

Schedule

your fast, free vehicle pickup

Receive

your IRS tax deductible receipt
3 Reasons

to Donate Your Vehicle
You Help Save Lives

Your Contribution is Tax Deductible

Your Vehicle is Picked Up at No Cost to You
What Kind of Vehicles Can You Donate?
You can donate almost any vehicle, in any condition, from anywhere in the U.S.
Help Save Lives
CALL NOW
866-540-5069
Making A Difference With Breast Cancer Car Donations
Does your old vehicle cost more to maintain and insure than it's worth? Is your old car or truck no longer running, but you don't want to pay to have it towed? Is it time for your business to get older fleet vehicles off the road? Are you interested in making a donation to the battle against breast cancer?
If you answered "yes" to any of the above questions, get in touch with us at Breast Cancer Car Donations. If you are looking for a car donation foundation, we can accept your vehicle donations for the fight against cancer quickly and easily. There are many advantages to giving a vehicle to a nonprofit car donations organization. You empower charities such as with your car donation, for one thing. You also become part of the effort to help save lives, you may qualify for a tax deduction, and the entire process is fast and convenient.
How to Donate a Car for Charity
When you choose to provide a breast cancer vehicle donations, we'll handle everything so you don't have to worry about a single detail. Here's a brief rundown of how this convenient process works:
After you contact us, you don't even have to take your vehicle to a car donation center — we arrange a time to pick up your vehicle. Then, in most cases, we auction it to generate funds. Whether you donate a car, truck, boat, RV, or other vehicle, we take the proceeds of all breast cancer auto donations and invest them in the fight against breast cancer. You get rid of an unwanted vehicle at no cost to you, potentially enjoy a tax deduction, and have the satisfaction of knowing your gift will help save lives.
Why Donate to Breast Cancer Car Donations
When you decide to give away a vehicle, one of the best ways to make a difference is through Breast Cancer Car Donations. Standing out among car donation programs for nonprofits, we are committed to ensuring that your donation makes the biggest possible impact in the battle against this disease.
That's why we carefully choose well-known nonprofits that are committed to working to prevent, diagnose, treat, and cure breast cancer. By partnering with us, your car, truck or other vehicle provides support for these organizations, quickly and conveniently. Be a part of the life-saving mission of fighting breast cancer. We make it incredibly easy for you to do!
It is possible to make a difference in your community as well as the lives of breast cancer patients. We encourage those with old or unused vehicles to donate them to Breast Cancer Car Donations to support breast cancer health programs. We'll take your contribution and auction it off to raise funds for our charity partners. These organizations provide breast cancer screening, prevention and education services, and medical facilities to beneficiaries.
When it comes to making car donations for breast cancer, we accept all types of vehicles, including trucks, RVs and boats. Rest assured the donation process is easy; we even provide free pickup and towing services as well as a tax-deductible receipt.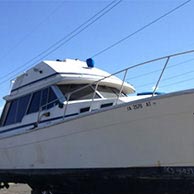 Answered my questions and were able to assist with the title paperwork I needed. Thanks!
Breast Cancer Car Donations operates in all 50 states.
For more information regarding the car donation process in your area, click on your state below!
Breast Cancer Car Donations operates in all 50 states.
For more information regarding the car donation process in your area, click on your state below!