Fleet Vehicle Donations
Make It Your Business to Help Save Lives!
Fleet Car Donations
What does your company or organization do with your fleet vehicles once they reach the end of their service lives? How do you dispose of these now-unwanted assets? Have you considered donating them? Donation of a fleet vehicle eliminates the time-consuming tasks of refurbishing, remarketing and selling your old and/or high-mileage vehicles — and provides a financial benefit as well as the satisfaction of knowing that you're contributing to a good cause.
Breast Cancer Car Donations does all the work for you — from beginning to end. We pick up your corporate vehicle donations at no cost to you, sell them at auction, send you the paperwork and receipts for your tax records, and donate the proceeds to help save lives. It's that simple!
How Fleet Vehicle Donations Can Benefit You
Organizations that donate fleet vehicles instead of reselling them realize a variety of benefits, including:
Financial Gain


Transform your old vehicles from liabilities into valuable assets. When you donate older vehicles, you avoid paying the costs involved in discarding them — we take care of any fees through the proceeds of the sale. Plus, vehicle donation is tax deductible, but be sure to consult your accountant about your specific situation.

Improved Public Image


Giving back to the community is not only good for the charity's recipients — it enhances your reputation as well. Having a good image is good for business; companies that donate generously are more appealing to potential customers than those that don't.

Morale Boost


Employees are proud to work for businesses with corporate giving programs. Donating to programs that your workers care about helps increase employee engagement, and engaged employees are happier and more loyal to their companies.
Accepted Fleet Vehicle Donations
We accept all types of fleet vehicles, regardless of mileage or condition. From commercial truck donations to trailer donations, you can donate any of the following vehicle types:
Donation is Fast and Easy
Breast Cancer Car Donations makes fleet vehicle donation fast, easy and worry-free. After determining which vehicles are ready for donation, take a few minutes to fill out our form or call us with the details. We arrange for free pickup, collect your vehicles, sell them at auction, and send you the paperwork. Please consider donating today to help save lives!
How Does Vehicle Donation Work? Click here.
Questions? Click here.
or Call Us Now at 866-540-5069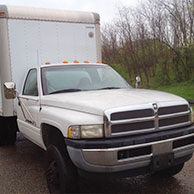 Everything went as planned. Good work!"