Watercraft & Boat Donations Program
Navigate Boat Donation Quickly and Easily!
Charitable Boat Donations
Is your old boat sitting idle at your home, dock or marina? Are you paying high insurance, maintenance or repair fees for a vessel that hasn't been used for ages? Are you thinking about selling your boat, but don't want to endure the hassles of advertising, phone calls, showings, and price negotiations?
Why not simply donate your no-longer-used watercraft? Avoid the headaches associated with selling your boat by giving it to our boat donations program at Breast Cancer Car Donations. We make it quick and easy to donate a boat to charity — by doing all the work and handling all the paperwork for you. What could be easier than that?
Donating a boat to charity is one of the best ways to get rid of an old vessel. Boating can be expensive, especially when you calculate the money that's spent on boat insurance, summer dock fees, winter storage, gas prices, tune-ups and repairs. Boat donation lets you avoid the hassles of selling your vessel. This means you won't have to worry about hiring a boat broker, waiting for offers or haggling with prospective buyers.
When you donate your boat to us, you're making a difference in the lives of many individuals and their families. After we sell your donated watercraft at auction, our partner nonprofits receive the proceeds. Not only are you helping to fight breast cancer, but you're also potentially
Accepted Boat Donations
If you're unsure whether or not we can take your particular boat donations, the odds are we can. Breast Cancer Car Donations accepts most boats in many conditions — whether non-working sailboats or old boat donations. Whether you want to donate a boat and trailer or donate an old boat you never use, get in touch with us. After you call us or fill out the form with details about your boat, we determine whether we can accept your donation. Among the types of boats we accept are:
Boat Donation Locations
Breast Cancer Car Donations accepts boats and watercraft in all 50 states (plus Washington, D.C.) through our boat donations program. Just a few of our most popular areas for boat donations are listed below:
Donation Is Fast and Easy
Through our boat donations program, we make it easy for you to donate your yacht, pontoon boat or other watercraft. We handle all the details, including vessel pickup and sale at auction. After your boat is sold, we mail you a receipt with information for your possible tax deduction. Won't you spend just a few minutes of your time to help us help save lives?
Breast Cancer Car Donations accepts numerous vessels from popular brands such as Bayliner, Bertram, Boston Whaler, Chaparral, Grady-White, Lowe, Ranger, Sea Ray, Wellcraft and Yamaha, among others.
Why Donate to Our Boat Donations Program?
When you're ready to give away a boat, there are many options for where to donate. Breast Cancer Car Donations partners specifically with nonprofits that battle breast cancer. Your watercraft is used for funds that enable early detection and diagnosis of breast cancer, financial assistance for breast cancer screenings, comprehensive breast health services, and more.
Help save lives when you donate a sailboat, yacht, or other watercraft. By giving to our boat donations program, you know you're making a meaningful difference.
How Does Our Boat Donations Process Work? Click here.
Questions? Click here.
or Call Us Now at 866-540-5069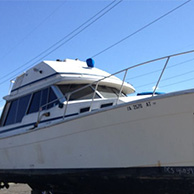 Excellent customer service!