Bass Boat Donations
Donate Your Vehicle and Save Lives!
Turn Breast Cancer Victims into Survivors with a Bass Boat Donation
So, after weeks of contemplation, you've finally decided to ditch your old and creaky bass boat. It's almost close to its dying date, and you definitely don't want to find yourself getting stranded in the middle of the lake because of its malfunctioning engine. Now, the question is, what are you going to do with it?
If you're trying to figure out the simplest way to get rid of it, we have the perfect solution just for you: Turn it over it to us at Breast Cancer Car Donations. We'll convert your dying boat into a life-saving instrument for breast cancer-afflicted individuals in your city!
Our goal is to help breast cancer patients beat the disease. We do this by selling donated seacraft and vehicles and using the proceeds to support 501(c)3 nonprofit organizations that cater to uninsured and underprivileged individuals throughout the country.
Through your bass boat donation, our charity partners will be able to deliver programs and services that intend to achieve these objectives:
Linking patients to cancer facilities that offer comprehensive breast health services;
Providing financial assistance for consultation, outpatient medications, and hospital fees;
Fund breast cancer research;
Spread public awareness on breast cancer detection, screening, and prevention;
Empower patients and their families;
Organize community fundraisers for the benefit of breast cancer patients.
Our Donation Process in 3 Easy Steps
We are delighted to tell you that we offer a donation process that's quick and completely hassle-free. Just reach out to us, tell us that you're donating, and from that point on, you can leave the rest of the job to us! We got your back!
Here's a simple guide to give you a clear idea of what happens when you make a bass boat donation wherever you are in the country:
There are two ways to contact us: Either call us at 866-540-5069 or fill out our online donation form. We'll need basic information regarding your bass boat, such as its year, make and model, length, and running condition. After we confirm all the details you provided, we'll call you back to set a schedule for its pickup and towing.
Get our free pickup service.
You have the privilege to pick a time, date, and place for your boat's pickup. We will coordinate with a local licensed towing company to get the job done. We will issue you a towing receipt before we take your boat. This releases you from all liabilities on your vessel. With this receipt, you can now cancel your boat's registration and insurance coverage.
Receive your tax-deductible receipt.
In not more than 30 days after the auction of your bass boat donation, we'll send you by mail your 100-percent tax-deductible sales receipt. The receipt will indicate your vessel's final selling price, which serves as the basis of your tax deduction claim when you file your itemized federal income tax return in the next tax season.
If you'd like to know more about our donation program, head over to our FAQs page. You may also ask us directly through our toll-free hotline 866-540-5069. We'd love to hear from you.
Tons of Benefits Await You!
Donating your bass boat to us at Breast Cancer Car Donations not only gives you the chance to save lives. It's also a wonderful deed that will bring you plenty of perks to appreciate. For lending a helping hand to breast cancer sufferers in your community, prepare to receive these exciting rewards:
You'll receive a maximized tax deduction.
You get to collaborate with America's top cancer nonprofits.
All paperwork is handled efficiently by our team on your behalf.
You pay nothing for the boat removal.
You skip the hassles and costs of selling an old and rickety vessel yourself.
You stop paying for your watercraft's expensive storage, maintenance, insurance, and upkeep fees.
You experience a sense of fulfillment knowing that your bass boat donation will make a difference in the lives of people needing breast health services.
Other Types of Vehicles You Can Donate
You may already be well aware that we mainly take used cars, and not just bass boats. You should also know that we're open to nearly all sorts and types of vehicles. We even take vehicles and vessels that barely work anymore.
If you have more to donate aside from your bass boat, feel free to hand over to us any of these vehicles:
Yachts, jet skis, sailboats, fishing boats, pontoons
SUVs, sedans, sports cars, convertibles, trucks, vans, minivans
Campers, RVs, motorhomes, trailers, skoolies
Motorbikes, mopeds, cruisers, scooters, dirt bikes
Golf carts, riding lawnmowers, ATVs, snowmobiles, farm equipment
Private planes, choppers, gliders
Talk to us here if you're having some reservations about the vehicle you plan to donate. As long as we see that it's still in a saleable condition, we'll be more than happy to take it from you.
Are You Ready to Be a Local Hero?
There's no better feeling than to take part in a program that helps save human lives. Join us as we continue to restore the health of more breast cancer patients in the country. Make a bass boat donation now by calling us at 866-540-5069 or filling out our online donation form now!
or Call Us Now at 866-540-5069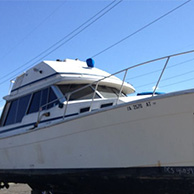 Excellent customer service!