Catamaran Donations
Donate Your Vehicle and Save Lives!
Catamaran Donations: Help Save Lives of Breast Cancer Victims in Your Area
Do you own a catamaran that has remained unused for a long time now? Do you keep on paying for its storage fees as you keep it in a marina or a boatyard or in a storage facility?
Because your boat is bleeding you dry with the sky-high costs of its maintenance, insurance, and storage, you're probably looking for the best way to dispose of it, right? Well, here's the perfect solution: Donate it to us at Breast Cancer Car Donations!
We are an online donation platform that works hand in hand with the nation's leading cancer nonprofit organizations. Our catamaran donations program is one of our various vehicle donation programs. When you donate your catamaran to us, we'll sell it through auction and use the proceeds to support the life-saving programs of our IRS-certified 501(c)3 nonprofit partners. These charities use the funding they receive from us to deliver the following services:
Financial assistance to uninsured and underserved women (covering expenses including oncology consultation and services, outpatient medication, surgery, and hospital bills);
Linking patients to facilities that provide accessible resources and a wide range of breast health services;
Funding ongoing research on breast cancer prevention, screening, diagnosis, and treatment;
Organizing fundraisers and outreach events for the benefit of patients; and
Promoting public awareness on the importance of early screening and diagnostic tests.
Breast Cancer in the United States
Next to skin cancer, breast cancer is the most commonly diagnosed cancer among American women, with about 30 percent of newly diagnosed cancers in 2019 expected to be breast cancer, as reported by Breastcancer.org. Among the estimated cases, 268,600 would be invasive breast cancer while 62,930 would be non-invasive.
Breast cancer continues to rank as the second leading cause of cancer deaths among women in the United States, next to lung cancer. Early this year, it was estimated that 41,760 women would die of the complications resulting from breast cancer.
There were more than 3.1 million American women with a history of breast cancer as of January 2019. This would include those who are currently undergoing treatment.
Fortunately, with today's advanced treatment options and early detection awareness, breast cancer death rates have drastically dropped. However, there are still thousands of breast cancer patients who are in dire need of assistance.
Your catamaran donation will surely help them beat the devastating disease.
Our Quick and Hassle-Free Donation Process
Since we care so much about our donors, we made our catamaran donations process quick and convenient. Not only shall we spare you from the headaches of paperwork, but we'll also gift you with our free pickup and towing service.
Here's an overview of our donation process to convince you further:
1. Tell us that you're ready to donate.
Call us at 866-540-5069 or fill out our online donation form, whichever works best for you. Give us specific details about your catamaran, as well as your personal contact information. After we confirm everything, we'll return your call to set a place, date, and time for your boat's pickup.
2. Part ways with your boat.
We'll collect your catamaran wherever it is located in the country. Expect to receive a donation receipt before we take your boat. The receipt releases you from all liability on your catamaran and serves as an important document for your boat's de-registration and insurance cancellation.
3. Receive your tax-deductible receipt.
Since we're in partnership with IRS-certified 501(c)3 nonprofit organizations, all donations made to us are eligible for tax deductions. This means that your catamaran donation will entitle you to a hefty tax cut. You'll get this privilege when we mail to you your 100-percent tax-deductible sales receipt within 30 days after the sale of your donated vessel.
Got a few concerns you'd like to share? Write to us here or talk to us directly at 866-540-5069. For more information about our vehicle donation program, check out our FAQs page.
Get Ready for These Fantastic Perks!
At Breast Cancer Car Donations, we make sure that our donors don't go home empty-handed. When you participate in our catamaran donations program, you'll be rewarded with tons of great stuff like the following:
Enjoy a maximized tax deduction.
Get your boat hauled off at a date, time, and place that's convenient for you.
No need to stress over mounds of documents since we'll take care of all your paperwork.
Avoid the demanding and lengthy process of selling a second-hand watercraft.
No more financial responsibilities when you stop paying for your catamaran's expensive insurance, maintenance, and storage fees.
Feel great, knowing the significant role your catamaran donation will play in the lives of breast cancer patients in your area.
Other Boats and Vehicles You Can Donate
Aside from catamarans, we at Breast Cancer Car Donations accept other boat and vehicle donations. We take Boston Whalers. bowriders, center consoles, cuddy cabins, Chris Craft boats, fishing boats, tugboats, speedboats, pontoon boats, yachts, cruise ships, and sailboats among others. To find out the other types of vehicles that you can donate to us, browse through our Accepted Vehicles page.
Save Lives with Your Catamaran Donation Now!
Why hold on to a decrepit boat that's been giving you nothing but money woes when you can easily let go of it while at the same time using it to save lives? Call us at 866-540-5069 or fill out our online donation form to make your catamaran donation now!
or Call Us Now at 866-540-5069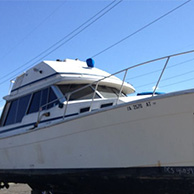 Excellent customer service!