Motorboat Donations
Donate Your Vehicle and Save Lives!
Donate Your Old Motorboat, Save Lives, and Get a Tax Reward!
Your ancient motorboat can go a long way in helping save the lives of breast cancer victims in your community. When you donate it to us at Breast Cancer Car Donations, you'll help increase their odds of beating the devastating disease. At the same time, you'll reap a ton of amazing rewards, one of which is a handsome tax write-off.
Along with our refutable nonprofit organization partners, we are committed to building better lives for all Americans struggling with the disease. We encourage you to donate your unwanted motorboat and some other vehicles that you would also like to dispose of. We will auction them off and use the collected funds to support the life-saving programs and services being delivered by our charity partners.
The proceeds from your motorboat donation will enable us to support your fellow citizens who are fighting for their lives. Beneficiaries will gain easy access to medical facilities where they can undergo full breast cancer treatment, which includes surgery, chemotherapy, and radiation treatment.
Our nonprofit partners also provide breast cancer survivors with follow-up care such as laboratory work, annual mammograms, and physician visits five years after remission. Other beneficiaries receive free breast cancer screening and prevention and education services.
Our Fast and Painless Donation Process
Who says donating a motorboat has got to be complicated? At Breast Cancer Car Donations, there's no such thing as complicated!
You can make your motorboat donation in just a few minutes in the comforts of your home. This is basically how it works:
1. Reach out to us.
You can contact us by either calling us at 866-540-5069 or by filling out our online donation form. Provide us a few basic details about your motorboat, including its length, year, and make and model. Tell us when and where you'd want us to pick it up. We'll then forward the details to an affiliate towing company, which will take care of collecting your boat wherever you're keeping it.
2. We pick up your motorboat.
The tow truck driver will issue you a towing receipt before picking up and towing your boat. The receipt frees you from any liability pertaining to your donation. It also allows you to cancel your boat's registration and insurance coverage. As for the cost of the pickup, it's completely on us!
3. Receive your tax-deductible receipt.
We'll promptly auction off your motorboat. We'll try our best to sell it at its highest possible price, so you can get a maximized tax deduction from it. We'll send you by mail your 100-percent tax-deductible sales receipt two to four weeks following the sale of your motorboat. You can use the receipt to claim your tax deduction when you file your federal tax return in the next tax season.
There you have it! If you're interested to learn more about our donation program, feel free to visit our FAQs page or call us at 866-540-5069.
Get Ready to Receive These Awesome Perks!
At Breast Cancer Car Donations, recipients and givers alike will benefit from motorboat donations. Here's a list of the good stuff you'll get when you donate your motorboat to us:
Support a meaningful cause that will leave you completely satisfied.
Dispose of an unwanted boat with zero hassle.
Take advantage of our free vessel removal service.
No need to deal with paperwork anymore.
Avoid the complications and costs of selling an old and damaged watercraft.
Save money when you stop paying for your boat's insurance, maintenance, marina, and storage fees.
Be a local hero in an instant.
Get the opportunity to collaborate with well-established nonprofits.
What Else Can You Donate?
Another thing you'd love about Breast Cancer Car Donations is the fact that we're not limited to car and motorboat donations. Offer us an old sedan, a minivan, truck, RV, motorcycle, golf cart, snowmobiles, trailer, and scooter – and we'll say "yes" without hesitation! Whatever vehicles you're donating don't even have to be in good shape – we'll gladly take them as they are!
For our watercraft donation program, we normally accept sailboats, catamarans, jet skis, yachts, and pontoon boats. Talk to us here if you're having uncertainties about your vehicle's eligibility. We'll let you know right away what we think.
Team Up with Breast Cancer Car Donations Now!
Touch the hearts of breast cancer patients and their families. Let them know that there is hope with your motorboat donation. Call 866-540-5069 or fill out this donation form to begin.
or Call Us Now at 866-540-5069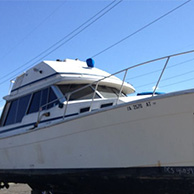 Excellent customer service!