Dinghy Donations: Your Old Boat Can Help Save Lives
Do you think the time has come to finally part ways with your old dinghy after all those years of using it for business or pleasure? How about donating it to support a cause that's going to save lives in your community? Hand it over to us at Breast Cancer Car Donations and you'll be helping needy breast cancer patients overcome their challenges and beat the disease.
We auction off dinghy donations to help fund the vital programs of our breast cancer-focused charity partners. These IRS-certified 501(c)3 nonprofit organizations use the money to deliver comprehensive breast health services to their beneficiaries.
Thanks to your dinghy donation, uninsured and financially challenged individuals in your community will be able to avail themselves of free breast cancer screening tests and treatment, including surgery, radiation therapy, and chemotherapy.
Indeed, you can make a big difference in the lives of breast cancer-afflicted individuals in your community with just a simple act of charity. Your dinghy may be old and worn-out, but it can still do wonders to needy breast cancer sufferers and their families in your locality.
Perks to Enjoy from Your Dinghy Donation
Even as you get to help save human lives, donating your dinghy will also give you tons of benefits. Below are some of the rewards you can expect to receive when you team up with Breast Cancer Car Donations:
Get the maximum tax deduction from your donation.
Avail yourself of our free pickup and towing service wherever you're located in the country.
Enjoy a satisfying donation experience with our quick and convenient process.
No need to do any paperwork.
No need to go through the hassles of selling an old boat.
Save lots of money when you finally stop paying for your dinghy's repairs, maintenance, storage, and insurance.
How Our Donation Process Works
A short phone call lasting for just a few minutes is all it would take to donate your dinghy to Breast Cancer Car Donations. You don't have to do anything else as our team of donation specialists will do all the paperwork for you. As for towing, you can count on us to quickly haul off your boat wherever you have it moored or stored without charging you a single dollar.
To give you a clearer idea of our dinghy donations process, here's a quick guide to our three-step donation process:
Call us at 866-540-5069 or fill out our online donation form. Provide us a few basic details about your dinghy and your personal contact information. We'll call you back in a few hours to arrange a schedule for your boat's pickup and towing. Just tell us when and where we can collect your dinghy. Wherever it is moored or stored, we can pick it up because our donation program covers the entire country.
We pick up and auction off your dinghy.
We'll assign a professional towing company to collect your dinghy. You will then be issued a towing receipt, which you can use to cancel your boat's registration and insurance coverage. We'll then place your dinghy donation up for auction.
Receive your tax-deductible receipt.
Expect your sold dinghy's 100% tax-deductible sales receipt in your mailbox within 30 days following its sale. You will need this receipt to claim your tax deduction when you file your itemized federal tax return in the next tax season.
If you're interested to learn more about our vehicle donation program, head over to our FAQs page. For your inquiries and concerns, don't hesitate to call us at 866-540-5069 or send us a message here.
Types of Dinghies You Can Donate
Breast Cancer Car Donations accepts almost all types of dinghies, including those that are already worn-out. As long as the dinghy you're donating is not an abandoned or stolen one, we'll gladly take it in a snap! Here are the types of dinghies that are acceptable to us:
Classic dinghies
Racing dinghies
High-performance dinghies
Cruiser-racer dinghies
Cruising dinghies
Apart from dinghies, we also accept other types of watercraft, including pontoon boats, catamarans, sailboats, yachts, fishing boats, cruise ships, tugboats, and jet skis.
We also accept motor vehicles and even aircraft. Check this page for the other vehicles that you can donate to us.
If you have reservations about your boat, don't hesitate to tell us here or call us at 866-540-5069. For more information, head over to our FAQs page.
Make a Dinghy Donation Today!
Are you ready to retire your old dinghy and give it a new purpose — that of saving lives? We sure hope so! Call Breast Cancer Car Donations 866-540-5069 or fill out our online donation to donate that dinghy now!
or Call Us Now at 866-540-5069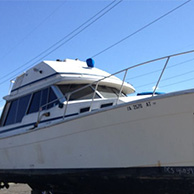 Excellent customer service!