Pontoon Boat Donations: Turn Your Vessel into a Weapon Against Breast Cancer
Are you looking for the best way to bid goodbye to your old pontoon boat? That multi-purpose and high-speed deck boat must have brought you great memories of the time you spent scuba diving and sportfishing with your family and friends.
Now that it has become worn-out and costlier to maintain, you're probably looking at the best option you got. Sell it? Trade it? Simply give it away?
How about using your pontoon boat to help save lives? No, you won't be using it to rescue people stranded in floodwaters. When you donate it to us at Breast Cancer Car Donations, you'll be helping save the lives of destitute breast cancer patients in your area.
How Your Pontoon Boat Will Benefit Breast Cancer Sufferers
Thousands of individuals across the country have no access to breast cancer screening, diagnosis, and treatment. Breast cancer patients with not enough money to cover their medical expenses have pretty slim chances of survival. You can throw them lifelines when you donate that pontoon boat to us!
Once we get hold of your donation, we'll auction it off and use the proceeds to support the life-saving programs of our charity partners. These IRS-certified 501(c)3 nonprofits use the money to sustain their delivery of the following services to their beneficiaries:
Easy access to chemo, radiation, and other forms of treatment for uninsured breast cancer patients;
Financial assistance for breast cancer screening;
Free consultations, labs, and mammogram for five years after remission;
Counseling for breast cancer patients and their families
Breast cancer prevention and education services for the public.
Tons of Benefits Await You as Our Donor
You may be surprised to find out that you stand to gain much when you take part in our pontoon boat donations program. Here's a list of the good stuff that you're going to enjoy once you donate your boat to us:
You'll qualify for a maximum tax deduction in the next tax season.
You get free boat removal service from any location in the country where your pontoon boat is moored or stored.
You won't have to go through all the hassles associated with trying to sell a used boat yourself.
Skip the need to spend your hard-earned money on repairs, maintenance, and storage of a marine vessel that you no longer want.
You don't have to spruce up your old boat to make it look more appealing because we'll take it as it is.
You'll experience a sense of personal satisfaction knowing that your pontoon boat donation can help save lives.
A Donation Process That's 100% Hassle-Free
At Breast Cancer Car Donations, we made our donation process as quick, simple, and convenient as possible for our donors. You can count on us to take care of everything for you.
Here's a quick guide to our pontoon boat donations process:
You may either call us at 866-540-5069 or fill out our online donation form. We'll be asking for certain details about your pontoon boat, including its make and model, length, and running condition, as well as your contact information. We will then set a time and place of your preference for its free towing.
Say goodbye to your boat.
A licensed tow truck will show up at the specified location on the specified date. The driver will issue you a towing receipt before hauling off your boat. The receipt will allow you to terminate your vessel's registration and insurance coverage. If you can't be around at the time of pickup, just let us know beforehand so we can provide you with additional instructions.
Check your mailbox for your tax-deductible receipt.
Within 30 days after we auction off your pontoon boat donation, we'll send you your 100% tax-deductible sales receipt. You'll need this receipt to claim your tax deduction in the next tax season.
For more information about Breast Cancer Car Donations, feel free to visit our FAQs page. If you have questions or concerns, call us at 866-540-5069 or leave us a message here.
Types of Pontoon Boats and Other Vehicles You Can Donate
At Breast Cancer Car Donations, we take in all types of pontoon boats. Our doors are open to these pontoon boat donations:
Family pontoon boats
Luxury pontoon boats
Watersports pontoon boats
Fishing pontoon boats
Value pontoon boats
We also take other types of watercraft, motor vehicles, and even aircraft. For more on this, check out this page.
Another reason to love about Breast Cancer Car Donations is that we accept even vessels and vehicles that are no longer working properly. There's no need to worry about donating a boat that has a few defective parts. We'll gladly accept it with open arms.
Help Us Save Lives with Your Pontoon Boat Donation Today!
If you've always wanted to join in the fight against breast cancer, this is the time to do it. Your old pontoon boat will surely bring much-needed hope and relief to the struggling breast cancer patients in your area. Call Breast Cancer Car Donations at 866-540-5069 or fill out our online donation form now!
or Call Us Now at 866-540-5069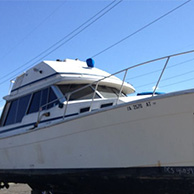 Excellent customer service!