Jet Ski Donations
Donate Your Vehicle and Save Lives!
Tired of Your Jet Ski? Donate it Today!
Owning a Jet Ski can be more of a hassle when you hardly have time to use it. Perhaps you no longer need it and want to get rid of it. The good news is, you can help give a new purpose to your personal watercraft that used to provide you with countless hours of fun.
If you have a soft spot in your heart for individuals who have been diagnosed with breast cancer, consider donating your Jet Ski to Breast Cancer Car Donations to help save the lives of those patients. Finally, you can remove that "donate Jet Ski to charity" item in your to-do list. At the same time, you'd be giving needy breast cancer patients in your area a fighting chance to beat the life-threatening disease.
Why Donate Your Jet Ski to Breast Cancer Car Donations?
What's good about donating a vehicle to Breast Cancer Car Donations is that it does not leave the giver empty-handed. Great rewards await you once you decide to donate your Jet Ski, WaveRunner, or Sea-Doo to Breast Cancer Car Donations. Here are some of them:
You don't have to resell your Jet Ski yourself. You don't have to go through the trouble of putting up "for sale" signs and ads and waiting for an offer from an interested buyer.
You can quickly get that old Jet Ski off your property for free because we'll cover the cost of towing.
You'll free yourself from the responsibilities of maintaining a personal watercraft that you no longer want. You no longer need to pay for your Jet Ski's insurance or to winterize it if you live in an area where the temperature can go below freezing. You will also no longer be forced to ride your Jet Ski at least twice a month to keep the battery from becoming weak.
You'll get to free up much-needed space in your garage to make room for something that you want or need.
You can help breast cancer patients receive financial assistance for treatment without having to donate cash.
You no longer have to worry about doing all the paperwork because our team will handle everything for you.
You'll receive a top tax deduction in the next tax season by way of the tax-deductible receipt that we'll send you by mail following the auction sale of your donated vehicle.
How to Donate Your Jet Ski to Breast Cancer Car Donations
Once we get hold of your Jet Ski, we'll auction it off and use the proceeds from the sale to support our IRS-registered 501(c)3 charity partners in delivering breast health services to deserving individuals. These services are focused on breast cancer prevention, screening, diagnosis, and treatment.
If you're interested in becoming a hero to those whose lives have been touched by breast cancer, here are the three steps you need to follow:
1. Reach out to us.
First, you'll need to tell us a few basic details about yourself and the vehicle you're donating by filling out our online donation form or calling us at 866-540-5069.
2. Schedule your fast and free towing.
As soon as we hear from you, we'll arrange for a licensed towing company to get your Jet Ski off your property at a time and date convenient to you.
3. Receive your tax-deductible receipt.
Once your Jet Ski is sold, we'll have your tax-deductible receipt delivered to your doorstep so that you can use it to claim your tax deduction in the next tax season.
Donate Your Jet Ski to Help Breast Cancer Patients Today!
You can easily become a hero to breast cancer patients in your local area. Call us at 866-540-5069 and donate your Jet Ski or whatever type of vehicle you no longer need to us at Breast Cancer Car Donations now!
or Call Us Now at 866-540-5069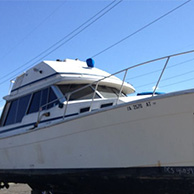 Excellent customer service!