Annapolis, Maryland Boat Donations
Donate Your Vehicle and Save Lives!
Annapolis, Maryland Boat Donations: Be the Source of Hope of Breast Cancer Victims and Their Families
When you take part in our Annapolis, Maryland boat donations program, you will be helping people that are suffering from breast cancer and their families as well. You can be what they have been looking for: a source of hope for surviving the disease and living a normal, happy life once again.
Is your boat just sitting at your backyard dock? Is it no longer being used the way it has been? Is keeping a boat getting expensive and tiring? Don't know what to do about it?
Well, one thing is for sure, nowadays it's really difficult to sell boats knowing how expensive it is to keep one. However, if you really want to get rid of your boat or just simply want to help your fellow citizens with breast cancer, one thing you can do is to donate it to Breast Cancer Car Donations.
With your boat donation, we can make things better for the victims of breast cancer. We will work together to fight this disease that has been terrorizing people for a long time now.
How to Make Annapolis, Maryland Boat Donations
Here at Breast Cancer Car Donations, we make sure that you won't go through a tedious and complicated donation process. Here's a guide to our quick and simple Annapolis, Maryland boat donations process:
Step 1:
You either give us a call at 866-540-5069 or fill out our online donation form. We'll require a few specifics from you like your boat's year, make, model, and length as well as your personal details. After checking the information you gave, we'll arrange for a date and time for your boat's pickup that is most convenient to you.
Step 2:
A tow truck arrives at your location based on the arranged schedule. If you have to be someplace else at that time, no problem. You can just assign somebody to represent you. The towing company we've tasked for the job will give you a tow receipt that releases you from any liabilities on the car you just donated. This means you can now cancel and stop paying for your car's registration and insurance coverage. By the way, the towing of your car is absolutely free!
Step 3:
After your boat gets towed, we will put it up for auction. Once it is bought, the proceeds will go to our breast cancer nonprofit partners that will use the funds to carry out their various breast health programs and services. Within 30 days, you'll receive a 100-percent tax-deductible sales receipt in your mailbox. This will also be your ticket to getting a top tax deduction.
Easy, isn't it? If something is still not clear for you, give us a call and we'll gladly answer all your questions. You may also want to visit our FAQ's page for more details.
Why Donate a Boat?
The main purpose of making a boat donation is to help out breast cancer victims and their families.
The proceeds from the sale of your boat donation will go directly to our breast cancer nonprofit partners. They will use the funding to sustain their various outreach programs that provide vital services to breast cancer victims. Here are some of the services they deliver:
Seeking new ways to enhance methods of prevention, screening, and diagnosis of breast cancer;
Treatment and rehabilitation of breast cancer patients;
Support for breast cancer patients' families;
Financial assistance to uninsured and underserved Americans undergoing breast cancer treatment;
Funding breast cancer treatment research;
Enhancing campaigns for public awareness of the causes, symptoms, prevention, and detection of breast cancer.
We Accept Nearly All Types of Watercraft
When you take part in our Annapolis, Maryland boat donations program, the odds of us accepting your boat are pretty high. It is very rare that we turn down a donation from our donors. The reason? We accept nearly all types of boats—anything you can think of!
We'll accept even a boat that has not been used for many years as long as it still has good enough cash value that we can use to help people dealing with breast cancer.
Here are some of the boats and other watercraft we accept:
Jet skis
Yachts
Motorboats
Sailboats
Fishing boats
Houseboats
Pontoon boats
If you want to know more about other vehicles that you can donate or to see whether your vehicle is eligible for donation, feel free to call us at 866-540-5069.
Rewards for Your Boat Donation
Generally, donating is giving without asking something in return. However, when you work with Breast Cancer Car Donations, you have the opportunity to get some rewards for your boat donation. Let's see some of them:
You don't need to go through an exhausting and demanding process to sell your boat. When you donate it to us, your boat will not cause you anymore problem.
You're now free from any liabilities from your boat like maintenance, insurance, and registration.
You'll enjoy our easy and hassle-free boat donation process.
We'll take care of everything, including all paperwork.
Towing services are completely free.
You'll receive a top tax deduction.
You'll feel happy knowing that you'll be making a difference in the lives of breast cancer patients.
Help Save Lives Now!
Be a role model to your community and help save the lives of many people suffering from breast cancer. Contact us at 866-540-5069 and get started with your Annapolis, Maryland boat donations.
or Call Us Now at 866-540-5069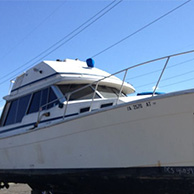 Excellent customer service!