Nevada Boat Donations
Donate Your Vehicle and Save Lives!
Nevada Boat Donations: Help Transform and Rebuild the Lives of Breast Cancer Patients
Do you already find your boat useless? Have you not used it for a long time now and you actually want to get rid of it? A great and simple way for you to dispose of your old boat is to donate it to Breast Cancer Car Donations where we will turn it into something very useful: a financial resource to save lives!
We are here to save, transform, and rebuild the lives of many victims of breast cancer through our Nevada boat donations program. We have partnered with trusted and certified 501(c)(3) nonprofit organizations that will use the proceeds from the sale of your donated vehicle to provide life-saving breast cancer support programs. They are the American Breast Cancer Foundation (ABCF) and Women Involved In Nurturing, Giving, Sharing, Inc. (WINGS).
'How Will My Boat Donation Be Used?'
When you participate in our Nevada boat donations program you will be providing our nonprofit partners the needed funds to pursue their mission to save the lives of breast cancer patients. They will use the funding to achieve the following objectives:
Help uninsured individuals gain access to breast cancer screening, diagnosis, and treatment;
Provide financial assistance to breast cancer patients, survivors, and their families;
Fund research on more effective breast cancer treatment;
Boost information campaign to educate the public on the causes, prevention, and detection of breast cancer.
How Bad Has Breast Cancer Become?
Based on its 2018 report, the American Cancer Society estimates that this year, the United States will see 268,670 new cases of breast cancer, with the disease claiming the lives of 41,400 men and women.
Breast cancer is considered as the most frequently diagnosed cancer among women next to skin cancers. In fact, experts say one in eight women in the U.S. will develop invasive breast cancer over the course of her lifetime.
Breast cancer is recognized as the second leading cause of cancer deaths in women after lung cancer. The disease attacks women mostly, but some men also contract the disease.
If we don't do something, these numbers will likely get higher and higher. However, there is still a good chance for survival, especially if the breast cancer is detected early and treatment is done quickly. Experts estimate that there are more than 3.1 million breast cancer survivors in the United States. They include women still being treated and those who have completed treatment.
'What Benefits Will I Get If I Donate a Boat?'
As our way of saying, "Thank you" to our donors, we have prepared a set of benefits for those taking part in our Nevada boat donations program.
Since we have certified 501(c)3 nonprofit organizations as partners, your boat donation to us at Breast Cancer Car Donations will make you eligible for a tax deduction. The amount of tax deduction you can claim will depend on your boat's final selling price at auction.
After you tell us your intent to donate, you won't have to do anything else but wait for the tow truck and, later, your tax-deductible sales receipt. If you don't like paperwork, then this is your lucky day! We'll be the ones to handle all relevant paperwork.
You also don't need to worry about looking for a cheap towing company because we're going to assign you the best professional towing company in your area that offers fast and free towing services.
We know that selling or trading a boat can be difficult as you have to search for the right buyer and deal with people expressing interest in your boat. However, if you donate your boat to us, you won't have to experience the hassle in trying to sell your boat.
You can also save more money if you simply donate your boat to us. You don't have to pay any more insurance and registration because you can already cancel them after donating. You also free yourself from expensive repairs and maintenance fees.
'Is Your Boat Donation Process Easy?'
Taking part in our Nevada boat donations program is easy indeed and will not consume much of your time and effort. All you need to do is fill out our online donation form or give us a call at 866-540-5069. One of our friendly donations specialists will talk to you and guide you on our donation process.
You will need to provide us your contact information and your boat's details such as its year, make and model. Tell us also when you want your boat to be towed, what time, and where to pick it up.
The tow truck will come right on schedule. Before towing your boat, you will receive a donation receipt from us. This will release you from all liabilities on the boat you're donating, allowing you de-register your boat and cancel its insurance coverage. Keep the receipt since you may need it for tax purposes.
Your donated boat will then be sent to an auction house where we will try our best to sell it at its highest possible selling price. Within 30 days after your boat is sold, you will get a 100-percent tax-deductible sales receipt. The amount indicated in the receipt will serve as the basis of your tax deduction claim when you file your itemized federal income tax return next tax-filing season.
'Can I Donate Any Type of Boat?'
Yes, we accept any type of boat in our Nevada boat donations program. You can donate a sailboat, motorboat, fishing boat, yachts, pontoon boat, houseboat, personal watercraft like jet skis, and many others.
If you have other vehicles that you wish to donate, please do so! We accept a wide variety of vehicles for donation.
Join Us in Our Crusade Against Breast Cancer
Join us in our crusade against breast cancer and in helping those afflicted with the devastating disease. Contact us at 866-540-5069 and get free towing services and maximized tax deductions for your Nevada boat donations!
or Call Us Now at 866-540-5069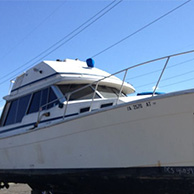 Excellent customer service!