Virginia Boat Donations
Donate Your Vehicle and Save Lives!
Beating Breast Cancer with Virginia Boat Donations
Has anybody ever told you that one of the best ways to help people who are diagnosed with breast cancer is to take part in our Virginia boat donations program? You may be one of those folks who think that their big old fishing boat is useless, and they want nothing more than to get it off their hands. When it's time to part ways with your vessel, the best way to do it is to help others out in the process.
By donating your boat to us at Breast Cancer Car Donations, you'll have the opportunity to make life better for those who are going through their breast cancer journey. Your boat donation would enable us to generate funds that would be used to provide much-needed assistance to people suffering from breast cancer, giving them bigger chances of surviving the disease.
How Common Is Breast Cancer?
A person you know might have recently been diagnosed with breast cancer; a colleague may currently be in treatment; a neighbor may be years out from her diagnosis. The point is, we've all heard about breast cancer one way or another. What starts out as a small lump in the breast tissues could potentially put an end to a person's life.
Do you know that according to the National Breast Cancer Foundation, Inc., breast cancer is now the most commonly diagnosed cancer type in women across the United States? U.S. statistics show that 252,710 breast cancer cases are identified each year and over 40,500 patients die from it. As a matter of fact, every two minutes, a person receives news that she has breast cancer while another individual loses her battle with this deadly disease every 13 minutes.
Breast Cancer in Virginia
According to Susan G. Komen's Breast Cancer Disparities Among Women in Virginia, a report released in August 2016, more than 1,000 lives are lost to breast cancer in the state of Virginia every single year. It was discovered that this disease affects African American women more than any other racial or ethnic group. Furthermore, due to several factors such as insufficient funding, a person's socioeconomic background, literacy level, access to health facilities, as well as cultural and language barriers greatly contribute to the disparities in breast cancer screening, diagnosis, and treatment.
How Virginia Boat Donations Can Help
Through Virginia boat donations, we at Breast Cancer Car Donations can raise money to fund various breast health services that are delivered by our IRS registered 501(c)3 charity partners. With the common goal of saving lives, we work tirelessly to provide all individuals this full range of services regardless of age, gender, educational and economic background:
Low-cost screenings, ultrasounds, and mammograms;
Free breast cancer kits for the newly diagnosed;
Financial assistance for breast cancer treatment;
Continued research in the pursuit of breast cancer cure.
These services would just be nothing more than a pipe dream if not for Virginia boat donations. We encourage you to become an instrument of hope by donating your unwanted boats to Breast Cancer Car Donations. Call 866-540-5069 today!
You'll Love Your Rewards!
Who says that you won't get anything out of your generous donation? When you decide to join our Virginia boat donations program, you'll get to enjoy these awesome rewards:
Enjoy a seamless donation process!
You won't have to spend more than a few minutes to get your process started! We'll make sure that you'll have a smooth and stress-free giving experience!
100-percent free towing services!
Having somebody else coordinate with a professional towing company AND pay for their services on your behalf is nothing short of convenient! Why don't you save yourself from this headache and have us cover this for you?
Our team of experts will handle all required documentation! Before you know it, the transfer of ownership and the issuance of your receipts are completed in no time!
When you go for Virginia boat donations, you're signing up for potential tax rewards! Based on your boat's final selling price after we sell it at auction, you'll have the same amount deducted from your taxable income once you itemize your deductions!
Financial freedom from maintenance, repair and storage costs!
Maintaining a boat that you don't want to keep is a pain in the neck. Winter storage or marina fees can sap your finances dry. These expenses don't even include repair costs when the engine blows up.
You'll save thousands of people.
Your cashless donation will give countless individuals the chance to overcome breast cancer. Just this one reason makes giving away your boat worthwhile.
Let's Get Started!
We got you all excited, didn't we? Here's how you could take part in our Virginia boat donations fundraiser:
Tell us that you want to donate!
Pick up the phone and call 866-540-5069 to speak to one of our donation specialists. You can also opt to fill out our online donation form. After giving us your personal contact details and a few bits of information about your vessel, your boat will be ready for pickup!
Schedule your fast and free towing!
Once we very the information you gave, we'll have a professional towing company pick up and tow your vessel at no cost to you! You will receive a towing receipt, which releases you from all liabilities on the boat you donated, allowing you to cancel and stop paying for its registration and insurance coverage.
We'll send you your 100-percent tax-deductible sales receipt bearing your boat's actual sales price. You need this in claiming your tax deduction when you file your itemized federal income tax return.
Do Something Special Today!
Let's make Virginia a better place by increasing the breast cancer survival rate in the state! Contact us at 866-540-5069 to get free towing services and so much more for your Virginia boat donations!
or Call Us Now at 866-540-5069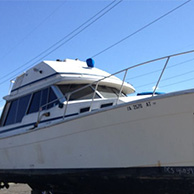 Excellent customer service!