Power Boat Donations
Donate Your Vehicle and Save Lives!
Touch the Hearts of Breast Cancer Victims in Your Community
If you've always wanted to get involved in the battle against breast cancer, taking part in our power boat donations program is one of the simplest yet most effective ways to do so. An old power boat that's been giving you nothing but financial woes can be a vital source of support for needy breast cancer patients and their families in your local area. Hand it over to us at Breast Cancer Car Donations and you'll know what we're talking about.
We will transform your boat into a life-saving tool, using it to provide our nonprofit partners the funds they need to continue providing comprehensive breast health services to all Americans who need them. Your power boat donation, no matter how old it is, will help them in:
Connecting uninsured and underserved women to local facilities that offer free access to quality health care and breast cancer treatment;
Providing needy patients with financial support for their hospital fees, oncology services, consultation, and surgery;
Supporting research on breast cancer prevention, diagnosis, screening, and treatment;
Sponsoring outreach and fundraising events; and
Raising public awareness on the prevention and early diagnosis of breast cancer.
A Donation Process for Our Donors' Convenience
If you're looking for a trustworthy power boat donations program that guarantees donors top quality service, you're definitely at the right place at Breast Cancer Car Donations. With us, paperwork will not be a burden for you. We have a professional team that will manage everything on your behalf. Simply contact us and tell us that you want to donate your power boat to us. Before you know it, you're about to save lives!
You can reach us in two ways: Either fill out our online donation form or give us a call at 866-540-5069. We'll ask for specific details regarding your power boat, including its year, make and model, length, title availability, and present condition. After we verify all the information you gave us, we'll call you back to arrange a time, date. and place for towing your boat. Don't worry, the towing fee is on us!
A licensed towing company from your city will pick up your boat. We'll issue you a towing receipt before we collect your donation. The receipt frees you from any liability pertaining to your boat from that point forward. It also allows you to cancel your boat's registration and insurance coverage.
Now that we have your power boat donation, we'll place it up for auction. Once your boat is sold, we'll send you by mail your 100-percent tax-deductible sales receipt. You'll receive this within 30 days following the sale of your power boat.
The receipt gives you the right to claim your tax deduction when you file your itemized income tax return in the next tax season. The amount will depend on your power boat's final selling price, which will be indicated in the receipt. For more information, check out this page.
Reasons to Choose Breast Cancer Car Donations
So, you're probably wondering, what's in it for you if you decide to choose us as your donation platform. The list of the rewards that await you below will answer your question:
Enjoy a handsome tax deduction.
Experience an incredibly quick and hassle-free donation process.
We offer free pickup and towing services in all parts of the country.
You can donate various types of vehicles, and not just a car or a power boat.
All paperwork is handled by us.
Say goodbye to expensive fees that cover your boat's maintenance, storage, repairs, and insurance.
No need for you to go through the trouble of selling an old and damaged boat.
Get an opportunity to collaborate with reputable breast cancer organizations.
Feel full satisfaction with the realization that you can help save human lives with your power boat donation.
Help Breast Cancer Sufferers Survive Now!
Are you ready to help breast cancer patients survive their ordeal with your power boat donation? If you are, call us at 866-540-5069 or fill out our online donation form now! We can't wait to save lives with you!
or Call Us Now at 866-540-5069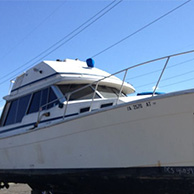 Excellent customer service!