Trawler Donations
Donate Your Vehicle and Save Lives!
Trawler Donations: Help Us Save Lives of Breast Cancer Victims
Have you always wanted to get involved in the fight against breast cancer and you happen to have an unwanted trawler? If so, we at Breast Cancer Car Donations would like to invite you to participate in our trawler donations program. We will transform your boat into a powerful life-saving tool for the benefit of breast cancer patients in your local area, particularly those who lack the money to pay for the high costs of breast cancer treatment, medicines, and hospitalization.
For years now, we have been helping save the lives of breast cancer patients throughout the United States. Together with our charity partners, we also seek to make lives less burdensome for cancer-stricken individuals and their families.
How Our Charity Partners Will Use Your Donated Trawler 
By donating your no-longer-used trawler to us, you'll be supporting the critical mission-focused programs of our IRS-certified 501(c)3 nonprofit partners. We'll sell your boat through auction and use the proceeds to help our charity partners in rendering the following services:
Providing financial assistance to underserved and uninsured individuals who need to undergo breast cancer treatment;
Referring patients to local facilities that offer a range of comprehensive breast health programs;
Funding breast cancer research;
Spreading public awareness on the importance of early detection, screening, and prevention of breast cancer; and
Providing counseling services for patients, survivors, and their families.
You'll Love Our Hassle-Free Donation Process
We've made our donation process incredibly quick, convenient, and straightforward. We take care of all paperwork and provide free towing in all parts of the country. What more can you ask for?
Below are the three steps that will turn your trawler into a cancer-fighting tool. Check it out!
Reaching out to us can be done in two ways: Either call us at 866-540-5069 or fill out our online donation form. Provide us with the basic details about your boat as well as your personal contact information. We'll call you back shortly after we confirm all the details to arrange your trawler's pickup based on your own timetable.
Step 2: We collect your trawler.
We'll assign a local towing company to haul off your trawler. Before we take your vessel, we'll issue you a towing receipt. This document frees from any liability on your donation from that point forward. This allows you to legally terminate your boat's registration and insurance coverage.
Step 3: Get your tax-deductible receipt.
Within 30 days following the sale of your trawler donation, you'll receive from us via mail your 100-percent tax-deductible sales receipt. You can use this receipt to claim your tax deduction when you file your itemized federal tax return in the next tax season.
And that concludes our donation process. Should you have any concerns or if you seek clarification from us regarding certain details in our donation process, feel free to call us through our hotline 866-540-5069 or leave us a message here. For more information, feel free to visit our FAQs page.
You Deserve These Rewards!
One thing you need to know about making a trawler donation to us is that as a donor, you'll be receiving plenty of perks that are meant to give you utmost satisfaction. Since you'd be bringing joy to breast cancer patients and their families, it's our job to do the same thing for you. Here are some of the benefits you can expect when you team up with us:
No need to pay for towing.
Keep your money, we don't need it!
Just give us the location where your trawler is stored or moored and a schedule that's most convenient for you.
All paperwork is handled by us.
Whether it's the issuance of your tax receipts or the processing of the title ownership transfer, you can count on us to get the job done!
Skip the exhausting process of selling a pre-owned boat yourself.
Why waste your effort advertising for the sale of a second-hand trawler and haggling with strangers, as well as spending big bucks for the repair or modification of your trawler to make it sellable? Do yourself a favor by simply allowing us to take your vessel.
Free yourself from the financial burdens of owning an unneeded vessel.
What's the point of paying for your trawler's insurance, storage, and maintenance fees when you've just been keeping it in storage or exposed to the elements at the marina? It's time to stop hurting your wallet!
Enjoy a hefty tax write-off.
Since your donation will be used by our nonprofit partners, which are all IRS-certified 501(c)3 nonprofit organizations, you are eligible for a top tax deduction!
Other Types of Marine Vessels and Vehicles You Can Donate
If you have other marine vessels or motor vehicles you'd like to dispose of besides your trawler, you can donate them to us as well. Breast Cancer Car Donations accepts nearly all types of boats and motor vehicles.
We have sold quite a good number of donated trawlers, catamaran boats, deck boats, motorboats, yachts, sailboats, houseboats, cruise ships, ferries, personal watercraft, fishing boats, tugboats, speedboats, wakeboard boats, pleasure boats, and pontoon boats among many others.
If the vessels or vehicles you're intending to donate have some defects or are no longer in good working condition, don't worry. We'd still take them for as long as we see that there's still some cash value left in them.
Become a Hero Today
Make history by transforming your trawler into a powerful weapon against breast cancer. Take part in our trawler donations program now. Give us a call at 866-540-5069 or donate here now!
or Call Us Now at 866-540-5069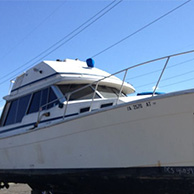 Excellent customer service!