Colorado Boat Donations
Donate Your Vehicle and Save Lives!
Be a Lifesaver with Your Colorado Boat Donations
Be a ray of light and hope to those who are battling breast cancer by taking part in our Colorado boat donations program.
Colorado, also known as The Centennial State, is home to over five million people. The latest reported incidence rate of breast cancer in Colorado was122.8 per 100,000 residents. The disease mostly affects non-Hispanic whites.
In the United States, hundreds of thousands are fighting breast cancer. The good news, however, is that 75 percent of those who have been diagnosed with breast cancer early have a strong chance of surviving the disease.
There are also a number of charities that are waging campaigns against breast cancer, mainly in making the public aware of the frightening impact of this type of cancer, particularly when it is detected late.
How Your Boat Donations Can Save Lives
Breast Cancer Car Donations is one of the organizations that have dedicated themselves to fighting this devastating disease that has claimed millions of lives. We fight breast cancer by raising funds through car and boat donations to assist our nonprofit organization partners in carrying out their programs meant to save people's lives. Through our Colorado boat donations program, our charity partners are able to deliver vital services, including:
Helping uninsured and underserved breast cancer patients gain access to medical screening, diagnosis, and treatment;
Providing financial assistance to breast cancer patients, survivors, and their families;
Funding research on more effective breast cancer treatment and cure; and
Boosting information campaign to educate the public on the causes, prevention, and detection of breast cancer.
If you wish to be part of this philanthropic cause, your Colorado boat donations can go a long way in saving the lives of breast cancer patients in your state.
Facts about Breast Cancer
Raising breast cancer awareness is one of the most effective ways to fight this disease. Below are some of the things you need to know about breast cancer.
Breast cancer can be prevented.
Anyone afflicted with breast cancer has a stronger chance of survival when they seek early screening. By detecting breast cancer early, the individual also gets the chance to obtain early medical treatment.
Breast cancer affects millions of people in the United States.
A person afflicted with breast cancer does not suffer alone; their family members are also affected by the devastating effects of the disease. The fear of losing the person they love causes them anxieties day in and day out.
Breast cancer can affect anyone.
Breast cancer may affect even those individuals with no background or family history of the disease. Its progression is also triggered by a sedentary way of life; increasing age, early menstrual period, as well as changes in genes.
Reasons for Donating a Boat in Colorado
Helping others should be a genuine act that should not require any reason. Donating to charities is something that people should be more conscious of because only by helping and sharing are we able to save lives.
If you're planning to donate a boat but don't know where to donate it, then consider donating it to an organization known for its trustworthiness and strong reputation – Breast Cancer Car Donations.
When you donate your old boat to us, you become part of a nationwide organization that has been providing assistance to countless breast cancer patients and their families for over 20 years now.
Our Colorado boat donations process is as easy as 1-2-3, and it brings enormous impacts. Below are just some of the benefits you'll get for your boat donation:
All details are taken care of by us. Our friendly staff will be there to assist you throughout the donation process.
We pick up your donated boat without any charge.
We mail you your donated boat's 100-percent tax-deductible sales receipt, which you can use for tax deduction and documentation purposes.
You free yourself from paying for costly boat repairs, maintenance, storage, as well as insurance coverage.
You take part in empowering individuals suffering from breast cancer. Through your boat donations, the funds gathered from selling your boat are used to create lasting impacts on the lives of our breast cancer-afflicted fellow Americans.
How Our Colorado Boat Donations Work
If you are thinking of getting rid of your old boat and donating it to charity, we at Breast Cancer Car Donations have made our Colorado boat donations process quick and simple.
First, you need to contact us by giving us a call at 866-540-5069 or filling out our online donation form. Provide us with the necessary details pertaining to your boat.
We'll set up a date, time, and place for the boat pickup based on your preference. This towing service is absolutely free.
We'll then send you by mail your sales receipt that shows your donated vehicle's final selling price. The amount serves as the basis of your tax deduction claim when you file your itemized federal tax return.
Donate Today to Help Save Lives Quickly!
Donate your old boat and make a difference in the lives of those afflicted with breast cancer and their loved ones. Contact us at 866-540-5069 and experience the joy of being a lifesaver with your Colorado boat donations! Donate today!
or Call Us Now at 866-540-5069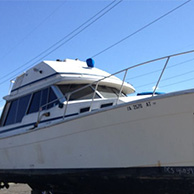 Excellent customer service!