Provide Life-Sustaining Hope to Breast Cancer Victims With Your Florida Boat Donations
If you are fed up with paying expensive maintenance and repair fees just to keep your boat afloat, why not just donate it for a worthwhile charitable cause? By donating it to our Florida boat donations program, you'll not only get rid of that old boat of yours for free and in the most convenient and fastest way, you'll also be helping out the numerous individuals in your state who are battling breast cancer.
Your boat may be useless to you now, but after you donate it to us at Breast Cancer Car Donations, our boat donation charity will make sure that your boat will sail on to provide life-sustaining hope to breast cancer victims and their families.
Breast Cancer in the U.S. and Florida
Breast cancer has already hit millions of people all over the United States and continues to claim lives, mostly those of women. Records show that one in eight women in the U.S. will develop the disease over the course of her lifetime.
The American Cancer Society has estimated that 266,120 new cases of invasive breast cancer will be diagnosed in women this year in the country, aside from about 63,960 new cases of non-invasive cancer, also known as carcinoma in situ or CIS. About 40,920 women will die from breast cancer this year, the report states.
Men are not exempt from getting breast cancer, although they have lesser chances of getting the disease. Some 2,550 new cases of invasive breast cancer will be diagnosed in men this 2018 in the U.S., the report adds.
In Florida, the American Cancer Society estimates that about 19,860 new female breast cancer cases will be diagnosed this year. It also states that 2,940 women in Florida will lose their lives to the disease.
Why Participate in Florida Boat Donations?
Participating in our program for boat donations in Florida will be your opportunity to lend a helping hand to victims of breast cancer. The proceeds from the sale of your boat donation will be used to provide vital breast health services to your fellow Floridians. The services will be delivered by our nonprofit organization partners that have set up various programs all geared towards providing assistance to uninsured and underprivileged residents of Florida who are battling breast cancer.
Your boat donation will enable us to give victims financial assistance on treatment, diagnostic tests, screenings, hospitalizations, and more. It will also help the victims get the full range of available health services and benefits regardless of their race, age, and gender.
Your donation will also provide funds for breast cancer research that seeks more effective early detection, diagnosis, and treatment methods that will hopefully lead to the discovery of a cure for the disease.
Our Quick and Efficient Donation Process
We will be providing quickness and efficiency in our Florida boat donations process. It will take just about 10 minutes or less of your time to begin the process. Here's a guide to our simple three-step process:
You contact us by filling our online donation form or calling us at 866-540-5069. We'll need key details like your contact information and your boat's year, make, and model before proceeding.
After verifying the information you shared, we'll get back to you and ask for your preferred date, time, and location for us to pick up your boat. We'll then assign a professional towing company to tow away your boat. If you are busy, you don't need to be present during the pickup. We'll issue you a tow receipt during the pickup. This will relieve you from any liabilities on the boat you're donating and give you the right to cancel your boat registration and insurance coverage and stop paying for them.
Your boat will then be auctioned off. Within a few weeks after your boat is sold, you will receive from us all the required papers to enable you to claim a maximized tax deduction.
'Do You Accept Other Vehicles for Donation Aside from Boats?'
Yes, we certainly do! The more, the better! We are able to reach out to more breast cancer victims with more donations of various vehicle types.
If you have a car, van, camper, or truck that you don't use anymore, donate them to us along with your boat! We also accept SUVs, RVs, motorcycles, golf carts, farm equipment, snowmobiles, and motorized wheelchairs among many others. If you want to check out more vehicles, please visit our accepted vehicles page.
Those vehicles need not be in great shape for us to accept them. We'll take care of refurbishing them before putting them on the auction block.
'Do I Get Something from My Florida Boat Donations'
Yes, indeed! You'll receive tons of rewards when you donate your boat or any vehicle to us at Breast Cancer Car Donations. Here are some of them:
You'll experience the best, quickest, and easiest donation process.

We'll do everything for you, including all the needed paperwork.

We'll provide you with a fast and free towing service.

You'll get a 

substantial tax write-off

.

You'll avoid going through the stressful ways of trying to sell your boat.

You'll be free from paying the high cost of boat maintenance, repair, insurance, and registration.
Learn More About Florida
With so much coastline and access to both the Atlantic Ocean and the Gulf of Mexico, Florida is a veritable paradise for those who want to experience the salt air. There is a wide variety of spots off the beaten path that only locals and savvy vacationers know about where the boating is absolutely sublime. These include Egmont Key, a small island just a few miles away from St. Petersburg that remains untouched by civilization. Near Bradenton you'll find Anna Maria Island, a seven-mile stretch of white sand beach that features a sleepy beach town far from the pressures and headaches of modern life. 
Let's Battle Breast Cancer Together!
Join our Florida boat donation program now! Let's battle breast cancer together and save the lives of our fellow Americans! Contact us at 866-540-5069! Donate now! We serve the entire region, including cities like Fort Lauderdale, Jacksonville, Miami, Orlando, St. Petersburg, Tallahassee, Tampa, and more.
or Call Us Now at 866-540-5069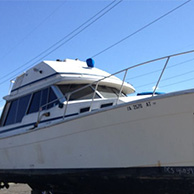 Excellent customer service!