Arizona Boat Donations
Donate Your Vehicle and Save Lives!
Give Breast Cancer Victims a Second Chance at Life with Your Arizona Boat Donations
Owning a boat can be fun. As you relax in your comfy chair aboard a yacht looking at the scenic shoreline some distance away, you feel the cool breeze, making you feel wonderful.
However, people may outgrow such feeling and fascination with the sea, and there may come a time when riding on a boat is not fun anymore, especially if the boat starts showing problems because of age. When that time comes, you would be faced with the question of what to do with your boat.
If you are up to the task of handling tedious and long hours of finding potential buyers, then you can try to sell or trade your boat.
If you want a quick way out, you could just dump it in the junkyard where you could sell it for a pittance. However, is that what you really want for the boat you once loved and bought with precious money and where you spent countless happy times together with your loved ones?
The best option for you is to donate it to Breast Cancer Car Donations where your donation will be used to help the thousands of people battling breast cancer. On top of that, you will be getting a maximum tax deduction, thanks to your charitable contribution.
'What Will Happen To My Arizona Boat Donations?'
Once you decide to join our Arizona boat donations program, your boat will be placed in an auction where it will be sold to the highest bidder. Following the sale of your boat, the proceeds will be distributed to our nonprofit partners, the American Breast Cancer Foundation (ABCF) and Women Involved In Nurturing, Giving, Sharing, Inc. (WINGS). These are two of America's top breast cancer nonprofit organizations. These nonprofits have ongoing programs that provide free breast health services to everyone who needs them.
Specifically, our charity partners enable individuals to undergo free breast cancer screening to either rule out the disease or to make an early detection to facilitate treatment.
They also provide financial assistance for breast cancer treatment including surgery, oncology services, hospital fees, and outpatient medication.
These charities are also engaged in raising public awareness campaigns on the signs and symptoms of breast cancer to promote early detection.
Why Donate to Breast Cancer Car Donations
If you decide to partner with us with your Arizona boat donations, you will not only help breast cancer patients but also yourself since you'll be getting plenty of perks, including a maximized tax deduction. Here are the rewards that await our donors:
As you donate your boat to us, you can cancel and stop paying for your boat's insurance and registration. Also, you will no longer have to pay for your boat's maintenance cost.
if you don't want to be stressed out from searching probable buyers or discussing price values, then simply donating your boat is the way to go. We will be the one to do the selling for you.
Everything is handled for you
You don't have to go through any more paperwork because we will also handle that task for you.
Fast and free towing services
Don't worry about spending on any towing fee because we already got it covered.
Boats can consume a lot of space. Now that's out of the way, you can make use of your garage for extra storage or you can turn your yard now into a beautiful garden!
You are eligible to get a 100-percent sales receipt tax deduction because we are in partnership with 501(c)(3) certified nonprofit organizations.
You get the chance to enjoy that exquisite and beautiful feeling of self-satisfaction for having done something wonderful for others – helping save their lives!
Our Quick and Efficient Arizona Boat Donations Process
We have simplified our Arizona boat donations process to speed it up for the convenience of our donors and also to enable us to convert the boats quickly into financial resources to support our cause. Initiating the donation process will not take more than five minutes of your time. Here are the three quick and easy steps in the process:
First, contact us by filling out our online donation form or calling us at 866-540-5069. We will only need your contact details, boat's year, make, and model to proceed. We'll then assign a local towing company to come and get your boat.
Your boat will be picked up and towed at your preferred time, date and location or within a day or two after your initial call. You will receive a donation receipt. This will release you from any liabilities on your boat and allow you to cancel your boat's registration and insurance coverage.
Within 30 days after the sale of your boat at auction, we will send your 100-percent tax-deductible sales receipt. This document will support your tax deduction claims when you file your itemized federal income tax return.
The Types of Boats Qualified for Donation
We accept various types of boats in our Arizona boat donations program — from sailing boats and fishing boats to yachts and jet skis. You name it, we'll take it! You also need not worry about you're the condition of your boat because we can accept it for donation even if it has a few defects.
We also accept different types of motor vehicles. You can check them out on our accepted vehicles page.
Give Us A Call Now!
If you're ready to start your Arizona boat donations process, contact us at 866-540-5069. Donate your boat now and get free towing service plus maximized tax deduction!
or Call Us Now at 866-540-5069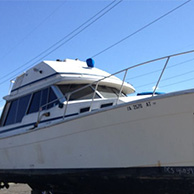 Excellent customer service!