Arizona Car Donation
Donate Your Vehicle & Transform Lives!
Arizona Car Donation
About 1 in 8 women in the United States will develop invasive Breast Cancer during her lifetime. With such high numbers, it's almost certain that we are each affected by Breast Cancer in some way. If this disease has hit home for you, the desire to help is even stronger. Fortunately, there is a way to support the prevention and cure of Breast Cancer and it doesn't cost anything.
Breast Cancer Car Donations accepts Breast Cancer car donations in Arizona. We handle all of the paperwork and send you a receipt to claim your tax deduction. That's it! The proceeds from the sale of your vehicle go toward Breast Cancer organizations that are fighting for faster detection and better treatment of the disease.
Would you like to be a part of saving the lives of the women around you? Make your difference today!
How a Car Donation in Arizona Makes an Impact
Organizations that battle Breast Cancer raise money throughout the year to fund their research. This research may include such things as ways to prevent Breast Cancer, faster detection methods and effective treatment options. It's hopeful that one day, this research will lead to a cure. These organizations see a lot of support during Breast Cancer Awareness Month in October, but they work year-round and funds become limited.
Making a vehicle donation here in the state provides Breast Cancer organizations with the money they need to continue their research. By donating your vehicle, you are saving lives. You are supporting organizations and giving breast cancer fighters and their families hope.
Vehicles Accepted for Donation
Most vehicles qualify for a charitable car donation in Arizona. Below are some of the most common vehicles we receive, but feel free to call us to see if yours is eligible.
Cars
Trucks
Campers
Boats
Motorcycles
ATVs
Farm equipment
If your vehicle is not in running condition, that's OK! Our towing service is able to tow away most donations. All you need is the title of the vehicle. Have title questions? Our friendly title clerks will be happy to assist you!
I Want to Donate My Car in Arizona. Are There Benefits for Me?
If you have been affected by Breast Cancer, making an car donation in Arizona is a wonderful way to give back to the community and support the organizations battling the disease. This in itself, is enough for most people to pass on their unwanted vehicles.
There are additional benefits that we want you to know about that make this donation even more attractive.
No need to pay for repairs or upkeep
Save money on insurance and registration
Selling of your vehicle is done by auction
All paperwork is handled by us
Free pickup and towing of your vehicle
No costs to you – 100% free
Potential tax benefits
If you are tired of that old car taking up space in your Arizona garage, give us a call and let's schedule a pickup. Everything is handled on our end, and you don't need to be home when the towing company arrives. You are also more than welcome to check on the status of your vehicle at any time.
To get started, give us a call or fill out our online form. Once we verify that your vehicle qualifies, we will schedule a pickup time. A receipt will be mailed to you when your vehicle sells. This is what you will use to claim your tax deduction.
We thank you for your willingness to help others and save lives! We can always do more together!
Donate a Car to Arizona Breast Cancer Nonprofits Today!
Looking for more information about donating in a particular area of Arizona? Click on one of the cities closest to you from the list below.
or Call Us Now at 866-540-5069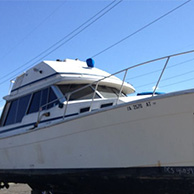 Excellent customer service!