Arizona Golf Cart Donations
Donate Your Vehicle and Save Lives!
Play a Crucial Role in Saving Lives of Breast Cancer Victims With Your Arizona Golf Cart Donations
You can play a crucial role in enabling women who suffer from breast cancer to have a second chance in life with your participation in our Arizona golf cart donations program.
By teaming up with us at Breast Cancer Car Donations, you get the opportunity to help save the lives of breast cancer patients in your own state.
Breast cancer is known to be the second most common form of cancer for American women and also the nation's second leading cause of cancer deaths among women. Although there was a 39 percent drop in death rates from 1989 to 2015, the issue still needs to be fully addressed since the disease is still claiming so many precious lives.
'How Can My Golf Cart Donation Help Save Lives?'
Breast Cancer Car Donations is on a mission to save lives of breast cancer patients. We use the Arizona golf cart donations we receive to generate funds to support our nonprofit organization partners: the American Breast Cancer Foundation (ABCF) and Women Involved in Nurturing, Giving, Sharing, Inc. (WINGS). These nonprofits use the funding to finance their programs that:
Help uninsured and underserved breast cancer patients gain access to medical screening, diagnosis, and treatment;

Provide financial assistance to breast cancer patients, survivors, and their families;

Fund research on more effective breast cancer treatment and cure; and

Boost information campaign to educate the public on the causes, prevention, and early detection of breast cancer to enhance chances of treatment success.
If you have a battery-powered or gasoline-fueled golf cart that you no longer want, donate it to us! Getting rid of something is always much better when you do it for a meaningful purpose.
'How Can I Donate My Golf Cart?'
One of the best reasons to choose Breast Cancer Car Donations is the fact that we offer a donation process that's completely convenient for our donors. If you hate the idea of doing paperwork, or if you don't have the time to look for an affordable towing company, you will definitely love working with us. The best part is, we won't let you spend a single dime!
Since we want our valuable donors to have a pleasant experience with us, we've made the donation process as simple as possible. We handle everything in the process, including the documents and the free towing of your golf cart. Just let us know about your decision to take part in our Arizona golf cart donations program, and we'll get to you as soon as we can.
To give you a clear understanding of our three-step Arizona golf cart donations process, here's a quick guide:
First step: You contact us.
Do this by calling us at 866-540-5069 or fill out our online donation form. Provide us basic information about your golf cart, as well as your preferred date, time, and place for its pickup.
Second step: Your golf cart is towed away.
A professional towing company will take care of hauling off your golf cart. You don't need to be present when the tow truck arrives. Just make sure to leave the keys and title of your golf cart. We will give you a donation receipt that releases you from all liabilities on your golf cart.
Third step: You get your maximized tax deduction.
Now that we have your golf cart, we auction it off, with the proceeds going to our nonprofit partners for use in funding their programs for the benefit of breast cancer patients and their families.
We mail you your golf cart's 100-percent tax-deductible sales receipt a few weeks later. You need this receipt when claiming your tax deduction.
That wraps up our donation process! See how straightforward it really is? Donate your golf cart to charity now and get that tax deduction you deserve! Call us at 866-540-5069.
'What Benefits Can I Get When I Donate My Golf Cart?'
That old golf cart of yours will not only make a difference in the lives of breast cancer patients and their families; it will also give you a set of perks for you to enjoy. We already mentioned about our costless and hassle-free donation process, as well as the huge possibility of receiving top tax deductions when you take part in our Arizona golf cart donations program. Aside from those, you'll get these other perks:
You get rid of an old and unwanted golf cart easily and at no cost.

You no longer have to spend for your golf cart's maintenance and upkeep fees.

You no longer have to deal with annoying hagglers when you try to sell your golf cart.

You no longer have to waste your time and effort in looking for ways to advertise and sell your golf cart.

You regain the space in your garage.

You get to have that sense of fulfillment knowing that your golf cart donation will help women struggling with breast cancer.
'What Other Vehicles Do You Take?'
Are you planning to donate a vehicle other than a golf cart? With Breast Cancer Car Donations, you definitely can! We accept many types of vehicles, including automobiles, boats, motorcycles, campers, and even planes!
We also take specialty vehicles such as lawnmowers, motorized wheelchairs, snowmobiles, and tractors. Of course, we just can't refuse donors who are offering to donate multiple vehicles. If you happen to plan on getting rid of an old van and a golf cart, we're more than willing to have both of them with us!
Still uncertain about your golf cart's qualifications? Don't hesitate to talk to us at 866-540-5069.
Learn More About Arizona
Known for its abundant deserts, canyons and mountain ranges, Arizona has a lot to offer those who love the outdoors. In addition to the numerous golf courses throughout the state, residents and visitors can enjoy hiking, climbing and skiing. It's no wonder so many people have flocked to the Grand Canyon State over the last 50 years. 
Ready to Help Breast Cancer Patients?
Are you ready to take part in our Arizona golf cart donations program and join us in the fight against breast cancer? Contact us or call us at 866-540-5069 and get started with your donation. We look forward to working with you!
or Call Us Now at 866-540-5069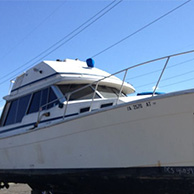 Excellent customer service!