Scottsdale, Arizona Car Donations
Donate Your Vehicle and Save Lives!
Scottsdale, Arizona Car Donations: Bring Hope and Help Save the Lives of Breast Cancer Victims
Do you have a car that is of no use to you anymore? Why not donate it to our Scottsdale, Arizona car donations program? You'll make a huge impact on the lives of people who are fighting breast cancer if you do so.
We at Breast Cancer Car Donations have partnered with two of the country's leading non-profit organizations — the American Breast Cancer Foundation (ABCF) and Women Involved In Nurturing, Giving, Sharing, Inc. (WINGS) –.that have dedicated themselves to fighting breast cancer on various fronts and providing much-needed breast health services to individuals, particularly those who cannot afford the high cost of such services.
With your car donations, you can help us attain our primary goal of funding treatment and research on breast cancer.
Scottsdale, Arizona: Perfect for Any Lifestyle
Scottsdale is considered as one of the most wonderful real estates in Arizona. Whatever kind of lifestyle you have – family-friendly, single, retired, suburban or urban – you name it, this place is for you. There is no such word that can absolutely describe how beautiful this place is. But it is known for sure that Scottsdale has its own uniqueness and beauty that draws people, whether young or old, to visit or even make it their second home.
Located at the heart of the abundant Sonoran Desert in Central Arizona, Scottsdale enjoys a great climate. More than the sunshine days of Florida, Scottsdale has got 330 days of sunshine in a year and has an average temperature of 72.6 year-round.
This climate is perfect for outdoor activities, especially golf. No wonder Scottsdale's Phoenix area has over 200 golf courses. It includes the famous TPC and Troon Courses. Scottsdale has been called a golfer's paradise.
Unfortunately, no matter how perfect a place Scottsdale is, let's not forget that there are still people here who are unable to enjoy the beauty of this city because of their breast cancer affliction. With your car donations, however, they can hopefully get over their present health crisis and resume living the good life in Scottsdale, thanks to you.
Our Quick and Easy Car Donation Process
We purposely made our Scottsdale, Arizona car donations process as easy and as quick as possible because we want our donors to enjoy the best giving experience they'll ever have.
It only takes a few minutes to save people afflicted with breast cancer. Just follow these three simple steps and your help will be on its way to them:
Let us know you want to donate.
You can call us at 866-540-5069 or fill out our online donation form. We'll need your contact information, your vehicle's year, make, model, mileage, VIN and over-all running condition.
Schedule your fast and free pickup.
We'll coordinate with an affiliate towing company in your area after you give us your vehicle's location and your preferred date and time for pickup. You don't have to pay for towing and you don't have to be present when we haul your vehicle away. We will hand over a donation receipt that will free you from all liabilities on the car you've donated, allowing you to de-register your vehicle, dispose of your license plates properly, and cancel your insurance coverage. Keep the receipt since you may need it for tax purposes.
Check your mail for your tax-deductible receipt.
Within days after we auction off your vehicle, you'd receive your tax-deductible sale receipt. You'll also need this when claiming your tax deductions in filing your itemized federal tax return.
The Benefits of Car Donation
When you take part in our Scottsdale, Arizona car donations program, you will not only be helping save the lives of people battling breast cancer and giving support to the non-profit organizations that are leading the fight against this deadly disease. You will also be helping yourself! This is because you will receive benefits from us! Here are some of them:
You can save the time and trouble from selling your vehicle. You don't have to go through the hassles of listing and discussing the value of your car just to sell it. You can just simply donate it and you're done.
You can free yourself from the hassles and expenses of maintaining and repairing your car. You won't have to worry about it anymore after you donate it to us.
You will receive a maximized tax deduction since we will sell your vehicle to the best auction house where it can fetch its best price.
The greatest reward of them all is the feeling of happiness you will have, knowing that you did the amazing act of helping save the lives of people afflicted with breast cancer.
Types of Vehicles That Qualifies for Donation
Now, you may be thinking, "Can I donate this kind of vehicle that I have?" Don't' worry! We at Breast Cancer Donations accept nearly all types of vehicle in our Scottsdale, Arizona car donations program. Whether it's in good running condition or has not even run in years, we'll gladly take it.
Here are some of the common vehicles that we accept:
Cars
SUVs
Vans
Minivans
Motorcycles
RVs
Campers
Buses
Boats
Jet skis
If you want to know the other types of vehicles we accept, you can check out our Accepted Vehicles page.
Donate Now!
Make a life-changing decision today. Let your unwanted car bring hope to breast cancer patients and their families worrying about their lack of money to pay for the treatment. Call us at 866-540-5069 and make your Scottsdale, Arizona car donations now!
or Call Us Now at 866-540-5069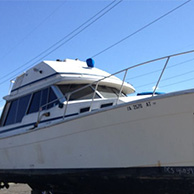 Excellent customer service!