Car Donations in Phoenix, Arizona
Donate Your Vehicle in Phoenix, Arizona & Save Lives!
Donate Your Vehicle in Phoenix & Save Lives!
When you make a Phoenix car donation, you not only receive a top tax deduction, but you also contribute to our partner nonprofit organizations that provide vital services and research to those fighting breast cancer. 
Breast Cancer Car Donations Phoenix, AZ, is dedicated to funding various groups that specialize in research and treatment of cancer, as well as those that deliver personal and family counseling, food, housing, and essential access to medical care.
Individuals like YOU can make a difference in this devastating disease. When you donate a vehicle to charity with us, we can transform lives. The proceeds from your car donation will be used to support our nonprofits that are dedicated to raising awareness and funds for the prevention, screening and treatment of this disease. Help us reach our goals in funding research and treatment to unfortunate people struggling to survive.
Learn More About Phoenix
Known for its year-round sun and desert landscape, Phoenix offers historic neighborhoods, arts and cultural attractions, award-winning dining, and beautiful resorts and hotels. The "Valley of the Sun" — as locals call it — boasts over 180 city parks and more than 33,000 acres of desert preserves, making it an ideal destination for outdoor lovers. Explore wildlife at the Desert Botanical Garden, hike a trail in the Phoenix Mountains Preserve, or tee off at Troon North.  
The city is also booming with creative eateries and craft beers. Foodies can enjoy cuisine that has Southwestern, Mexican and Native American flare. Enjoy Mexican breakfast at Gallo Blanco or a steak at Stockyards Restaurant.  
How Do I Donate a Car for Cancer in Phoenix, AZ?
Are you wondering how to donate a car, truck, RV, or watercraft to fund breast cancer research, treatment, and relief? Call now or complete the simple online form and we'll take care of everything for you!
We make every effort to simplify our donation process. When you either call or fill out the online form at the bottom of this page, we will provide absolutely free pickup and towing at your convenience. We will also handle all of the paperwork, and mail you your charitable vehicle donation tax deduction.
That's how it's done! If you have any questions about our car donation program, please contact us and we will be happy to answer them.
Let's work together to help fight breast cancer and tidy up your driveway! Call us or fill out the form below to donate your car today!
Breast Cancer Car Donations: Phoenix, Arizona
3570 Grand Ave #101
Phoenix, AZ 85019
Phone: (866) 540-5069
or Call Us Now at 866-540-5069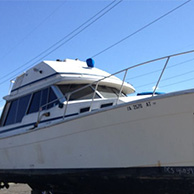 Excellent customer service!