Mesa, Arizona Car Donations
Donate Your Vehicle and Save Lives!
Mesa, Arizona Car Donations: Donate Your Car and Save Lives!
Cars donated to us at Breast Cancer Car Donations through our Mesa, Arizona car donations program will make a lasting impact on the lives of individuals who are waging a gallant fight against breast cancer. Funds raised from every vehicle donation will enable us to support nonprofits that work hard to provide comprehensive breast health services and financial assistance for breast cancer screenings and diagnostic tests in the city.
Mesa is a large suburb of Maricopa County, Arizona that is a melting pot of incredibly diverse cultures. The disparity between poverty and wealth is hard to miss. When you drive around the city, you'd get to see run-down homes as well as upscale gated communities that would do anyone proud.
Statistics show that women comprise 50.2 percent of Mesa's population. Meanwhile, U.S. breast cancer statistics reveal that one in eight American women would eventually develop invasive breast cancer over the course of their lifetime. If one of those women could be someone that you happen to know, wouldn't you do all that you can to help?
How Do I Donate a Vehicle in Mesa?
We've got good news for you. Our Mesa, Arizona car donations process is quick and painless! Just follow these three simple steps:
Just let us know that you're interested to donate and schedule the time, place, and date for the towing company to pick up and tow away your car!
Let's haul your car away.
You can rest in the thought that your driveway will be cleared out and you don't even have to be home when we pick your car up! We will hand you a donation receipt, a document that releases you from all liabilities on the car you donated, allowing you to de-register your vehicle, dispose of your license plates properly, and cancel your insurance coverage. Keep the receipt since you may need it for tax purposes.
Receive your tax-deductible receipt.
Within a few days after we sell your car at auction, we will send you your tax-deductible sale receipt by mail. The receipt will show your car's final selling price, which is the tax deduction you may claim when you file your itemized federal tax return.
Are There Any Benefits In Store for Me?
Car donations are beneficial for both receiver and giver! Whenever you give back to your community by supporting organizations that fight breast cancer, you do yourself a big favor. Here are the top benefits that you get for every car that you donate to our Mesa, Arizona car donations program:
No more repairs and upkeep expenses!
Everybody knows that the cost of general maintenance and repair would burn gaping holes in your pockets after the free maintenance period and warranty is over. Why spend more cash on a car that's older than your pair of tattered jeans?
Pick up and towing is free!
Allow us to shoulder all towing expenses to show you our appreciation! With Breast Cancer Car Donations, you can have a cost-free and hassle-free towing experience!
Charitable donations made through us are 100 percent tax deductible! We make sure that you'd get maximum deductions by selling your car for top value!
All paperwork will be handled by us!
You don't have to worry about the tedious process of sorting out your car's documents. Hand the reins over to us and we'd be more than happy to do it for you!
You won't have to try to sell your car!
Save yourself the trouble of advertising or negotiating with potential buyers and other activities associated with selling your car! We'll do that for you!
Is It Possible to Donate Other Types of Vehicles?
The answer to this question is a resounding YES! Without batting an eye, we are ready to accept almost any type of vehicle that you have sitting in your backyard! The list below includes only some examples of the vehicle types that we find acceptable in our Mesa, Arizona car donations program:
Farm equipment
Motorhomes
Riding lawnmowers
Motorized wheelchairs
Minivans
SUVs
Yachts
ATVs
Golf carts
Non-commercial airplanes
Buses
Pontoon boats
Sailboats
Personal watercraft
Snowmobiles
Motorcycles
Trucks
Tractors
We absolutely love multiple Mesa, Arizona car donations. We set no limits in terms of quantity. If you have more than one vehicle that you want to part ways with, don't hesitate to donate them!
If you have questions related to your vehicle's title or if it is non-running and you're not sure if it is acceptable for donation, then feel free to call us.
Let Your Unwanted Car be an Instrument of Hope
Your car donation can save lives. You will indirectly provide free financial and medical support to people touched by breast cancer.
It doesn't end there. When you donate your car, you help make individuals take the necessary steps to reduce the risk of breast cancer. You will also give them a chance to discover it early when it is most treatable.
Call us at 866-540-5069 and get free pick up and towing services for your Mesa, Arizona car donations!
or Call Us Now at 866-540-5069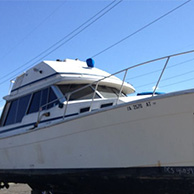 Excellent customer service!