https://www.cardonations4cancer.org/wp-content/themes/naked/img/banner-faq-01.jpg
Tucson, Arizona Car Donations
Donate Your Vehicle and Save Lives!
Tucson, Arizona Car Donations Give Way for Miracles to Happen

Taking part in our Tucson, Arizona car donations program is more than just getting old vehicles out of your garage. These are life-saving actions that would impact thousands of lives affected by breast cancer in Tucson.
Breast cancer is a life-threatening disease that is characterized by an uncontrolled growth of breast cells. It's a result of mutations or abnormal changes in the genes that regulate the replacement of old cells in the body. Although this is usually caused by a "mistake" in your genetic material, only 5-10 percent of cancers are inherited from a person's parents. The remaining 85-90 percent are results of the aging process.
U.S. breast cancer statistics show that about 12 percent of American women will develop invasive breast cancer over the course of their lifetimes. This means that one in every eight women will be diagnosed with the disease. To give you a clearer idea of how breast cancer affects the entire country's female population, a woman is diagnosed with breast cancer every two minutes, and every 13 minutes, another woman would die from it.
Tucson has a total population of 486,699 residents – 51 percent of whom are females. If you've lived there with your family all your life, think about the women who matter to you most and think also about their welfare. Donating your unwanted, clapped-out car to give back to the people in your city makes more than enough sense, doesn't it?
Who We Are and What We Can Do to Beat Breast Cancer
We at Breast Cancer Car Donations work hand in hand with certified 501(c)3 nonprofit organizations in the mission to save as many lives as we can from breast cancer. We manage Tucson, Arizona car donations program and similar others on behalf of these charities so that they can give more of their time running programs that would provide accessible and comprehensive breast health services to people all over the country.  We are in proud partnership with:
American Breast Cancer Foundation (ABCF)
This is an organization that is committed to providing education, access, and financial assistance to underserved and uninsured individuals to aid them in the early detection and treatment of breast cancer. It's their goal to diminish disparities in access to diagnosis and treatment of breast cancer, particularly among the poor. Through their link and referral systems, those who are affected by the disease will gain access to local resources, services, and information.
Women Involved in Nurturing, Giving, Sharing, Inc. (WINGS)
The people behind this organization believe that "everyone deserves a lifetime," that's why they came together with the common vision of filling the gap that exists between breast cancer detection and treatment. Beyond treatment, WINGS is dedicated to raising breast cancer awareness and outreach.
We send donated vehicles to the best auction houses within our network. Proceeds from the sales go to our two charity partners to fund their programs that are geared towards improving existing breast cancer prevention strategies and developing more platforms for breast health services.
If you own a vehicle that you no longer use or one that's costing you more in repairs that it's worth, considering donating it to our Tucson, Arizona car donations program.
What You Get Out of Your Donation
Now that we've talked about how your car donations in the city could potentially benefit countless individuals in Tucson, it's time that we explore the top gains that you would get to enjoy in return!
The process is quick and painless!
We make sure that all our donors would get to experience a quick and easy donation process. Once you decide to donate, you'd only need to contact us at 866-540-5069 or fill out our online donation form. After you give us your basic contact information (which we promise never to sell), the year, make and model of your donated vehicle, as well as the time, date and place of pickup, you're all set.
Experience hassle-free pick up and towing at NO COST!
Once you've given us information on when and where you'd wish for us to pick up your vehicle, we'd coordinate with a professional towing company in your area to haul your car away. Don't bother thinking about how much it's going to cost you because towing's on us! We won't even require you to be present when the towing company shows up to do the job.
Because we support certified 501(c)3 nonprofits, you'll be qualified to get tax deductions for your donation. In a matter of days after we sell your donated vehicle at auction, we will send you a 100-percent tax-deductible receipt indicating its final sale price. Once you itemize your deductions on your federal tax return, you can write this off in the next tax season.
You won't need to sell it!
You can always choose to sell your car, but are you really willing to go through the time-consuming and stressful process of running ads, dealing with a broker, risking your personal and financial safety as you negotiate with potential buyers that you don't personally know? When you donate your car to us, you literally won't need to lift a finger (except to call us) for your car to be off your hands.
You won't need to handle paperwork – we got this covered!
We'll take care of everything for you – from title transfer completion to tax-deductible receipt issuance. Sounds good, doesn't it?
Freedom from costly repairs of your unwanted vehicle!
We all know how costly and stressful it is to keep a car once the free maintenance and warranty periods are over. Do you honestly feel that the emotional attachment that you have with your car is worth the holes that its repair and maintenance costs are burning in your pockets?

Ready to Be Somebody's Hero?
There is nothing more priceless than a woman's tearful face as she receives news that her treatment was successful and that she's finally cancer-free. Thanks to Tucson's local facility that provides free and accessible breast cancer diagnostic services, her cancer cells were detected at the earliest and most treatable stage.
You can be a part of this miracle. Call us at 866-540-5069 and get free towing services for your Tucson, Arizona car donations!
or Call Us Now at 866-540-5069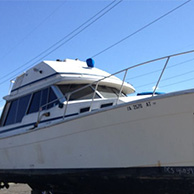 Excellent customer service!