Glendale, Arizona Car Donations
Donate Your Vehicle and Save Lives!
Glendale, Arizona Car Donations: We're Not Helpless; We Can Still Do Something to Save Lives of Breast Cancer Victims
Have you ever thought about donating a vehicle to Glendale, Arizona car donations? If you haven't, you should seriously consider doing so because your vehicle donation will help save and transform the lives of women suffering from breast cancer in your community.
In the United States, breast cancer is the most common types of cancer among women next to skin cancers. For 2018, the American Cancer Society estimates 268,670 new cases of breast cancer with 41,400 deaths. The numbers are frightening, but we are not helpless. We can still do something to save some lives!
How You Can Help
Breast Cancer Car Donations is fully committed to funding the programs of registered 501(c)3 non-profit organizations that work tirelessly to fight the dreaded disease. On their behalf, we operate vehicle donation programs, just like the one here in Glendale, Arizona, so that they could focus on providing comprehensive breast health services across the country. These non-profits have ongoing programs that seek to prevent, screen, diagnose, and treat breast cancer. They also provide family counseling, food, and housing assistance as well as medical care access for uninsured and underserved breast cancer patients.
People like you can contribute to the success of the battle against breast cancer. By donating your old and unwanted vehicles to our Glendale, Arizona car donations program, you can give hope to people whose lives have been dimmed by the dreaded disease. We assure you that all of the proceeds from the sale of donated vehicles will go directly to funding the life-saving programs of our charity partners.
Types of Vehicles You Can Donate
Do you have an ancient motorcycle that you've been keeping in your garage since the Beatles broke-up? Are you still hanging on to that riding lawnmower that you haven't had the time to repair since the 90's?
Brace yourself for some good news! You can donate almost any type of vehicle! From motorcycles, cars, RVs, SUVs to golf carts, limousines, yachts, and even a plane!
We very much appreciate multiple Glendale, Arizona car donations. The more you donate, the more lives are transformed! Check out the list of types of vehicles that we'd gladly take:
Sailboats
Motorboats
Yachts
Motorized wheelchairs
Snowmobiles
Riding lawn mowers
Tractors
Farm equipment
Pontoon boats
RVs
Motorhomes
Campers
Cars
Trucks
Minivans
SUVs
5-wheelers
Motorcycles
ATVs
The only vehicles we can't process are the abandoned ones because we require the owners to submit a proof of ownership so we can auction the vehicles. But other than that, it's all good. If you're still on the fence whether your vehicle is qualified or not, talk to us and we'd be more than happy to assist you.
How to Donate
How can you donate your pre-loved vehicle to Glendale, Arizona car donations? It's super easy!
We don't want to inconvenience you in any way because we understand that your time is precious. All you have to do is follow three simple steps:
Fill out our online donation form and tell us about the important details of your vehicle(s) – year purchased, the model and brand, and the like. The whole exchange will only take a few minutes, tops. You won't have to do anything after the call because we'll handle it from there.
Upon receiving your request, we will immediately contact a towing company and set up a convenient pickup date. Tell them when and where they can tow the vehicle. You don't even have to be there when they get it.
Once the vehicle is sold at the auction, we will send you your IRS tax-deductible receipt by mail. You'll need this to claim your top tax deduction. Don't hesitate to call us if you want to check out the status of your donation.
What You Get from Your Donation
After donating your vehicle, we just can't let you go empty-handed! Here are some of the perks you can get from Glendale, Arizona car donations:
A simple and hassle-free donation process!
Tow your vehicle for free!
With your vehicle hauled, you'll have more space in your garage or driveway!
Release yourself from the responsibilities of insuring, maintaining, and storing your vehicle!
Never worry about paperwork – we process everything for you!
Tax deductions!
Feel all warm inside knowing you've helped fund a worthy cause!
Join the Fight Against Breast Cancer!
Glendale, Arizona is dubbed as "Arizona's Antique Capital," we're pretty sure there are thousands of unused, "antique" vehicles sitting on the driveways of Glendale residents. If you're one of these people, we highly encourage you to donate your car and join us in our fight against breast cancer.
If your questions remain unanswered, please feel free to call and talk to us. We'd love to hear from you.
Contact us at 866-540-5069 and get free pick-up and towing services for your Glendale, Arizona car donations!
or Call Us Now at 866-540-5069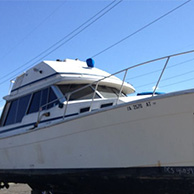 Excellent customer service!