Yuma, Arizona Car Donations
Donate Your Vehicle and Save Lives!
Become a Champion of Your City's Breast Cancer Community with Your Yuma, Arizona Car Donations
Donating your car for the benefit of destitute breast cancer patients in Yuma, Arizona would make you a champion of the breast cancer community in your city. These patients would surely rejoice upon knowing that they are not alone in their struggle and that there are good and kind-hearted people like you who are willing to help them. By taking part in our Yuma, Arizona car donations program, you will enable these patients to gain access to medical services and resources that they so desperately need.
According to U.S. breast cancer statistics, breast cancer is the most common form of cancer in American women next to skin cancers. One out of eight women in the United States will develop invasive breast cancer at some point in her life. Breast cancer is the second leading cause of death in women, with the chance of a woman dying from the disease at about 2.37 percent.
How Your Car Donations Can Help Save Lives
We at Breast Cancer Car Donations operate car donation programs on behalf of two IRS-certified 501(c)3 non-profit organizations that we have partnered with: the American Breast Cancer Foundation (ABCF) and the Women Involved in Nurturing, Giving, Sharing, Inc. (WINGS).
The funds we generate are used to sustain, develop, and improve the comprehensive breast health services being provided by these non-profits to all Americans across the country.
In particular, ABCF seeks to make breast cancer diagnosis and treatment accessible and available to all uninsured and the underserved individuals in every locality. ABCF helps in giving medical access and financial assistance to all who need help, particularly the poorest of the poor. Through its extensive link referral systems, the charity connects breast cancer patients to local facilities that provide free and accessible medical service.
On the other hand, WINGS gives financial assistance to families who have members undergoing breast cancer treatment. The charity pays for their surgery, oncology services, hospital fees, and outpatient medication. Our charity partners are also actively involved in outreach and are advocates of raising public awareness for breast cancer prevention.
How Your Car Donations Can Benefit You
When you join our Yuma, Arizona car donations program, we won't let you leave empty-handed! Here are the perks you're going to enjoy in return:
You will enjoy maximum tax deductions
We pay for the pick-up and towing
We do all the paperwork for you
Eliminate the hassle and unnecessary expenses of owning an unwanted car
You free up more space in your garage
We help you get rid of a car that hasn't been used for a long time
How to Start Donating
We want you to have the most pleasant car donation experience in Yuma, Arizona. We'll handle everything for you after you initiate the process. Here's how our quick and simple Yuma, Arizona car donations process works:
Step 1. Contact us.
Fill out our online donation form or call 866-540-5069. We'd gather a few basic details like your contact information, your vehicle's make, model and year, mileage and its working condition.  We'll set up a time at your convenience to haul your vehicle away.
Step 2. We pick up your vehicle at no cost to you.
We will coordinate with an affiliate towing company in your area for the pickup. At your preferred time, date and place, they will promptly show up and get your unwanted car in a flash. No need to pay for anything and no need to be there when we haul your car away. We will give you a donation receipt that will enable you to de-register your vehicle, dispose of your license plates properly, and cancel your insurance coverage. Keep the receipt since you may need it for tax purposes.
Step 3. We mail you your tax-deductible receipt.
Within days after your vehicle gets sold at auction, you will receive a tax-deductible receipt by mail bearing the actual sale price of your vehicle. To claim this benefit, you need to itemize your deductions on your federal tax return.
The Type of Vehicles You Can Donate
Here at Breast Cancer Car Donations, we are not very particular about the type or condition of the vehicle you're donating because we mostly accept all sorts of vehicles. Even if the vehicle you're donating has not run for years, we are still going to accept it as long as it has a good enough cash value. Here are just some examples of common vehicles we accept in our Yuma, Arizona car donations program:
Cars
Vans or minivans
RVs
Trucks
Buses
Campers
Motorcycles
Boats
Jet Skis
Motorized wheelchairs
Snowmobiles
Farm equipment
Non-commercial airplanes
If you want to check out more of what we accept, you can visit our accepted vehicles page.
Are You Ready to Become a Champion?
Now that you know all about our Yuma, Arizona car donations program, are you ready to take part in something so big and yet so simple? If so, call us now at 866-540-5069 and become a champion of the breast cancer community in your city!
or Call Us Now at 866-540-5069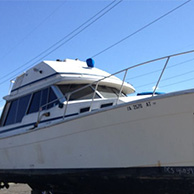 Excellent customer service!