Phoenix, Arizona RV Donations
Donate Your Vehicle and Save Lives!
Help Save Lives of Breast Cancer Patients With Phoenix, Arizona RV Donations
Do you have an RV or camper that is hogging up too much space in your garage? Is it getting expensive maintaining one? Consider donating it to us through our Phoenix, Arizona RV donations program.
Here at Breast Cancer Car Donations, we will put your unwanted RV or camper to good use. We will auction off your donated vehicle and use the proceeds to help needy breast cancer patients and their families in Phoenix, AZ.
Your donation can help save the lives of breast cancer patients who do not have the money to pay for the high cost of their treatment. At the same time, you will personally benefit from your RV donation since we will quickly relieve you of the burden of having to keep a vehicle that's only dragging you down with its frequent breakdowns and trips to the repair shop. This we will do at no cost to you. We'll even reward you with a handsome tax write-off following the auction sale of your RV.
If you're now seriously considering taking part in our Phoenix, Arizona RV donations program, here is what you need to know.
'Where Does My RV Donation Go?'
The funds that your RV donation will generate once it is sold will go straight to our two reputable nonprofit organization partners–the American Breast Cancer Foundation (ABCF) and the Women Involved In Nurturing, Giving, Sharing, Inc. (WINGS). The funding will help support their charity work and research.
These two nonprofits work day in and day out to stem the devastating consequences of breast cancer, providing breast health services such as breast cancer screening, diagnosis, treatment, and rehabilitation to all Americans who lacked the capacity to pay for those services, particularly those who do not have health insurance.
At the same time, they invest the donated funds into breast cancer research and awareness campaigns as part of their strategy to contain and eventually put an end to this pernicious disease.
Hence, your participation in our Phoenix, Arizona RV donations program will enable you to touch the lives of individuals going through their breast cancer journey, strengthening their resolve to beat the disease.
'What Will I Get for Donating an RV?'
By taking part in our Phoenix, Arizona RV donations program, you will provide benefits not just to breast cancer sufferers but to yourself as well! Here are some of the rewards you'll get to enjoy:
Enjoy a maximum tax write-off.
Your RV donation will entitle you to receive the highest possible tax deduction based on your vehicle's selling price at auction. We will send you by mail the receipt showing your RV's selling price after your vehicle has been sold. You can then use this receipt in claiming your tax write-off when you file your itemized IRS income tax return for the upcoming tax-filing season.
Get rid of an unwanted RV quickly and for free.
A professional towing company will pick up your RV for free and at the soonest time possible based on your own convenience.
Avoid the hassles of reselling a vehicle yourself.
Reselling a used RV yourself can be a tedious, costly, and risky process. Finding a buyer is not that easy. Reselling also involves a lot of effort like posting "For Sale" ads and meeting prospective buyers. It's also expensive since you may need to pay for repairs and bodywork to make your used RV marketable. You can also expose yourself to possible risks since you will have to go public with your personal contact details.
Save money intended for unnecessary expenses.
By donating your unwanted RV, you no longer need to pay for repairs, maintenance, registration, and insurance.
Free up your garage space.
With that huge clunker out of your garage, you now have a home for a new vehicle or an extra room to keep your stuff.
'What Types of RVs Can I Donate?'
We at Breast Cancer Car Donations gladly accept all kinds of RV regardless of their age and working condition. We welcome campers, travel trailers, pop-up trailers, 5-wheelers, and motorhomes in our Phoenix, Arizona RV donations program.
If you have other types of vehicles that you no longer need, you can also donate them to us. We accept nearly all types of vehicles—those used on land, at sea, and in the air. They include:
Cars: sedans, luxury cars, sports cars, wagons, coupes, convertibles, hybrids, hatchbacks
Vans: cargo vans, passenger vans, family minivans, camper vans
Motorcycles: scooters, off-road bikes, touring bikes, cruisers, sports bikes, choppers
Trucks: box trucks, extended cab pickup, panel trucks, pickup trucks
Boats: fishing boats, sailboats, speedboats, houseboats, pontoon boats, tugboats, yachts
SUVs: compact, midsize, full-size or crossover versions
Specialty vehicles: riding lawnmowers, motorized wheelchairs, snowmobiles, jet skis, non-commercial planes
Work-related vehicles: construction vehicles, tractors and farm equipment, buses, large trucks, landscaping vehicles
Fleet vehicles: cars, passenger vans, cargo vans, SUVs, pickups, trucks, buses
'How Do I Donate My RV?'
When you donate your RV to Breast Cancer Car Donations, we assure you that you won't have to get through a tiring and stressful process. We will ensure that your donation journey will be smooth, easy, and most rewarding.
Here is the process we follow in our Phoenix, Arizona RV donations program:
Either give us a call at our 866-540-5069 toll-free hotline or complete our donation form. We'll require a few details about you and the vehicle you're offering to donate.
We'll then arrange for a licensed towing company to pick up and tow your vehicle. You don't even need to be there during the pickup, and it's absolutely free!
Finally, you'll get a tax receipt. You will receive this in the mail after the vehicle is sold.
If you have questions regarding our car donation process or any related matter, feel free to call us at 866-540-5069. For more information, you can also visit our FAQ's page or send us a message online.
Help Save Lives with Your RV Donation
Help save the lives of breast cancer victims. Call us at 866-540-5069 and take part in our Phoenix, Arizona RV donations program now!
or Call Us Now at 866-540-5069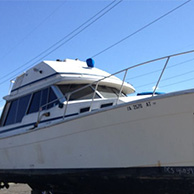 Excellent customer service!