Tempe, Arizona Car Donations
Donate Your Vehicle and Save Lives!
Tempe, Arizona Car Donations: Donate Your Car and Be a Lifesaver!
When you decide to donate your car to Breast Cancer Car Donations in Tempe, Arizona, you will be helping bridge the gap between diagnosis and treatment for this dreaded disease. We work closely with other non-profit organizations such as Women Involved in Nurturing, Giving, Sharing, Inc. (WINGS) and American Breast Cancer Foundation (ABCF).
The entire proceeds from the sale of your donated vehicle would automatically be used for funding groundbreaking research on the prevention, screening, diagnosis, treatment, and cure of breast cancer. Not only that, your donation would connect breast cancer patients with facilities within Tempe that offer free services, resources, and support that they so desperately need.
Statistics show that 12 percent of the country's female population will develop invasive breast cancer over the course of their lifetimes. Take part in our Tempe, Arizona car donations program as we work tirelessly to bring these numbers down! Together, we can transform lives in this city.
Where You Are Is the Best Place to Start
You're in Tempe, a place located southeast of Phoenix and is known to be one of the major suburbs of a larger city. You've lived there all your life and every New Year's Eve, you get in your ancient Toyota Prius and drive a few blocks away from your house to go to the annual Tostitos Fiesta Bowl Block Party. As if on cue, it curiously breaks down even before you get to your destination.
If this is you, then do yourself a favor and buy a new and well-deserved car. Free yourself from a vehicle that keeps on giving you irritation and putting a big hole in your pocket with its never-ending repairs. Donate that clunker instead!
The Good Stuff that You're Going to Have
You don't have to think long and hard. The benefits of making Tempe, Arizona car donations far outweigh every reservation that you may still have. Take a glimpse of what car donations made through us would do for you.
You can count on us to send your donated car to the best auction house where it will sell for top value! We do this because we want you to enjoy the maximum tax deductions that you so greatly deserve.
You would finally get that old thing out of your garage at no cost! Towing expenses are on us!
Financial freedom from maintenance and repair!
Say goodbye to that familiar feeling of dread whenever you shell out extra cash to pay for repairs!
Clean up your driveway and make room for a new car!
Fast and easy donation process!
We make the donation process fast and easy because your convenience is our top priority.
How Tempe Car Donations Work
It only takes three ridiculously simple steps for you to complete our Tempe, Arizona car donations process.
Fill out our online donation form or call us! You can schedule your free pick up and give us some basic information about your car in less than 15 minutes!
Let's haul your car away.
You can expect us to show up on the scheduled date and time to do the towing! Remember that you won't have to pay for this service and you don't even have to be home when we arrive! We will give you a donation receipt that will allow you to de-register your vehicle, dispose of your license plates properly, and cancel your insurance coverage.
Wait for your tax-deductible receipt.
After your car gets sold at auction, we will mail you your 100 percent tax-deductible sale receipt, indicating your donated vehicle's final selling price. This will serve as the basis of your tax deduction claim when you file your itemized federal tax return. You can either claim the indicated amount as your tax deduction if it's higher than $500. If your car's selling price is lower than that, you have the option to base your tax deduction claim on your vehicle's fair market value.
Vehicles that You Can Donate
Tempe, Arizona car donations are not limited to cars alone. You are free to donate other vehicles that you want to do away with! There's a 99.9 percent chance that we will accept it.
The list below shows the types of vehicles that we would be more than happy to accept:
Cars
Vans / minivans
Trucks
SUVs
ATVs
Golf carts
Motorhomes
Motorcycles
Personal watercraft
Riding lawnmowers
Buses
Pontoon boats
Sailboats
Yachts
Snowmobiles
Farm equipment
Motorized wheelchairs
Non-commercial airplanes
Multiple donations sound good to us. The more you give away, the more lives you'd get to touch! If your vehicle doesn't run and looks like something that could be spotted in a junkyard, don't worry! We can tow away most donations.
Do you have questions related to your vehicle's title? That's okay! We are up and ready to offer you our assistance.
Put Action to Your Conviction
If you feel compassion toward individuals who are battling breast cancer, then your old car is the best gift that you could give to help them. They will undoubtedly feel the impact of your donation in more ways than you could possibly imagine. Call us at 866-540-5069 and get your tax rewards for your Tempe, Arizona car donations!
or Call Us Now at 866-540-5069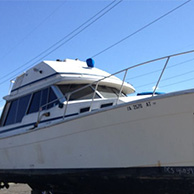 Excellent customer service!