Surprise, Arizona Car Donations
Donate Your Vehicle and Save Lives!
Surprise, Arizona Car Donations: Donate a Car and Help Save Lives
Would you like to do something truly wonderful that would leave others in awe of what you've done? Try donating your car to our Surprise, Arizona car donations program.
In a city where the word "surprise" is not really a surprising word to say for obvious reason, people around you would still be – yes, there goes the word again – surprised when they find out that you've just donated your shiny car to us at Breast Cancer Car Donations to help pay for the treatment of financially challenged breast cancer patients in your city.
Even if the car you'll be donating is already one generation old, even if it's not in good running condition anymore, we would still gladly accept it. It's because we need all the resources we can get to help sustain and strengthen further our campaign against breast cancer and our unceasing effort to help its victims.
We at Breast Cancer Car Donations are committed to supporting certified 501(c)(3) nonprofit organizations that are battling breast cancer by managing car donation programs on their behalf. That way, they could devote more of their time and effort at providing accessible and comprehensive breast health services in your community.
The Goodness That Will Come from Your Car Donations
When you donate your car to our Surprise, Arizona car donations program, we take it to the best auction house within our network to be sold. Proceeds from the sale will be used to generate funds that will enable our non-profit partners to provide financial assistance to uninsured and underserved breast cancer patients. This will help them pay for their treatment including surgery, oncology services, hospital fees, and outpatient medication.
Our non-profit partners — American Breast Cancer Foundation (ABCF) and Women Involved in Nurturing, Giving, Sharing, Inc. (WINGS) – also use the funds to:
Raise public awareness on the signs and symptoms of breast cancer to promote early detection and, thus, more effective treatment;
Improve their existing link referral systems that allow affected women free access to local resources and services;
Pursue research on prevention, screening, diagnosis, and treatment of breast cancer; and
Conduct charity and outreach events for the benefit of breast cancer patients.
About Surprise, Arizona
Surprise is a city in Maricopa County, Phoenix located 6 miles northwest of Peoria and 19 miles northwest of Phoenix. Land designer and state official Homer C. Ludden established the city in 1938, naming it after the place where he grew up, the town of Surprise, Nebraska.
At first, there were just a couple of houses and a corner store in the territory. However, Surprise experienced dramatic developments over the next years and was incorporated as a city in 1960.
Sun City Grand, an age-confined resort-like group, was established in the city by the Del Webb property development company. In the 1990s and early part of 2000s, a number of retirees moved into the city.
Based on 2017 estimates, the city has a population of 123,813. Of this number, 52.1 percent — or 64,506 — are women, a number of whom could have a brush with breast cancer. According to U.S. breast cancer statistics, one out of eight women will develop invasive breast cancer at some point in her life. Breast cancer remains the second leading cause of death in women.
Our Surprisingly Quick and Easy Car Donation Process
Our Surprise, Arizona car donations process is surprisingly quick and easy. We made it that way for the convenience of our donors and for faster fund generation. There are only three easy steps to get your car towed for free:
Step 1:
Give us a call at 866-540-5069. Provide us your contact information and a few details about the vehicle you're donating like its make and model, mileage, and vehicle identification number. Another option would be for you to fill out our online donation form. You can donate not just cars but other vehicles you may have that you don't use anymore. Check our list of vehicle types that we accept for donation on this page.
Step 2:
Once we have verified the information you provided, we will make arrangements with an affiliate tow company from your area to pick up your car. The towing fee is on us, and you don't have to pay for anything. The tow truck will pick up your vehicle on your preferred date, time, and place. We will hand you a donation receipt, a document that releases you from all liabilities on the car you donated, allowing you to de-register your vehicle, dispose of your license plates properly, and cancel your insurance coverage. Keep the receipt since you may need it for tax purposes.
Step 3:
After we auction off your car, we will send you your 100-percent tax-deductible receipt by mail, indicating your donated vehicle's final selling price. This will serve as the basis of your tax deduction claim when you file your itemized federal tax return.
A Ton of Rewards for You as Car Donor
Aside from the maximized tax deduction, the free towing service, and the smooth car donation process you'll get when you take part in our Surprise, Arizona car donations program, you also stand to receive these other rewards:
Avoid the hassle of selling.
No need to bother with the paperwork.
Save money on repairs, other payments.
Unclog your garage or backyard.
Support a worthy cause that brings out the best in you.
Donate Now!
A woman diagnosed with breast cancer may feel like it's doomsday. But with the free medical treatment she'll get that's made possible by your car donation, this feeling will be replaced by hope that she will survive the disease. Just imagine the joy on that woman's face when she finally beats the disease. Call us now at 866-540-5069 and get that ton of rewards for your Surprise, Arizona car donations!
or Call Us Now at 866-540-5069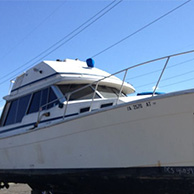 Excellent customer service!