Gilbert, Arizona Car Donations
Donate Your Vehicle and Save Lives!
Your Gilbert, Arizona Car Donations Will Help Save Lives of Breast Cancer Patients
You don't have to deal with the old, worthless car in your garage. Hand it over to Gilbert, Arizona car donations instead! What you may consider a "worthless" car can actually become a powerful tool to uplift the lives of breast cancer patients here in this town. About one out of eight women in the United States are going to develop invasive breast cancer during her lifetime – that's about 12 percent of the female population in America.
Breast Cancer Car Donations works with reputable non-profit organizations that focus on fighting breast cancer and spreading awareness of the devastating killer disease. Through our Gilbert, Arizona car donations program, we seek to provide additional funding to these non-profits so they can sustain the services they provide to breast cancer patients and boost their research on preventing, screening, diagnosing, and treating breast cancer.
With your vehicle donation, you will help save lives.
You don't have to worry about our car donations process in the area because we made it super easy and convenient for you. All you have to do is get in touch with us, and we'll handle the rest.
'Is My Vehicle Acceptable?'
The answer will most likely be "yes." It's very rare that we refuse to accept a breast cancer car donation in Gilbert. Whether your car has been covered in dust for the last 30 years or if it's still up and running – regardless of its age and condition, we'll tow it in.
Aside from the vehicle, all we need is its title since we're going to sell it at auction. If you can't find the title, don't worry. Call us and we'll be glad to help you get a replacement title.
We accept almost all types of vehicles. Here's a list of vehicles that we accept for donation:
Sailboats
Motorboats
Yachts
Motorized wheelchairs
Snowmobiles
Riding lawn mowers
Tractors
Farm equipment
Pontoon boats
RVs
Motorhomes
Campers
Cars
Trucks
Minivans
SUVs
5-wheelers
Motorcycles
ATVs
'How Can I Donate?'
Breast Cancer Car Donations provides you a simple, straightforward process for donating your pre-loved vehicle. All you need to do is to get in touch with us! Call us at 866-540-5069 or fill out our online donation form, and we'll do the rest.
After you call us and tell us your personal contact information and a few details about the vehicle you're donating, we'll arrange with a licensed towing company in your area to pick up your vehicle – for free! You can even tell us your preferred time, date, and place for the pick-up. We will do all the paperwork, so you don't have to worry about anything.
As we sell your car at an auction house, you can sip some margarita, relax and chill out! We will send you by mail your 100-percent tax deductible receipt a few days after the sale of your car.
That's about it! You can even donate not just one, but two or more vehicles to our Gilbert, Arizona car donations program. You can donate an RV, or a battered truck, or a luxurious yacht, or even a golf cart!
'What Will I Gain?'
Knowing that your donation will help in the treatment of breast cancer patients and women in your town is bound to make you feel warm and giddy inside. The satisfaction you feel is, of course, a reward in itself. But Breast Cancer Car Donations wants to acknowledge your kindness and offer you the following benefits:
Doesn't it feel good to be finally free from worrying about paying for your old car's maintenance and upkeep? If you donate your car, you won't have to get your car into a sellable condition! Plus, you don't have to go through the process of listing and selling it.
Get ready to save hundreds of dollars!
With your unused vehicle towed away, you can quit paying insurance and registration. Save that money and buy a brand-new car!
Come to think of it, donating your unwanted car is a win-win situation. You get to enjoy these benefits and all the while you get to help save the lives of breast cancer patients in your town.
What are you waiting for? Contact us at 866-540-5069 and get maximum tax deductions for your Gilbert, Arizona car donations!
or Call Us Now at 866-540-5069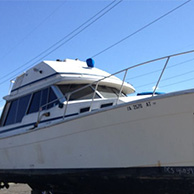 Excellent customer service!