Avondale, Arizona Car Donations
Donate Your Vehicle and Save Lives!
Avondale, Arizona Car Donations: Save Not Just One But Thousands of Women Struggling with Breast Cancer!
By joining our Avondale, Arizona car donations program, you can potentially change the course of a breast cancer victim's life. You can save not only one but thousands of women who are battling the deadly disease.
When you donate your car to Breast Cancer Car Donations, it will be used as special funding for the nation's top breast cancer non-profits.
These non-profits will use the funding to produce important fundraising events and outreach programs that will benefit breast cancer victims as well as their families. They will also use it to find new ways to detect and diagnose early signs of the disease and search for new options in treating the disease.
If you have an old car, boat or motorcycle that you want to dispose of, donate it to us instead. You may think that it's just an old trashy car, but to us, it's much more than that. It is valuable enough to change and uplift people's lives.
There are many other good reasons why you should highly consider joining our Avondale, Arizona car donations program. Read on.
Choose Breast Cancer Car Donations and Get Rewards
By choosing Breast Cancer Car Donations as the facilitator of your donation, you will get rewards as our way to saying "thank you" for your kind donation. Let us explore some of them:
You will receive a sizeable tax deduction for your car donations in the area.
The donation process only takes a few minutes of your time.
We'll pay for the pick-up and tow of the vehicle you're donating.
You avoid the difficulties of selling your car.
There's no need to bother yourself with paperwork; we will do that for you.
Save money by not paying any more for car repair, registration, and insurance.
Remove the clutter in your backyard or garage and give space to your new car.
Best of all, enjoy the feeling of happiness, knowing that breast cancer aid recipients are smiling and giving appreciation because you did something remarkable for them.
Our Most Convenient Donation Process
You'll be surprised at how quick and convenient our donation process is. The only thing you need to do is get your phone and give us a call. After that phone call, we'll take care of the rest. Here are the three basic steps in our Avondale, Arizona car donations process:
Step 1: Call us at 866-540-5069. Another option is to fill out our online donation form. Either way, we are going to ask for some details about your car and yourself. We'll also arrange a time and date for the pickup that is convenient to you.
Step 2: We arrange for a licensed towing company to pick up the vehicle you're donating to Avondale, Arizona car donations. You need not be present during the actual pick-up if you have to be somewhere else, but please make sure that we are able to get hold of your vehicle title and car keys. Before we leave your premises, we will issue you a donation receipt that will release from any liability on your car. This means you can now cancel your car registration and insurance.
Step 3: We tow your vehicle and sell it at auction, making sure that it is sold at its highest possible price. In less than 30 days, we will send you by mail which your tax-deductible sales receipt. You can use this to claim your top tax deduction when you file your itemized federal income tax return.
That's it! If you have further concerns or questions, just give us a call!
Vehicles That We Accept for Donations
We at Breast Cancer Car Donations are not choosy when receiving Avondale, Arizona car donations. We welcome nearly every type of vehicle. We don't even focus too much on the vehicle's condition. Here are some of the vehicle types we accept for donation:
Common vehicles: Sedans, SUVs, trucks, various types of motorcycles
Recreational vehicles: Campers, trailers, five-wheelers, motorhomes, toy haulers
Water vehicles: Different types of boats, jet skis, and yachts.
Specialty-type vehicles: Golf carts, ATVs, farm equipment, snowmobiles
Non-commercial aircraft
As you can see, we accept a wide array of vehicles in our  Avondale, Arizona car donations program. Your type of vehicle will not be a problem! If you want, you can check out our accepted vehicles page.
Get Ready!
Are you ready to start your Avondale, Arizona car donations? Contact us now at 866-540-5069! Donate now!
or Call Us Now at 866-540-5069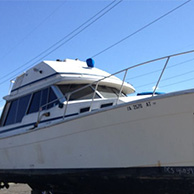 Excellent customer service!