Peoria, Arizona Car Donations
Donate Your Vehicle and Save Lives!
Peoria, Arizona Car Donations: You Can Save and Transform Lives of Breast Cancer Patients
Do you happen to have an old car or truck that you want to get rid of because it's already useless to you? Instead of throwing it away, make the most out of it by donating it to us at Breast Cancer Car Donations through our Peoria, Arizona car donations program.
We are here to give hope to people who are suffering from breast cancer in your city. However, we can do nothing without your support. Your car donation is the key to our success. It will be you and your car donations that will create an impact on the lives of people struggling with breast cancer.
About Peoria, Arizona
Peoria is a city in Maricopa and Yavapai counties in the State of Arizona and a major suburb of Phoenix. It is the sixth largest city in Arizona for land area and the ninth largest for population. According to the latest Census Bureau report, the population of the city is 154,065, of which 80,149 are female.
In July 2008, Money magazine listed Peoria in its Top 100 Places to Live.
The word "peoria" is a corruption of the Illini word for "prairie fire." And just like that kind of fire, breast cancer is raging in the city and everywhere else in America.
Where Your Car Donations Will Go
The still raging breast cancer disease is the reason why we are here. We have partnered with reputable non-profit organizations that have dedicated themselves to fighting the disease on a broad front. They are the American Breast Cancer Foundation (ABCF) and Women Involved In Nurturing, Giving, Sharing, Inc. (WINGS). These are two of the nation's most trusted non-profits. They use the funding we get from our car donation programs sustain and improve their existing programs that are geared to achieve these goals:
Provide financial assistance to uninsured and underserved breast cancer patients, covering their surgery, oncology services, consultation, hospital fees, and outpatient medication;
Connect these patients to local facilities that offer free and accessible resources, information and other comprehensive breast health services;
Raise public awareness on breast cancer prevention, diagnosis, and treatment;
Pursue research on prevention, screening, diagnosis, and treatment of breast cancer;
Sponsor charity and outreach events for the benefit of breast cancer patients
What You Get for Your Car Donations
You get perks for taking part in our Peoria, Arizona car donations program – that's for sure! Your car donations will not only provide much-needed assistance to those who were diagnosed with breast cancer but will also benefit you in more ways than one. Here are the benefits that await you for your show of generosity and compassion to breast cancer sufferers:
You get maximized tax deduction
You get more space in your garage or driveway by getting rid of the vehicle you don't need
You quit paying for fees that come with storing, insuring, and maintaining your vehicle
You save yourself the trouble of trying to sell an old vehicle
You won't be overwhelmed with paperwork – we'll handle it for you
You get your car towed for free
You get to feel that priceless sense of satisfaction and fulfillment for having done something good for your fellow human beings
How to Donate Cars the Fast and Easy Way
Another feature of our Peoria, Arizona car donations program that you will love is our fast, easy, and no-hassles donation process. It takes three simple steps for you to reach out and extend assistance to fellow citizens afflicted with breast cancer:
You can do this by either filling out our online donation form or calling us at 866-540-5069. Tell us about the details of your vehicle – year purchased, model, brand, and a few more details. This will take just a few minutes of your time.
Schedule the fast and free pick-up of your vehicle.
We'll immediately arrange with a licensed towing company in your area to pick up and tow your vehicle. We will give you a donation receipt that releases you from all liabilities on your car, giving you the right to cancel and stop paying for your car insurance and registration.
Receive your tax deduction.
Within 30 days after we auction off your vehicle, we'll send you your 100 percent tax-deductible sale receipt, indicating your donated vehicle's final selling price. This will serve as the basis of your tax deduction claim when you file your itemized federal tax return.
What Vehicle Types You Can Donate
In our Peoria, Arizona car donations program, we accept vehicles of nearly all types. We accept even non-running vehicles as long as you have a proof of ownership to them. Here's a partial list of vehicles acceptable to us:
Cars
SUVs
Trucks
Motorcycles
Vans
Boats
Motorhomes
Campers
Travel trailers
Recreational vehicles
Pop-up trailers
5-wheelers
Buses
Pickups
Farm equipment
Non-commercial airplanes
Give the Gift of Hope Now!
Join our Peoria, Arizona car donations program now and give breast cancer victims the priceless gift of hope – the hope of surviving the disease and living a full life, thanks to you! Call us at 866-540-5069 and get your unwanted vehicle towed away for free!
or Call Us Now at 866-540-5069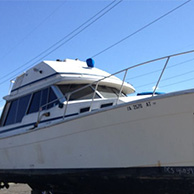 Excellent customer service!