Georgia Boat Donations
Donate Your Vehicle and Save Lives!
Bring Healing to Breast Cancer Patients with Your Georgia Boat Donations
 Help bring healing to your fellow citizens with breast cancer by participating in our Georgia boat donations program. When you donate a boat you no longer need to us at Breast Cancer Car Donations, we'll sell it at auction and use the proceeds to fund various programs that deliver essential breast health services to all individuals who need them, most especially those who do not have the capacity to pay for such kinds of services.
Breast cancer has now become the most common type of cancer among women in the United States, according to the National Cancer Institute. Breast cancer is also the second leading cause of cancer death in women next to lung cancer.
In 2015, there were an estimated 3,418,124 women suffering from breast cancer in the United States.
This 2018, the United States will see 268,670 new cases of invasive breast cancer, along with 63,960 new cases of non-invasive (in situ) breast cancer, according to estimates made by the American Cancer Society,
About 41,400 women in the U.S. are expected to die in 2018 from breast cancer this year.
How Your Boat Donation Will Help Breast Cancer Sufferers
You can help lower these numbers down by taking part in our Georgia boat donations fundraiser. Our certified 501(c)3 nonprofit organization partners—the American Breast Cancer Foundation (ABCF) and Women Involved In Nurturing, Giving, Sharing, Inc. (WINGS)—will use the funds derived from your donation to support their programs geared at fighting breast cancer and helping its victims. These programs include:
Giving financial assistance to uninsured and underserved Americans undergoing treatment for breast cancer;
Providing effective treatment and rehabilitation of breast cancer patients;
Supporting for breast cancer patients' families;
Funding research on advanced methods of breast cancer prevention, screening, diagnosis, and treatment;
Enhancing campaigns for public awareness of the causes, symptoms, prevention, and detection of breast cancer.
You'll Also Help Yourself
The beauty of our Georgia boat donations program is that while you lend a helping hand to the poor victims of breast cancer, you'll also help yourself when you donate your old and unwanted boat to us at Breast Cancer Car Donations.
Here are some of the perks you'll get for supporting our cause:
We want you to get the best out of your donated boat, that's why we'll spare no effort in getting the highest possible sales price for your boat when we auction it. We do this by refurbishing your boat before selling it and sending it to the best auction house in town where it would be sold for top dollar.
We'll pay for your vehicle pick-up and towing.
You get free towing service when you donate your boat to us. You won't pay even a single dime for the entire donation process.
You don't have to bother yourself with paperwork.
We'll handle all the required paperwork—from processing the title transfer of your boat to the documentation needed in sending your tax-deductible sales receipt.
You save money on repairs, other payments.
You don't have to burden yourself anymore with paying for boat repairs, maintenance, registration, insurance, and storage.
Avoid the hassle of selling.
It's not easy to sell a boat, especially an old boat. If you're short on patience, time, and money, it will be hard to find a good buyer. But if you simply donate it to us, we'll be the one to sell that boat for you, and you don't have to run ads, deal with phone calls or emails, show your boat to potential buyers, and haggle over the price.
Feel the joy of supporting a worthy cause.
Donating a boat to saves lives will give you that inner joy that no amount of money can buy.
How to Join Georgia Boat Donations
You can donate a boat to Breast Cancer Car Donations in the comforts of your home. It will take just a few minutes of your time, and you don't have to do anything else after you reach out to us.
Here's our quick three-step Georgia boat donations process:
First:
Fill out our online donation form or simply call us at 866-540-5069. Tell us what type of boat you're donating and a few other details about it. Tell us how we can reach you.
Second:
We'll call you back after we verify the information you gave us. We'll ask for a boat pickup schedule most convenient to you. A truck from a licensed towing company affiliated with us will then arrive to pick up your boat. You'll receive a tow receipt before they haul off your boat. The receipt enables you to cancel your boat's insurance and registration.
Third:
Within 30 days after your boat is sold at auction, we'll send you by mail your boat's 100-percent tax-deductible sales receipt. You can base your tax deduction claim from the amount indicated in the receipt when you file your itemized federal income tax return for the next tax-filing season.
The Types of Boats and Other Vehicles You Can Donate
We accept many types of watercraft in our Georgia boat donations program. You can donate a sailboat, catamaran, cruiser, motorboat, fishing boat, yacht, speedboat, pontoon boat, houseboat, and even jet skis among other sea vessels.
You can also donate other vehicles aside from boats. We accept cars, vans, SUVs, trucks, motorcycles, RVs, ATVs, snowmobiles, motorized wheelchairs, riding lawn mowers, tractors, farm equipment, pickups, buses, and even non-commercial aircraft.
We love multiple donations because they mean more aid to breast cancer patients.
Never mind if the boat you're donating is already worn out. We'd still take it as long as it is not too heavily damaged.
You need to have a title or proof of ownership for the boat you're donating. In case you misplaced the title, no worries: Call us and we can help you secure a replacement title quickly.
Don't Waste Time!
There's no time to waste when it comes to helping breast cancer patients. Every second counts in their lives because the invasive cancerous cells can move frighteningly fast. Contact us right away at 866-540-5069 if you're ready to take part in our Georgia boat donations fundraiser. Donate today!
or Call Us Now at 866-540-5069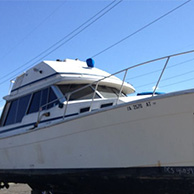 Excellent customer service!