Personal Watercraft (PWC) Donations
Donate Your Vehicle and Save Lives!
Personal Watercraft (PWC) Donations: Turn Your Unneeded Vessel into a Miracle-Maker
Hundreds of thousands of breast cancer-stricken individuals in the United States are fighting for their lives every single day. With the sky-high costs of hospitalization and treatment, many of them – especially those without insurance – are unable to get the full medical intervention they need, All they can hope for is for a miracle that will free them from the clutches of this devastating disease.
You can provide that miracle when you take part in our personal watercraft (PWC) donations program.
We at Breast Cancer Car Donations are committed to supporting needy breast cancer victims and their families. Our role is to support our charity partners by helping fund their cancer-fighting programs. We do this by selling various types of vehicles – including PWC and other marine vessels – which we receive from our donors. We then transfer all the proceeds to our IRS-certified 501(c)3 nonprofit partners.
With your personal watercraft donation, you'll help these nonprofits deliver programs that aim to achieve the following objectives:
Connect uninsured and underserved patients to local facilities that offer comprehensive breast health services and resources;
Provide financial assistance to cover hospital bills, oncology consultations, out-patient medication, chemo treatment, and surgery;
Help underprivileged beneficiaries gain free access to screening, diagnostic testing, and treatment;
Help fund research on breast cancer cure;
Raise awareness on the causes, symptoms, detection, and prevention of breast cancer; and
Host fundraising events for the benefit of sufferers, survivors, and their families.
Here's How You Can Support Our Cause
Consider yourself a lucky donor if you decide to make a personal watercraft donation to us. Our donation process is unbelievably fast and easy – it will only take you just 2 to 3 minutes to make a donation!
Here's our simple three-step guide to our donation process:
1. Contact us.
Call us at 866-540-5069 and tell us that you're donating a PWC to us. Another option is for you to fill out our online donation form. We'll ask for your personal contact information and a few basic details about your personal watercraft.
2. Schedule your vessel's free towing.
Once we confirm all the details about your vessel, we'll contact you to arrange a time, date, and place convenient to you for your vessel's pickup. Two things you need to know about our pickup service: First, it's available throughout the U.S. Second, it's absolutely free of charge!
A local professional towing company will take care of hauling off your vessel. In exchange, you'll receive a towing receipt. With this receipt, you're released from any liability on your personal watercraft from then on.
3. Get your tax deduction receipt.
Once we get hold of your vessel, we'll sell it via auction. Within 30 days after it is sold, we'll send you your 100-percent tax-deductible sales receipt by mail. The receipt will entitle you to claim a maximum tax deduction when you file your itemized tax return in the next tax-filing season.
If you want to know more about our donation process, tax deductions, and other related matters, make your way to our FAQs page. If you have questions or concerns, call us at 866-540-5069 or send us a message online.
Rewards to Make You Smile
While donating is an altruistic gesture, we would feel bad if our donors were left without receiving anything in return. That is why we at Breast Cancer Car Donations always make sure that our donors get to have their share of rewards.
Here are some of the reasons why making a personal watercraft donation to us is an excellent decision:
You'll get a top tax deduction.
We'll pick up your Jet Ski at zero cost to you.
You won't deal with any paperwork; we'll handle everything for you.
You schedule the towing of your personal watercraft at a time, date, and place of your own preference. Your presence isn't required as well.
When you donate your PWC, you stop paying for the expensive costs of its insurance coverage, storage, maintenance, and repairs.
You skip the hassles and costs associated with selling a used vessel yourself.
You get the opportunity to team up with the country's leading breast cancer nonprofits.
You experience a sense of contentment knowing that your personal watercraft donation can help save the lives of breast cancer patients in your area.
Other Types of Seacraft and Vehicles You Can Donate
Besides your PWC, do you have other seacraft and motor vehicles you'd like to dispose of? Feel free to donate them all to us. We accept nearly all types of marine vessels and motor vehicles. Past donors have given us catamaran boats, deck boats, motorboats, yachts, sailboats, houseboats, cruise ships, ferries, trawlers, Boston Whalers. Chris-Craft boats, bowriders, center consoles, cuddy cabins, fishing boats, tugboats, speedboats, wakeboard boats, pleasure boats, and pontoon boats among others.
To find out the other types of vehicles that you can donate to us, browse through our Accepted Vehicles page. You can donate even damaged vehicles or those that are no longer in good working condition. As long as we see that there's still some cash value in them, we'll take them in.
Make a PWC Donation Now!
A simple personal watercraft donation is all it takes to make a real difference in the lives of breast cancer patients in your community. Call us at 866-540-5069 or fill out our online donation form to begin your donation now!
or Call Us Now at 866-540-5069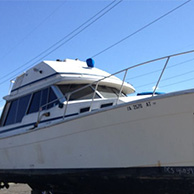 Excellent customer service!