San Diego, California Boat Donations
Donate Your Vehicle and Save Lives!
San Diego, California Boat Donations: Your Old Boat Can Provide New Hope to Breast Cancer Sufferers
Do you have an old boat that's just sitting idle in your backyard, the dock or marina? Is it getting expensive to maintain even though you only use it rarely? Owning a boat for sure is expensive as you have to pay for its repairs, maintenance, insurance, registration, and storage fees.
If your old boat has stopped being a source of fun and pleasure and has become more of a burden to you with its deteriorating condition, consider donating it to us at Breast Cancer Car Donations through our San Diego, California boat donations program. When you donate that boat to us, we will quickly ease the burden off your shoulders and even provide you with a tempting reward—a hefty tax deduction once your boat gets sold at auction.
How Your Boat Donation in San Diego Will Impact Lives
Most important of all, your boat donation will help provide an extensive range of breast health services available to all individuals in your city who badly need them but do not have the financial capability to pay for them.
We sell at auction all boats and other vehicles donated to us and use the proceeds to support the critical programs of our nonprofit organization partners, the American Breast Cancer Foundation (ABCF) and Women Involved In Nurturing, Giving, Sharing, Inc. (WINGS). These nonprofits are in the thick of the fight against breast cancer. They use the funding they get from us to sustain their life-saving programs that are aimed at providing:
Early breast cancer detection and diagnosis as well as effective treatment and prevention measures

Financial assistance to uninsured breast cancer patients and their families

Easy access to breast health facilities, clinics, and hospitals

Funding for breast cancer research to find more potent ways to treat and cure the disease.
How to Donate a Boat for a Tax Deduction
Donating a boat to us is fast, easy, and convenient. We want our donors to experience an enjoyable and rewarding giving experience.
We follow a three-step donation process in our San Diego, California boat donations program. Here is how it looks like:
Get in touch with us by either calling us at our 866-540-5069 toll-free hotline or filling out our online donation form. We need just a few details about yourself and the boat you're offering to donate. From there, we'll arrange for a convenient time, date, and place for the pickup.
We'll assign a licensed towing company to haul away your boat on our agreed upon schedule at no cost to you. We'll issue you a towing receipt that you can use to cancel your boat registration and insurance.
Get your tax-deductible receipt.
Finally, we'll send you a tax-deductible receipt via mail after your boat is sold. You can use this to claim your top tax deduction when you file your itemized federal income tax return for the incoming tax-filing season. You can deduct the full selling price of your boat as shown on the receipt from your taxable income.
If you have questions, feel free to give us a call. You may also send us a message online. We love answering questions and talking to you. For more information, check out our FAQs page.
What Types of Boats You Can Donate
We accept various types of boats in our San Diego, California boat donations program. Regardless of the condition of your boat, even if it's in bad shape, we'll still gladly accept it.
Here are some examples of the types of boats and other watercraft we accept for donation:
Sailboats

Yachts

Trawlers

Jet skis

Pontoon boats

Inflatable boats

All-purpose fishing boats

High-performance boats

Houseboats
Aside from boats, we also accept other types of vehicles such as cars, trucks, RVs, motorcycles, vans, SUVs, specialty vehicles, fleet vehicles, work-related vehicles, fun vehicles, and even aircraft.
Our sole requirement is for whatever vehicle you're donating to have a title or proof of ownership. In case you've lost or misplaced your title, contact us and our title experts will help you secure a replacement title as quickly as possible so you can proceed with your donation.
Why Donate a Boat to Us?
Donating a boat to us allows you to help others and yourself as well. Here are some of the rewards you'll get for taking part in our San Diego, California boat donations program.
Get the 

maximum tax deduction

 based on the selling price of your boat.

Your satisfaction is guaranteed with our easy, quick, and convenient donation process.

No paperwork because we handle everything.

Quick towing of your boat by a professional towing company is absolutely free.

Avoid the hassles, cost, and personal security risk in trying to resell your old boat yourself.

Save money as you scratch off payments for expensive repairs, insurance, maintenance, and storage.

Feel proud and jubilant for having done a noble deed.
Learn More About San Diego
Located on the Pacific coast of California, San Diego is known for its pristine beaches, idyllic weather and popular attractions. These include the San Diego Zoo, SeaWorld San Diego and LEGOLAND California. The area is also home to local cancer treatment centers, such as Sharp Memorial Breast Health Center on Health Center Dr. and Moores Cancer Center at UC San Diego Health on Health Sciences Dr.
According to the American Cancer Society, the national mortality rate for cancer has steadily declined. In San Diego County and nationally, men are more likely to parish from the illness. Breast Cancer Car Donations is committed to helping those with the ailment through our boat donation program.
Give Your Old Boat a New Purpose
Turn your old boat into a source of new hope for people afflicted with breast cancer in San Diego, CA. Call us at 866-540-5069 and join our San Diego, California boat donations program. We serve the entire state of California, including nearby Carlsbad.
or Call Us Now at 866-540-5069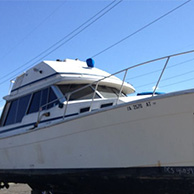 Excellent customer service!