Carlsbad, California Car Donations
Donate Your Vehicle and Save Lives!
Car Donations in Carlsbad, CA: Saves Lives of Breast Cancer Victims Today and Get Tax Deductions
As part of our campaign to fight breast cancer, we at Breast Cancer Car Donations are intensifying our donations drive, including our Carlsbad, California vehicle donation program.
We seek to generate funds through your vehicle donations to help charities or non-profit organizations that are busy providing assistance to uninsured breast cancer patients and funding research on further unraveling the secrets of the deadly disease to fight it more effectively.
We provide funding by selling your cars and we pass on the funds to our leading breast cancer non-profit organization partners. The funds we pass on will help support their programs such as:
Managing the unwanted side effects of breast cancer treatment

Providing funds for research for breast cancer cure

Providing uninsured women access to breast cancer screening, diagnosis, and effective treatment

Raising public awareness about breast cancer prevention and early signs detection

Empowering breast cancer survivors, patients, and their families by providing them encouragement, knowledge, and inspiration on how best to face and fight the disease
We have chosen two of the best organizations to help us in our advocacy of saving breast cancer patients. They are:
American Breast Cancer Foundation (ABCF) – This charity works to increase public awareness and knowledge on how to tackle breast cancer. It also provides access to treatment and diagnosis to underserved and uninsured individuals regardless of their age and gender.
Women Involved in Nurturing, Giving, Sharing, Inc. (WINGS) –This nonprofit is dedicated to bridging the gap between breast cancer detection and treatment for uninsured women.
Breast Cancer in the United States
Breast cancer is the second leading cause of cancer deaths among women in the United States. Cancer remains as one of humanity's most dangerous illness. Thousands die yearly because of breast cancer.
An estimated 98 percent of women could have survived breast cancer if they had access to medical assistance earlier and if cancer was detected earlier. There are more than 2.8 million breast cancer survivors in the United States.
About 12 percent of the female population in the United States is predicted to develop invasive breast cancer in their lifetime. 
Brief History of Breast Cancer
Breast cancer was first recorded on papyrus in ancient Egypt. The famous papyrus that manuscript dealer Edwin Smith bought in 1862 contained the oldest known surgical treatise on various illnesses, including breast tumors. The earliest doctors who examined and attempted to cure the disease wrote that the disease had no cure.
The first successful treatment of breast cancer was made by Dr. William Halsted who performed the first radical mastectomy at Johns Hopkins Hospital in Baltimore, Maryland in 1882.  This surgical operation became a standard procedure until the 20th century. In 1895, the first x-ray was taken to detect breast cancer; it was later on called as mammograms.
Breast cancer starts when cells begin to grow out of control in the breast and form a tumor. But not all tumors or lumps felt in the breast area are cancerous. Some lumps are just abnormal growths that do not spread and are benign. Those who have breast lumps are advised by medical experts to undergo examination, saying that having lumps in the breast, even though benign, may increase the risk of having breast cancer.
Learn More About Carlsbad
Carlsbad, California, is a quaint city with unique lagoons, beautiful sandy beaches, world-class sporting events, luxury resorts, golf, shopping, breweries and more. Known as "The Village by the Sea," Carlsbad boasts a year-round mild climate and many attractions including Legoland California, SeaWorld and South Carlsbad State Beach. 
The Flower Fields of Carlsbad Ranch is another popular attraction that showcases 55 acres of blooming ranunculus flowers every spring. You can even take a food tour to discover the eclectic and delicious foods and wines in the area. Those who love to stay active may enjoy renting an electric bike to cruise around the coastal town. 
Additionally, Carlsbad is home to some local cancer treatment centers. These include UC San Diego Health Cancer Services – Encinitas on Garden View Rd and Scripps MD Anderson Cancer Center, Jefferson on Vista Way. Nationally, men are more likely to die from cancer than women. Moreover, the poverty rate in Carlsbad for residents with income below the poverty level is 4.8% and 11.8% in the state. The poverty rate is 3.1% for those with income below 50% of the poverty level. These individuals may have difficulty funding their cancer treatments. Fortunately, Breast Cancer Car Donations is actively working to help these individuals through our car donation program.
Carlsbad, California Car Donations Process
Donating your vehicle here in the area makes you eligible to claim a top tax deduction.
When you try to sell your old car you may need to make it "sell-worthy" to sell it at a good enough price. However, the repair, maintenance, and possible towing charges on top of your storage fees might cost you a lot more than your expected budget. Donating your car to our organization frees you from all these hassles because our Carlsbad, California car donations program accepts most types of vehicles in running or non-running condition.
The donation process is quick and easy, so you save time and effort. There are only three easy steps to get your car towed at zero cost to you:
Step 1: Visit our website and fill out the online vehicle donation form. You may also contact us at 866-540-5069. Our friendly donor specialists will assist you through the process. We will ask for your vehicle's information such as its make and model, your preferred time and date for pick-up, and your vehicle's pick-up location.
Step 2:  After verifying the information you provided, we will make arrangements with a professional tow company to pick up your car. We will pay the towing fee.
Step 3: The tow company will then pick up your vehicle on the date, time, and place you specified. The company will give you a tow receipt that releases you from all liability, which means you can now terminate your car's insurance and registration, saving you money.
We will then auction off your car and will try to get the highest selling price for it.  At least 30 days after selling your donated vehicle at its highest possible price, we will send you a letter acknowledging your donation to our Carlsbad, California car donations, and informing you about your vehicle's sale price. Included in the letter will be your sales receipt or IRS form, which you will use when you file your taxes.
If your vehicle is sold for less than $500, you can claim as tax deduction the selling price or the vehicle's fair market value up to $500, whichever is higher. You can calculate the fair market value of your car by checking the prices online for vehicles of the same make, model, year and condition as your car.
If your vehicle is sold for more than $500, you can claim only the exact amount for which it was sold, even if the fair market value is greater than the selling price.
Save lives today and get tax deductions by donating to Carlsbad, California car donations. Call us now at 866-540-5069 to donate.
or Call Us Now at 866-540-5069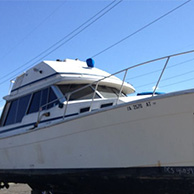 Excellent customer service!