Car Donations In San Diego
Donate Your Vehicle in San Diego, California!
Donate Your Vehicle in San Diego, California!
Have you been wondering how to donate a car, truck, RV or boat to a nonprofit that funds Breast Cancer research, treatment, and relief? Breast Cancer Car Donations simplifies car donations in San Diego. When you call or fill out the online form we will:
provide absolutely free pickup and towing at your convenience

handle all of the paperwork

mail you your charitable car donation tax deduction
That's it! You can make a boat donation or contribute just about any type of motor vehicle from a golf cart to an airplane. Simply call and say, "I want to donate my vehicle!"
We will accommodate a pickup time that's convenient for you. In just a few days you will finally be rid of that old car or another vehicle that's been taking up space and costing you insurance and registration fees. You can also feel a sense of accomplishment. Your charitable car donation will help those fighting breast cancer by supporting organizations working to prevent, diagnose and cure this deadly disease.
Choosing to donate a car through our vehicle donation program in San Diego saves you time and trouble. The cost and hassle of repairing or getting rid of an old vehicle can be stressful. You can also receive a tax deduction for your donation. Best of all, you contribute to our partner breast cancer nonprofit organizations that provide vital services and research to those with life-threatening breast cancer. 
About 331,530 new breast cancer cases were expected to be diagnosed in 2019. Cancer is the second most common cause of death in the U.S., exceeded only by heart disease, and accounts for nearly 1 of every 4 deaths.
Early screening can allow for the detection and removal of precancerous cell clusters. Screening also offers the opportunity to detect some cancers early, when treatment is less invasive and more likely to be successful.
This is why Breast Cancer Car Donations in the San Diego area as well as throughout California are dedicated to funding various groups that specialize in research and treatment of breast cancer.
Individuals like YOU can make a difference in this devastating disease. Your donation can transform lives. Help us reach our goals in funding research and treatment to those struggling to survive.
Call now or complete the simple online form and we'll take care of everything for you.
Breast Cancer Car Donations: San Diego, California
8407 Airway Road
San Diego, CA 92154
Phone: (866) 540-5069
or Call Us Now at 866-540-5069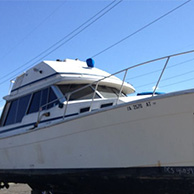 Excellent customer service!