Escondido, California Car Donations
Donate Your Vehicle and Save Lives!
Turn Your Money Pit on Wheels into a Powerful Tool for Fighting Breast Cancer!
How many times has your decade-old car broken down on you these past few months? If the trips you make to the auto repair shop are becoming more and more frequent and you're tired of seeing your hard-earning dollars going down the drain to pay for never-ending car repairs, get that car off your hands right now!
Hand it over to us at Breast Cancer Car Donations and we'll turn that money pit on wheels into a powerful tool for saving the lives of breast cancer patients in Escondido, California, who are in desperate need of assistance to help them overcome their ordeal.
At the same time, you'll experience the quickest, most convenient, and hassle-free way of getting rid of that clunker.
Why We're Here in Escondido, California
Escondido is one of the oldest cities in San Diego County. It has a population of 150,270 as of the 2022 census, 50.1% of whom are women.
Local Cancer Resources
Escondido is home to a few local cancer treatment centers. These include the Palomar Health Cancer Institute and Sharp Memorial Hospital Laurel Amtower Cancer Institute and Neuro-Oncology Center. The Palomar Health Cancer Institute provides compassionate and advanced care for a variety of cancers, including breast cancer. Treatment options include a range of radiation therapies. The Sharp Memorial Hospital Laurel Amtower Cancer Institute and Neuro-Oncology Center offers advanced technologies, cutting-edge treatments and clinical research to those with the disease.
Breast cancer is a major health concern in Escondido and elsewhere in California. It is the most commonly diagnosed cancer among women in the state.
According to the American Cancer Society, California will see 32,020 new breast cancer cases in 2023, with 4,680 of the victims succumbing to the disease.
In the hope of cutting down these numbers, we at Breast Cancer Car Donations have launched our Escondido, CA car donations program. This is one of the vehicle donation programs we operate and manage throughout the country to add to the financial muscle of our breast cancer-focused nonprofit partners. These IRS-certified 501(c)(3) nonprofits are dedicated to fighting breast cancer and saving the lives of its victims through their life-saving programs.
How Your Car Donation in Escondido Can Help Save Lives
Your vehicle donation to us will help ensure that destitute breast cancer patients in Escondido, CA, will get the treatment and health care they need to survive.
Breast Cancer Car Donations will put your vehicle up for auction. The proceeds will go to our charity partners. These nonprofits use the funding we give them to provide uninsured and indigent breast cancer patients with financial assistance to help cover the costs of their treatments, doctor consultations, hospital fees, medications, follow-up care, and other essential healthcare services.
Our charity partners also use the money to sustain their delivery of the following services:
Easy access to local healthcare facilities for underprivileged individuals so they can get free breast cancer screening and diagnosis.

Follow-up care for breast cancer survivors, including laboratory work, annual mammograms, and physician visits five years after remission.

Campaigns to promote breast cancer awareness and provide prevention, education, and counseling services to the public.
With your Escondido, CA car donation, you'll help our charity partners serve more needy breast cancer sufferers in your city.
The Outstanding Rewards You'll Get from Your Car Donation
You'll enjoy valuable rewards when you donate a vehicle to Breast Cancer Car Donations. Here are some of the biggest perks you'll get when you take part in our Escondido, CA automobile donations program:
1. Hefty tax deduction!
Your car donation for breast cancer makes you eligible for a top tax deduction. The tax write-off you can claim in the next tax season is the amount to which your car was sold at auction or its fair market value.
2. Effortless disposal!
Donating is certainly more convenient than selling. All you have to do is contact us to dispose of your unwanted vehicle. You also get to avoid the hassles of selling a used car.
3. No paperwork!
Lost your vehicle's title? No problem. Give us a call and our title specialist will assist you in getting a new title for your car.
4. More space!
Don't have enough space to park your new car? Get rid of your clunker that's squatting there by donating it to us.
5. Save money!
One of the perks you'll get when you donate a car to charity is the great deal of money you'll save. You'll achieve this since you no longer need to pay for the costs of repairs, maintenance, monthly insurance premiums, and other car expenses.
6. Feelings of joy!
There is no greater reward than feeling fulfilled and satisfied knowing that your donation will be used for the greatest of causes — helping save lives.
Breeze Through Our Escondido, CA Car Donation Process
Our quick and easy donation process makes it easy for you to reach out to needy breast cancer patients in your city. With just one phone call, you'd be able to extend a helping hand to them.
Here's how our Escondido, CA car donation process works:
Call us at 866-540-5069 or fill out our online donation form. Provide us with some personal information and a brief description of the vehicle you're donating.
As soon as we complete the processing of your request, we'll contact you and arrange a convenient time and date for picking up your vehicle. We'll tow it away at no cost to you!
After we auction off your car, wait for its tax-deductible sales receipt in your mailbox. You'll receive this within 30 days after the sale. You may also call us to check on your donation from time to time.
You can donate just about any type of vehicle, whether it's still in good condition or not.
Feel free to visit our FAQs page to learn more about our donation program. If you have questions about the ins and outs of our vehicle donation program, don't hesitate to contact us anytime through our toll-free hotline at 866-540-5069. You may also leave us a message here.
Help Save Lives in Your City Today!
Now that you have a clear idea of what our Escondido, CA car donations program is all about, pick up your phone and 866-540-5069 to start saving lives in your city. Alternatively, you can fill out our secure online donation form. Do it now! We serve the entire region, including nearby Riverside, San Diego, and more.
FAQs
Why should I consider donating my vehicle for this disease?
Contributing your automobile to our program helps support critical programs and services for those with breast cancer. Aside from helping your community, you can receive various benefits. These include qualifying for a maximum tax deduction when you itemize your taxes, saving time and money on selling the car and avoiding storing and maintaining the vehicle.
How does donating a vehicle save me time and money?
When you donate a car for tax credit, you'll avoid the hassles of selling it yourself, such as showing, listing, and negotiating a sale. What's more, our donation process is easy and convenient since we streamline it for you. Our team will handle the details and you won't have to deal with potential buyers.
What if my car is no longer in working condition?
Fortunately, we accept a wide range of vehicles whether they are in working condition or not. 
How does donating an automobile benefit me financially?
Making this generous contribution to our program means you can become eligible for a top tax deduction, which can reduce your taxable income. This can help you receive significant savings.
What happens to my donated car?
We'll sell your car donation at auction. Once it's sold, the proceeds will be used to support programs and services for individuals with breast cancer. Your vehicle donation can help make a difference in these people's lives and their families.  
Is the vehicle donation process complicated?
No. Our donation process is straightforward and quick. When you are ready to donate, contact us and we'll schedule a free pickup and tow of your vehicle. 
Can I donate a vehicle other than a car or truck?
Yes. Breast Cancer Car Donations accepts various vehicles including motorcycles, RVs, boats, and more.
What if I no longer have use for my car?
If your car is taking up space in your garage and is no longer being used, consider donating it to Breast Cancer Car Donations. This enables you to get rid of it as well as help your community. You'll also avoid the hassles of selling it and save money on gas, insurance, maintenance, and storage.
How does my vehicle donation help others?
Your generous donation directly helps those with the disease and their families. These individuals can receive the proper care, resources, and services for breast cancer.
How can I donate my car for breast cancer?
If you're ready to donate, fill out our online form or call our nonprofit organization. Our team will ask for your car's model, condition, etc. and then arrange a convenient pick-up date and time for your vehicle.
or Call Us Now at 866-540-5069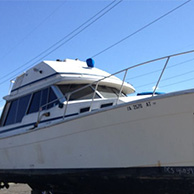 Excellent customer service!