Riverside, California Car Donations
Donate Your Vehicle and Save Lives!
Help Save Lives of Breast Cancer Victims Through Riverside, California Car Donations
If you have always wanted to lend a helping hand to victims of breast cancer, donating an unneeded vehicle to Breast Cancer Car Donations through our Riverside, California car donations program is a most effective way of doing so. We serve the entire state of California, including nearby cities such as San Bernardino.
We will transform your vehicle into a fund-generating tool for cancer-fighting nonprofit organizations, helping them sustain their delivery of comprehensive breast health services to all individuals who need them. We'll do this by auctioning off your donated vehicle and using the proceeds to support the programs and services of the IRS-certified 501(c)3 nonprofit organizations that we have partnered with.
Thanks to the vehicle donations we receive, these nonprofits get the support they need to continue providing uninsured and underserved breast cancer patients with financial assistance as well as access to medical facilities so they can undergo full treatment. They also offer free breast cancer screening as well as other breast cancer prevention and education services.
A Guide to Our Donation Process
Having trouble finding an auto donation program that offers its donors a satisfying and stress-free giving experience? Well then, this must be your lucky day! Breast Cancer Car Donations is all about providing quality service to its donors.
Choosing us as your donation platform is a decision you'll feel good about. You wouldn't be worrying about a single thing as we provide you with free vehicle towing and take care of all the paperwork involved in your donation process.
To show you how easy and rewarding it is to donate a vehicle to charity, here's a quick guide to our Riverside, California car donation service:
1. Get in touch with us.
To donate a car, you have two options to contact us: Either call us at 866-540-5069 or fill out our donation form on this website. Provide us your contact information and details about the vehicle you're donating, including its make, model, VIN, year, mileage, working condition, and title availability.
2. Schedule your fast and free vehicle pickup.
After verifying the information you shared with us, we'll call you back to make arrangements for your vehicle's fast and free pickup. We'll ask for your preferred date, time, and place for the pickup. We'll then send a tow truck to haul away your vehicle. If you're too busy to be at the pickup site, just tell us where we can find your keys and title inside the vehicle. Also, be sure to remove all your personal belongings beforehand.
On the day of pickup, our driver will hand you a towing receipt. This releases you from all liabilities on the vehicle you just donated from that point onward. You may contact your insurance provider for the cancellation of your coverage and your local DMV for the deregistration of your vehicle.
3. Receive your tax-deductible receipt.
We'll have your vehicle auctioned off in one of the best auction houses within our nationwide network. Be assured that we'll try our best to have it sold at its highest possible price so you can claim the maximum tax deduction. Once your vehicle is sold, we'll send you your tax-deductible sales receipt by mail. You'll need this receipt to claim your tax deduction when you file your itemized federal income tax return in the next tax season.
For more information about tax deductions, our donation process and other related matters, check out our FAQs page. Can't find the answers to your questions? Ask one of our donation specialists by calling 866-540-5069 or send us a message online.
The Vehicle Types You Can Donate
At Breast Cancer Car Donations, we've never been picky when it comes to accepting vehicles that our donors offer us. In fact, we accept almost all types of vehicles regardless of their age and condition. We don't say "no" even to vehicles that are pretty worn-out or badly damaged.
For our Riverside, California car donations program, we welcome the following types of vehicles:
Cars: 

sedans, luxury cars, coupes, convertibles, hybrids, sports cars, wagons, hatchbacks
Vans: 

family minivans, camper vans, cargo vans, passenger vans
SUVs: 

compact, midsize, full-size or crossover versions
Motorcycles: 

touring bikes, cruisers, scooters, off-road bikes, mopeds, sports bikes, choppers
Trucks: 

box trucks, pickup trucks extended cab pickup, panel trucks, refrigerator trucks, tank trucks
Boats: 

fishing boats, sailboats, tugboats, speedboats, houseboats, cruise ships, catamarans, pontoon boats, yachts
Specialized vehicles: 

riding lawnmowers, motorized wheelchairs
Fleet vehicles:

 SUVs, pickups, trucks, buses, cars, passenger vans, cargo vans, limousines, ambulances, taxicabs
Recreational vehicles: 

noncommercial planes; campers, travel trailers, snowmobiles, personal watercraft, RVs, motorhomes, pop-up trailers, ATVs
Work-related vehicles: 

construction vehicles, tractors and farm equipment, buses, large trucks, landscaping vehicles
The Benefits that Await You
Just because you're the one who is giving something away to charity doesn't mean that you won't have your own share of benefits. Giving a used car to Breast Cancer Car Donations through our Riverside, California car donations program will provide you with the following perks:
Receive a maximized tax write-off in the next tax season.
Get your hands off an unwanted vehicle at no cost to you.
Enjoy a satisfying and hassle-free giving experience.
Choose when, what time, and where you want us to pick up your donated vehicle.
Quit paying for the repairs, maintenance, storage, insurance, and registration fees of a vehicle you no longer use.
Skip the hassles associated with selling a second-hand vehicle yourself.
Learn More About Riverside, CA
Riverside is located about 60 miles east of Los Angeles. The city is known for its citrus fruit and beautiful weather. Moreover, Riverside has local cancer treatment centers in the area. These include Riverside Community Hospital Cancer Center on Brockton Ave, the Oncology Institute of Hope and Innovation on Brockton Ave, and the City of Hope Riverside Radiation Oncology on Palm Ct.
Turn Your Old Beater into a Life-Saving Tool Today!
Why hold on to a vehicle that you no longer want when you could put it to good use by donating it to Breast Cancer Car Donations? Use your clunker to help struggling breast cancer patients in your city. Call us at 866-540-5069 or fill our online donation form to begin your Riverside, California, car donations process.
or Call Us Now at 866-540-5069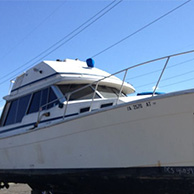 Excellent customer service!