San Bernardino, California Car Donations
Donate Your Vehicle and Save Lives!
Join San Bernardino, California Car Donations to Give Hope to Breast Cancer Patients
Today, Breast Cancer Car Donations offers you a chance to get your hands off your old and unwanted car while you touch the lives of breast cancer patients in your city. If you take part in our San Bernardino, California donations program, you'll give these hurting individuals and their families the hope that they desperately need. Plus, you can finally say goodbye to a clunker that's been causing you a lot of stress and a lot of dollars on repairs.
A Closer Look at Breast Cancer Statistics in the United States
According to the most recent U.S. breast cancer statistics, the disease is still the most commonly diagnosed cancer among women next to skin cancer, comprising about 30 percent of newly diagnosed cancers in females in 2019. To illustrate, an American woman receives breast cancer diagnosis every 2 minutes and approximately 1 in 8 women is bound to have breast cancer over the course of her lifetime.
Although breast cancer death rates have decreased since 1989 due to increased awareness, early detection, and treatment advances, it was estimated early this year that about 41,760 women would lose their lives to breast cancer before the year is over. Unfortunately, breast cancer still remains to be the second-leading cause of cancer deaths among females in the United States, next to lung cancer.
Looking at these numbers should make us all realize that breast cancer is definitely not a rare disease – and that the women in San Bernardino, California are surely not immune to it.
San Bernardino, California, 'The Valley of the Cupped Hand of God'
Perhaps the most popular thing about San Bernardino is the fact that it lies along Route 66, one of the most iconic roads in the world. The city holds an annual festival to celebrate this distinction. During the beginning of its establishment, the settlers referred to the place as "The Valley of the Cupped Hand of God" because the city took up most of the San Bernardino Valley.
The most recent survey showed that San Bernardino had an estimated population of 215,941 with women comprising 50 percent of the total number of residents. Furthermore, the survey revealed that 17 percent of the city's residents had no health insurance. We serve the entire state of California, including (but not limited to) nearby communities such as Riverside.
How We Help Those Who Have Breast Cancer
We at Breast Cancer Car Donations believe that every breast cancer patient regardless of age, race, gender, ethnicity, religion, educational attainment, and socio-economic background, deserves to have the opportunity to receive treatment. In case you're not aware, the prohibitive cost of breast cancer treatment is considered as the primary reason why uninsured and underserved patients opt to forego their treatment.
For this reason, we've teamed up with IRS-determined 501(c)3 nonprofit organizations that deliver comprehensive breast health services to every person who needs them – especially the poor. Our job is to operate vehicle donations programs, such as our San Bernardino, California car donation program, to raise the money that our charity partners need to sustain the delivery of their services. These services include giving financial assistance to needy breast cancer patients and providing them easy access to medical facilities so they can undergo full treatment. These nonprofits also offer free breast cancer screening as well as other breast cancer prevention and education services to all who need them.
If you're curious to know more about our San Bernardino, California donations program, feel free to give us a call at 866-540-5069, send us a message online, or visit our FAQs page.
5 Incredible Upsides of Donating Your Car
Your old clunker isn't just contributing to pollution; it's burning a hole in your pocket, too! If you think it's time to donate your car, then turn it over to our San Bernardino, California donations program and experience the amazing benefits of making a charitable contribution. Here's a look at how your gift can benefit you:
1. Stop paying for the costly repairs of an inefficient vehicle.
Has your clapped-out clunker been in the shop more than anywhere else these past few months? If so, it might be time for you to retire it by donating it to us.
2. Our donation process is insanely fast!
Our vehicle donation process is as easy as pie. Just contact us at 866-540-5069 or fill out our online donation form and you'll be good to go.
3. Get a maximum tax deduction!
Not only does donation save you from draining out your monthly savings, but it's also good for you tax-wise since your vehicle donation is 100-percent tax-deductible.
4. Car towing is free!
You don't have to go through so much trouble just to take your car to our nearest facility. Just call us and we'll assign a licensed towing company to pick up your car. What's more, you won't even have to spend a single dime since the towing fee is on us.
5. Feel good about yourself!
Nothing compares to the amazing feeling of knowing that you've done something that can help save a person's life. This may be the biggest plus of car donations.
The Types of Vehicles You Can Donate to Us
You can finally get rid of every hunk of junk that's taking up valuable space in your yard. We accept nearly all types of vehicles regardless of their age, mileage, and working condition.
Here's a comprehensive list of the various types of vehicles that we welcome in our San Bernardino, California donations program:
Cars:

 sedans, compact cars, hybrids, sports cars, coupes, luxury cars, convertibles

SUVs

: compact, mid-size, full-size, crossover versions

Vans:

 cargo vans, passenger vans, family vans, minivans

RVs:

 toy haulers, folding and tent trailers, campers, hybrid trailers, travel trailers, motorhomes

Trucks:

 mobile cranes, garbage trucks, refrigerator trucks, tank trucks, box trucks, dump trucks, extended cabs

Fleet vehicles:

 limousines, buses, minivans, vans, taxis, ambulances

Motorcycles:

 scooters, mopeds, sports bikes, dirt bikes, off-road bikes, cruisers, choppers, touring bikes

ATVs:

 three-wheelers, four-wheelers

Specialty vehicles:

 motorized wheelchairs, snowmobiles, riding lawnmowers, ATVs, golf carts

Work vehicles:

 tractors, landscaping vehicles, farm equipment, construction vehicles

Water vessels:

 cruise ships, tugboats, sailboats, speedboats, fishing boats, motorboats, yachts, pontoon boats, catamarans

Aircraft:

 gliders, noncommercial planes, helicopters
Donate a Car to Charity and Give Hope to Breast Cancer Patients Today!
Sometimes, hope comes in the form of a rusty old car that has a dead battery. Make this day extra special for someone with breast cancer by donating your clunker today. Call us at 866-540-5069 or fill out our online donation form to make your contribution to our San Bernardino, California donations program now!
or Call Us Now at 866-540-5069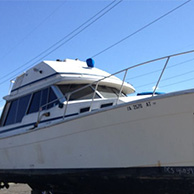 Excellent customer service!