Oceanside, California Car Donations
Donate Your Vehicle and Save Lives!
Oceanside, California Car Donations Serve as Beacons of Hope for Breast Cancer Victims
Great things start to happen when people make Oceanside, California car donations. Aside from the fact that they would be able to quickly and easily rid themselves of an unwanted, battered old car, they'd help save and enrich the lives of those who are in going through their breast cancer journey.
Oceanside is a city found in the northernmost part of San Diego County between Los Angeles and San Diego. It has an estimated total population of 167,086 residents, 51 percent of whom are females.
According to U.S. Breast Cancer Statistics, 12 percent of women across America would develop breast cancer within their lifetimes. That's about one in every eight women! In fact, breast cancer is the second leading cause of cancer death in women, next to lung cancer.
On average, a woman is diagnosed with breast cancer every two minutes. Every 13 minutes another woman dies because of it.
What is Breast Cancer?
Breast cancer is a life-threatening disease that's characterized by an uncontrolled growth of cells in the breast tissues. About 5-10 percent of these cases are attributed to gene mutations that are inherited from a parent. The remaining 85 percent occur in women who have no family history of the disease but have developed it nonetheless as a result of the aging process.
What Can We Do to Help Bring Breast Cancer Numbers Down?
Breast Cancer Car Donations supports certified 501(c)3 non-profit organizations that continuously battle breast cancer in every state. We operate vehicle donation programs to raise funds to sustain, develop and improve the comprehensive breast health services that these charities provide in all target communities. These services include:
Raising public awareness on the signs and symptoms of breast cancer to promote early detection;

Improving existing link referral systems that allow affected women free access to local resources, services and information that are customized according to the individual's ethnicity and language;

Financial assistance for breast cancer treatment including surgery, oncology services, hospital fees, and outpatient medication
Although these organizations cater to all individuals, they give special attention to uninsured and underserved women. They believe that every person whose life has been touched by breast cancer has every right to live better and longer regardless of ethnicity or socioeconomic status.
If you believe in the cause that we are fighting for, it's time to donate a car for charity through our Oceanside, California car donations program. Help us do more for more people. With our combined efforts, we can help increase the breast cancer survival rates in Oceanside, CA!
Learn More About Oceanside
The community of Oceanside has a wealth of natural wonder and beauty. These include the mountain views of Double Peak Park as well as the hiking trails of the Santa Margarita Preserve. The beautiful scenery, however, does not make the area immune to the scourge of cancer, making the need for your donations vital. In San Diego County, where the city is located, there were roughly 117 deaths related to cancer per 100,000 women. This means charities who care for women suffering from cancer — especially breast cancer — continue to need support from people like you.
What Vehicles are Acceptable Donations?
We accept almost any type of vehicle as long as it comes with your proof of ownership. We'd need to get a hold of the title otherwise we won't be able to sell it at auction. However, if you're one of those folks who lost their vehicle's title, our clerks would be happy to assist you in obtaining a replacement title.
You may have more than one clunker lying around your property – grandpa's motorized wheelchair, Uncle Jim's rusty motorcycle, or dad's run-down riding lawnmower. Don't hesitate to donate them because we love multiple donations!
Here's a complete list of the acceptable vehicles that you may find useful:
Cars: sedans, vans, SUVs, trucks, motorcycles
Boats: sailboats, motorboats, fishing boats, yachts, pontoon boats, houseboats, personal watercraft 
RVs: recreational vehicles, motorhomes, campers, travel trailers, pop-up trailers, 5-wheelers
Specialty vehicles: ATVs, snowmobiles, motorized wheelchairs, riding lawn mowers, tractors, farm equipment
Fleet vehicles: cars, passenger vans, cargo vans, SUVs, pickups, trucks, buses
How Does Our Car Donation Process Work?
We want to clear out your backyard as much as you do and as speedily as possible. That's why we purposely made our Oceanside, California car donations process as easy and as quick as possible. We want you to enjoy the best giving experience you'll ever have.
It only takes a few minutes to save thousands of people. Just follow these three simple steps and you're good to go:
Let us know you want to donate a vehicle to charity.
You can call us at 866-540-5069 or fill out our online donation form. We'll need your contact information, your vehicle's year, make, model, mileage, VIN and over-all running condition.
Schedule your fast and FREE pickup.
We'll coordinate with an affiliate towing company in your area after you give us your vehicle's location and your preferred time for pickup. You don't have to pay for towing and you don't have to be present when we haul your vehicle away!
Check your mail for your tax-deductible receipt.
Within days after we auction off your vehicle, you'd receive your tax-deductible receipt. You'll need this when claiming your tax deductions in filing your itemized federal tax return.
What Are My Donation Benefits?
Good seeds sown will always result to a good harvest. In this case, your act of kindness will yield a lot of positive results that you, the donor, would get to enjoy! Let's take a closer look at your benefits when you participate in our Oceanside, California car donations for breast cancer program:
Experience the easiest and fastest donation process!

Never worry about paying for towing – we got this covered!

We'll cover car insurance from the day of pickup!

We handle everything for you – even the paperwork!

Enjoy top tax deductions!

Gain the extra garage space you've always wanted!

Forget about maintaining and repairing an old, rusty car!

Feel the joy that comes with giving back to the community!
Hope Changes Everything
They say that of all the forces that make for a better world, none is more powerful than hope. This is so because with hope, a person can think, work, and dream. A woman diagnosed with breast cancer may be struggling with depression now, but when you donate your car to Breast Cancer Car Donations, she is bound to replace this with a feeling of hope that she will survive the disease.
Call us at 866-540-5069 and get free towing services for your Oceanside, California vehicle donations! We serve the entire state of California, including nearby Carlsbad.
or Call Us Now at 866-540-5069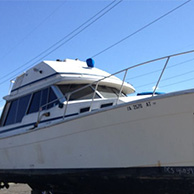 Excellent customer service!