Donate Car to Charity California
Donate Your Vehicle and Save Lives!
Donate Car to Charity California: Help Bring Down Breast Cancer Numbers in the Golden State
Do you know that miracles start to happen when you choose to donate your car to charity in California? By simply deciding to get rid of the unwanted, rusty old vehicle that you rarely even use, you help countless individuals with breast cancer across the state of California to live longer and survive the disease.
Golden State Facts
Because gold has been deeply entwined into California's historical background, the state earned its nickname "The Golden State." Incidentally, gold was discovered by James Marshall at Sutter's Hill in Coloma in 1848. This prompted thousands of Americans across the country to pour into California soil.
A total of 28,280,711 fine ounces of gold was extracted between 1850 and 1859. By 1997, California boasts of being the largest economy in the country. It was ranked ninth largest in the world in 2012.
At present, the Golden State is home to an estimated total of 39,250,017 residents. Half of the population are women.
What is Breast Cancer?
Breast cancer is a deadly disease that's caused by genetic abnormalities that are either inherited from a person's parent or developed over time as a result of the normal aging process. It's characterized by uncontrolled cell growth in the breast tissues that forms a malignant tumor.
Being the second leading cause of cancer deaths, breast cancer affects mostly women. In fact, statistics show that one in eight women in the United States will develop breast cancer at some point in her lifetime. Further, one woman is diagnosed with the disease every two minutes and one woman loses her life to it every 13 minutes.
Who We Are and What We Do
We at Breast Cancer Car Donations fully support well-known certified 501(c)3 nonprofit organizations that continually fight against breast cancer. We operate vehicle donation programs on their behalf to raise funds for the continuous provision of comprehensive breast health services to all individuals in the United States. This is our way of taking the load off their shoulders so that they can concentrate on helping those who are battling with the disease and those who are predisposed to it.
We are proud partners of the following charities:
American Breast Cancer Foundation (ABCF)
ABCF is a national nonprofit organization that provides financial assistance and support to uninsured and underserved women of any race and age who are suffering from breast cancer. They also devote a lot of time and effort to make sure that educational resources are readily available across the country to raise awareness about breast cancer. With their extensive link referral system, they connect breast cancer patients to facilities within their locality.
Women Involved in Nurturing, Giving, Sharing, Inc. (WINGS)
WINGS has committed itself to raise funds for early detection, diagnosis, and comprehensive treatment of breast cancer since 1999. This Texas-based non-profit organization utilizes a strong network of skilled medical providers to give women and men a real chance at surviving breast cancer.
The proceeds of every vehicle that is donated through our service are used to fund programs that provide comprehensive breast health services directed towards the early detection, diagnosis, and treatment of breast cancer. Rest assured your donation will exclusively benefit the residents of California.
You Can Donate Other Types of Vehicles!
You can donate almost all kinds of vehicles as long as they're not abandoned. We need your proof of ownership so that we could sell your preloved vehicle at auction. If you have title issues, our team of title experts will readily assist you.
Here's a list of vehicles that we commonly accept:
Cars: sedans, vans, SUVs, trucks, motorcycles
Boats: sailboats, motorboats, fishing boats, yachts, pontoon boats, houseboats, personal watercraft (like jet skis)
RVs: recreational vehicles, motorhomes, campers, travel trailers, pop-up trailers, 5-wheelers
Specialty vehicles: ATVs, snowmobiles, motorized wheelchairs, riding lawn mowers, tractors, farm equipment
Fleet vehicles: cars, passenger vans, cargo vans, SUVs, pickups, trucks, buses
How to Donate a Car You Don't Need
Don't worry, like you, we want that clapped-out car of yours out of your property as quickly as possible. That's why we made our donation process as quick and painless as it can possibly be. Just follow these three easy steps and you can give your clunker a quick goodbye kiss:
Introduce yourself and your vehicle to us.
You can choose to fill out our online donation form or simply call us at 866-540-5069 to fill us in on your personal contact details and your vehicle's basic information (year, make, model, mileage, overall running condition, availability of title).
Schedule fast and FREE pick-up.
We will arrange for a licensed towing company to pick up your car for free. Because your convenience is our priority, you get to choose the date you deem most favorable. Plus, you don't even have to be there when we tow your car away!
You will receive your tax-deductible receipt by mail within 30 days after your vehicle gets sold at auction. Remember to use this document as you itemize your deductions on your federal tax return.
Help Beat Breast Cancer in California!
Don't hang on to a clunker that could potentially save thousands of individuals who've been diagnosed with breast cancer. With your help, they will get a chance to live longer and not lose their lives to it. Donate your car today and help bring down breast cancer numbers in the Golden State.
Contact us today at 866-540-5069 and get free towing services for car donations in California!
or Call Us Now at 866-540-5069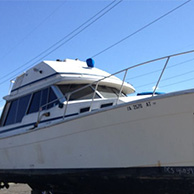 Excellent customer service!