Chula Vista, California Car Donations
Donate Your Vehicle and Save Lives!
Chula Vista, California Car Donations for Breast Cancer: Give Hope to Patients in Your City
Breast cancer remains the second leading cause of cancer deaths in women in the United States, with lung cancer still the top killer. Breast cancer is also the second most common cancer affecting American women, next to skin cancers.
At present, the average risk that a woman in the country would develop breast cancer sometime in her life is about 12 percent, which means that there is a one in eight chance that she will develop breast cancer.
In its latest report, the American Cancer Society says about 266,120 new cases of invasive breast cancer will be diagnosed in women in 2018, excluding about 63,960 new cases of non-invasive cancer, also known as carcinoma in situ or CIS. About 40,920 women will die from breast cancer this year, the report states.
In California, breast cancer is the most common form of cancer. For this year, the American Cancer Society estimates 29,360 new breast cancer cases in the state with 4,500 estimated deaths.
Some of California's breast cancer cases and deaths can happen in Chula Vista. That's why we at Breast Cancer Car Donations have come up with our Chula Vista, California car donation program to provide residents of the city a convenient platform to help their fellow Americans and city residents afflicted by breast cancer. By donating your old unwanted car to our program, you can make a huge difference in the lives of these people, possibly giving them a new lease on life and ending their suffering.
Chula Vista: The Beautiful View
The city of Chula Vista is San Diego's second largest city and the seventh largest in Southern California. It is also California's 14th largest city and the 76th largest in the entire U.S.
Chula Vista is Spanish for "beautiful view." The city lies within San Diego's metropolitan area. The reason for the city's name is the picturesque spot between the San Diego Bay and the coastal mountain foothills.
One of America's all-year Olympic training centers is located in the city.
A number of top tourist attractions are located in the city, including the Aquatica San Diego, Chula Vista Marina, Mattress Firm Amphitheatre, and the Living Coast Discovery Centre.
Our Quick and Simple Car Donation Process
We want our donors to have a most pleasant and convenient Chula Vista, California vehicle donations experience. That's why we have come up with a fast and easy donation process to save your time and effort. There are only three easy steps to get your car towed at no cost to you:
Step 1: Visit our website and fill out our online vehicle donation form. You may also contact us at 866-540-5069. We will ask for your contact information and a few details about the vehicle you're donating such as its year, make, and model.
Step 2:  We will then make arrangements with a professional towing company in your area to pick up your vehicle on the date, time, and place of your own choosing. We will pay the towing fee. The towing company will then pick up your vehicle. You will receive a donation receipt that will release you from all liabilities on your car. You can now de-register your vehicle, dispose of your license plates properly, and cancel your insurance coverage.
Step 3: We will send your vehicle to an auction house. Within 30 days after the sale of your vehicle, we mail you your 100 percent tax-deductible sale receipt, indicating your donated vehicle's final selling price. This will serve as the basis of your tax deduction claim when you file your itemized income tax return.
Perks for Car Donors
Your Chula Vista, California car donations will not only benefit residents in your city afflicted with breast cancer. You stand to receive your own set of perks for your generosity. Here are some of them:
Receive a sizeable 

tax deduction

Save money by not paying any more for car repair, registration, and insurance

We'll pay for the pick-up and towing of the vehicle you're donating

No need to bother with paperwork – we do that for you

More space and remove clutter in your backyard or garage

The donation process only takes a few minutes of your time

Avoid the hassles of selling your car

Deep sense of personal satisfaction for supporting a worthy cause that saves lives
Where Funds from Your Donations Will Go
The proceeds from your Chula Vista, California car donations will directly be delivered to our reputable non-profit partners — the American Breast Cancer Foundation (ABCF) and Women Involved In Nurturing, Giving, Sharing, Inc. (WINGS). The funds will enable them to pursue their various programs that seek to:
Provide uninsured and underserved breast cancer patients access to screening, diagnosis, and effective treatment;

Support research on breast cancer cure;

Raise awareness about breast cancer prevention and detection of early breast cancer signs.
The Types of Vehicles We Accept for Donation
We accept numerous types of vehicles in our Chula Vista, California auto donation program. Your automobile's condition doesn't matter as well. Even if it has not run for years, we would still gladly accept it as your donation.
The only vehicles we cannot process are those that have been abandoned and without titles or ownership. We cannot sell vehicles without titles. However, if you can't find the title to the vehicle you're donating, don't worry. We can help you find a replacement title.
We also cannot accept severely damaged vehicles whose value is less than the cost of towing them. Here is a partial list of the vehicle types we accept for donation:
Cars

Vans or minivans

Trucks

Motorcycles

RVs

Toy haulers

Snowmobiles

Golf carts

Farm equipment

Boats

Jet skis

Yachts

Non-commercial airplanes
Donate To Us Now!
Your Chula Vista, California car donations for cancer will certainly give new hope to breast cancer patients in your city, strengthening their resolve to fight and survive the disease. Contact us at 866-540-5069 and start your donation process now! We serve the entire San Diego area, including nearby neighborhoods such as Autumn Hills, Bella Lago, Castle Park, Del Mar Ave, Eucalyptus, Falcon Valley, Guava Ave, Hillsborough, Indigo, Lake Pointe, Mariposa Circle, Ocean Crest North, Palm City, Rogers Park, Summer Hill, Terra Nova, Vista Del Mar and Wueste Road.
or Call Us Now at 866-540-5069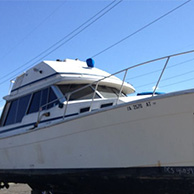 Excellent customer service!