North Carolina Boat Donations
Donate Your Vehicle and Save Lives!
North Carolina Boat Donations: Turn Your Watercraft Into a Weapon to Fight Breast Cancer
When you contribute to our North Carolina boat donations program, you'll be playing a key role in saving the lives of women who are currently grappling with breast cancer. We at Breast Cancer Car Donations will convert that old boat of yours into a weapon to fight the deadly disease.
Breast cancer has claimed countless lives in our country and elsewhere. Despite the reported decrease in the number of cases and death rates as a result of improved treatment methods, the number of lives being lost to the disease is still alarmingly high. Many patients and their families need help, particularly those who are short of financial resources.
Fortunately, there are many good people around who are willing to extend their helping hands to these breast cancer victims. Some of them donate money to charity, while others hold fundraising events. Some choose to work with us by donating vehicles. Hopefully, you could be one of them by donating your old and unwanted boat to our North Carolina boat donations program.
We at Breast Cancer Car Donations support breast cancer patients through vehicle donations. We will use the proceeds from the sale of your donated boat to fund vital breast health services for all individuals who need them, particularly those who cannot afford to pay for such services. The services are delivered by our nonprofit partners—the American Breast Cancer Foundation (ABCF) and Women Involved in Nurturing, Giving, Sharing, Inc. (WINGS).
Specifically, your boat donations will be used to:
Provide financial assistance to uninsured and underserved breast cancer patients, covering their surgery, oncology services, consultation, hospital fees and outpatient medication;
Raise public awareness on breast cancer prevention, diagnosis, and treatment;
Pursue research on prevention, screening, diagnosis, and treatment of breast cancer; and
Sponsor charity and outreach events for the benefit of breast cancer patients
Our Fast, Easy, and Rewarding Donation Process
If you plan to donate a boat in North Carolina, you might as well do it with us. Not only is our North Carolina boat donations process fast and convenient, you also get to receive substantial rewards, including a top tax deduction! All you have to do is contact us and let us know about your decision to donate. Once you do, you may leave the rest to us.
We don't like the idea of our donors having to go through a stressful experience, which is why we'll take care of everything—from the processing and delivery of your tax documents to the free towing of your boat.
Here's a quick guide on how to donate a boat to Breast Cancer Car Donations:
Call us at 866-540-5069 or else fill out our online donation form. Give us details about yourself and the boat you plan to donate, after which we'll arrange for a date and time to tow it away at your convenience.
A professional towing company affiliated with us will pick up and tow your boat on schedule. Please note that this is absolutely free of charge. You will receive a tow receipt during the pick-up. This will relieve you from any liabilities on the boat you're donating and give you the right to cancel its registration and insurance coverage and stop paying for them.
You get your tax-deductible receipt.
Once we have your boat, we auction it off. Within 30 days following the sale of your boat, we'll mail to you your 100-percent tax-deductible sales receipt. The amount indicated in the receipt will serve as the basis of your tax deduction claim when you file your itemized federal income tax return for the next tax-filing season.
That wraps up our donation process! If you have questions about it and other related matters, don't hesitate to call us at 866-540-5069. You may also want to visit our frequently asked questions page.
The Benefits You'll Get from Your Boat Donation
Donating to Breast Cancer Car Donations guarantees you huge tax deductions. That's just one of the many benefits you'll get when you choose to team up with us. By taking part in our North Carolina boat donations program, expect to receive these other rewards:
Enjoy a stress-free donation process.
Get rid of an unwanted watercraft without spending a single dime.
Avoid the headache of paperwork.
Freedom from paying for your boat's maintenance, storage, registration, and insurance.
Avoid wasting your time and effort in trying to sell your boat.
Best of all, you get to feel that priceless sense of happiness knowing that your boat donation will make a huge difference in the lives of breast cancer patients and their families.
Types of Watercraft and Other Vehicles We Accept for Donation
We accept nearly all types of watercraft, regardless of their age or working condition in our North Carolina boat donations program. We don't mind accepting a boat that doesn't run anymore as long as it still has value to it.
The watercraft we usually accept for donation include:
Yachts
Catamaran boats
Motorboats
Tugboats
Fishing boats
Sailboats
Pontoon boats
Houseboats
Jet skis
If you have motor vehicles you no longer want, consider donating them to Breast Cancer Car Donations as well. We accept nearly all kinds of motor vehicles, including cars, vans, SUVs, trucks, motorcycles, buses, pickups, RVs, ATVs, snowmobiles, motorized wheelchairs, riding lawn mowers, tractors, and farm equipment.
Feel free to talk to us if you're uncertain of your boat's eligibility for our donation program. We would love to hear from you. Contact us at 866-540-5069 and one of our friendly donation specialists will gladly help you out.
Make a Difference with Us Today!
A boat or jet ski you no longer need will finally find good use as it becomes an instrument in saving the lives of breast cancer sufferers. Let these people know that there's still hope. Call us now at 866-540-5069 and make your North Carolina boat donations!
or Call Us Now at 866-540-5069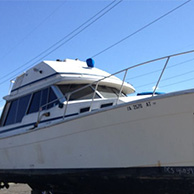 Excellent customer service!