Chris Craft Donations
Donate Your Vehicle and Save Lives!
Chris-Craft Donations: Support Fellow Americans Who Struggle with Breast Cancer
Would you like to get involved in the fight against breast cancer? Have you thought about extending a helping hand to individuals who have been suffering from this life-threatening disease?
If you own a Chris-Craft boat that you have outgrown and no longer intend to use, why not simply donate it to us at Breast Cancer Car Donations? When you do so, you'll provide life-saving assistance to needy breast cancer patients in your community.
For years now, we at Breast Cancer Car Donations have been auctioning off all sorts of donated watercraft and other vehicles in partnership with our IRS-certified 501(c)3 nonprofit partners for the benefit of breast cancer patients and their families. We use the proceeds from the sale of donated vehicles to help our charity partners in providing uninsured and underprivileged individuals with comprehensive breast health services.
Our Charity Partners and What They Do
When you participate in our Chris-Craft donations program, you will help fund our charity partners that are dedicated to saving the lives of breast cancer victims. These charities provide their beneficiaries with easy access to medical facilities where they can undergo full treatment. This includes surgery, chemotherapy, and radiation treatment.
They also provide breast cancer survivors with follow-up care such as laboratory work, annual mammograms, and physician visits five years after remission. Other beneficiaries receive free breast cancer screening and prevention and education services.
A Quick Guide to Our Chris-Craft Donation Process
Many people might not know this, but donating a Chris-Craft boat to us will only take a few minutes of your time. Check out this three-step guide to get a clear idea of how our donation process works:
Step 1: Reach out to us.
Fill out our online donation form or give us a call at our toll-free hotline 866-540-5069. Be ready to tell us a bit about your Chris-Craft and your personal contact information. After we're done verifying all the information you shared with us, we'll call you back to arrange a schedule for your boat's free pickup. Just tell us when you would like us to get your boat and where it is docked or stored.
Step 2: We collect your boat.
We'll assign a local towing company to collect your Chris-Craft boat. Before we take your vessel, we'll issue you a donation receipt, which will free you from all liability on your boat from that point forward. You can use this receipt to de-register your boat and cancel its insurance coverage.
Step 3: You receive your tax-deductible receipt.
We'll promptly auction off your Chris Craft donation. Within 30 days after it is sold, we'll send you by mail your 100-percent tax-deductible sales receipt. This receipt will indicate your boat's final selling price, which will serve as the basis of your tax deduction claim.
Since you're donating a luxurious boat known for its classic beauty, stunning woodwork and agile handling, your Chris-Craft donation will surely fetch a high price at the auction market, which will eventually translate to a hefty tax write-off for you!
To learn more about tax deductions, visit this page or talk to one of our tax experts at 866-540-5069 or send us a message online.
Perks You'll Definitely Love
It's no question that breast cancer patients in your area will greatly benefit from your donation. However, would you believe that you'd also be having your own set of rewards from your charitable deed?
When you take part in our Chris-Craft donations program, expect these awesome rewards to come your way:
You get rewarded with a top tax deduction.
You leave all the paperwork to us.
You pay nothing for our vessel removal service.
You'll be the one to pick your preferred time, date, and location for picking up your vessel.
You skip the hassles and costs of selling a used boat.
You stop paying for your boat's insurance, maintenance, and storage fees.
You experience a sense of fulfillment knowing that you can save lives with your Chris-Craft donation.
You Can Donate Other Boats and Vehicles
Chris-Craft is just one of the many types of watercraft and other vehicles that we welcome at Breast Cancer Car Donations. We also accept Boston Whalers. bowriders, center consoles, cuddy cabins, fishing boats, tugboats, speedboats, pontoon boats, yachts, cruise ships, and sailboats among many others. To find out the other types of vehicles that you can donate to us, browse through our Accepted Vehicles page.
Breast Cancer Car Donations is more than willing to accept all sorts of watercraft and motor vehicles – from the still shiny ones to those that have seen better days.
Also, don't hesitate to donate multiple vehicles to us. The more vehicles you donate, the more breast cancer patients we can help, and the more tax deductions you can claim!
Be a Bringer of Hope Today!
Now that you're fully aware of how impactful your Chris-Craft donation can be in the lives of breast cancer sufferers in your area, you'll hopefully be more willing to turn over your boat to us. Call us at 866-540-5069 or fill out our online donation form to bring hope to breast cancer victims with your boat donation now!
or Call Us Now at 866-540-5069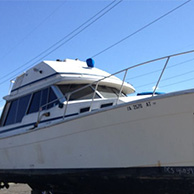 Excellent customer service!