Boston Whaler Donations
Donate Your Vehicle and Save Lives!
Boston Whaler Donations: Touch the Hearts of Breast Cancer Patients
Has your old Boston Whaler been giving you a lot of headaches with the soaring cost of its maintenance, storage, and insurance? Have you considered selling it but just don't have the time for it? Here's a much better solution: Donate it to us at Breast Cancer Car Donations!
When you do so, you'll rid yourself of an unwanted vessel with no hassle and no cost on your part. At the same time, you'll be doing it for the highly laudable purpose of saving the lives of struggling breast cancer patients in your community. You'd be in total amazement when you discover how powerful an instrument your old watercraft can be in the battle against breast cancer.
We'll have your Boston Whaler donation sold at an auction, with all the proceeds going to our IRS-certified 501(c)3 nonprofit partners that are at the forefront in the war against breast cancer. These nonprofits use the funds we provide them to help cover the cost of running their critical programs and services for the benefit of uninsured and underprivileged breast cancer patients throughout the country. These charities are dedicated to achieving the following objectives:
Provide needy individuals with free access to comprehensive breast health services and resources;
Deliver financial assistance to indigent or low-income breast cancer patients;
Fund ongoing research on breast cancer screening, detection, prevention, and treatment;
Educate the public about the importance of breast cancer awareness;
Empower breast cancer patients and their families through support programs; and
Hold fundraising events for the benefit of breast cancer patients and survivors.
Our Convenient and Hassle-Free Donation Process
Do you hate the thought of having to stay up all night to finish working on stacks of documents? We totally understand that, which is why we won't give you any paperwork-related tasks when you donate your boat to us! We got your back!
Here's a quick guide to our Boston Whaler donations process:
1. Reach out to us.
Once you're ready to turn over your Boston Whaler to us, call us at 866-540-5069 or fill out our online donation form. Tell us that you'd like to donate your boat to us. Give us a few basic details about your vessel, and let us know your preferred time and date for its pickup – and you're done! We'll take care of everything else from that point on!
Since we offer free vessel removal in all parts of the U.S., there's no need for you to go through the trouble of looking for an affordable towing company anymore. It will be our pleasure to haul your watercraft away anytime and anywhere you want us to.
2. We pick up your boat.
Before we collect your Boston Whaler donation, we'll issue you a towing receipt. This document gives you the right to cancel your boat's registration and insurance coverage and releases you from any liability on that boat from that point forward.
3. You receive your tax-deductible receipt.
We'll sell your Boston Whaler via auction. Within 30 days following the sale of your vessel, we'll mail to you your 100-percent tax-deductible sales receipt. The receipt will show you the final selling price of your Boston Whaler donation, which serves as the basis of your tax deduction claim when you file your itemized federal income tax return in the upcoming tax-filing season.
For inquiries, feel free to check out our FAQs page. You may also talk to us directly by calling 866-540-5069 or send us a message online. We'll get back to you as soon as we can.
Plenty of Benefits Awaits You!
A top tax deduction isn't the only reward you'll get when you participate in our Boston Whaler donations program. You'll be pretty surprised to learn that we have tons of other treats waiting for you. Find out some of them below!
Get rid of your unneeded vessel quickly and nearly effortlessly.
Count on our team of experts to manage everything for you while you simply wait for your tax-deductible receipt to arrive in your mailbox.
Free vessel removal at a time and place of your preference.
Just tell us where your Boston Whaler is docked, and we'll come and collect it at a time and date of your own choosing.
Skip the hassles of selling a pre-owned boat.
If you try to sell your boat yourself, it will take you months or even longer before you can find a good buyer. Do yourself a huge favor and avoid all the complicated steps and paying for the costs of advertising and refurbishing your Boston Whaler by simply donating it to us with just one phone call!
Once you hand over your vessel to us, you'll free yourself from all the money pains it's been giving you with the skyrocketing costs of its repairs, maintenance, insurance, and storage fees. Looks like you can finally save up for that dream vacation of yours!
Have you always wanted to play hero to people who desperately need help? Now you can do that with your Boston Whaler donation!
You Can Donate Other Boats and Vehicles
Breast Cancer Car Donations accepts other boat and vehicle donations. We welcome bowriders, center consoles, cuddy cabins, Chris-Craft boats, fishing boats, tugboats, speedboats, pontoon boats, yachts, cruise ships, catamaran boats, and sailboats among others. To find out the other types of vehicles that we gladly take from our donors, check out our Accepted Vehicles page.
In most cases, we accept even vehicles that need a lot of work. If you're not sure about your clunker being qualified for our donations program, please don't hesitate to reach out to us by calling 866-540-5069.
Spread the Love Today!
How about doing something that will surely gladden the hearts of breast cancer-afflicted individuals in your community? Participate in our Boston Whaler donations program by calling us at 866-540-5069 or filling out online donation form now!
or Call Us Now at 866-540-5069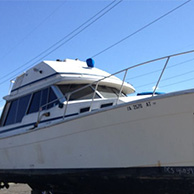 Excellent customer service!