Deck Boat Donations
Donate Your Vehicle and Save Lives!
Leave a Positive Impact in Your Community with a Deck Boat Donation
If your old deck boat no longer serves any purpose for you, what's the point of keeping it? You can easily give it a new and meaningful purpose. By donating it to us at Breast Cancer Car Donations, you'll be able to help breast cancer sufferers in your community overcome the struggles they're going through, making it possible for them to survive the devastating disease.
We have been working tirelessly for years to ensure that needy breast cancer patients throughout the United States are able to receive quality health care and medical assistance. We auction off all donated vehicles and vessels, including deck boats, and transfer all the generated proceeds to our nonprofit partners. In turn, these IRS-certified 501(c)3 nonprofit organizations use the money to deliver the following services to their beneficiaries:
Provide uninsured and underserved patients financial support for screening, diagnosis, and effective treatment;
Hold fundraising events for the benefit of breast cancer patients;
Fund ongoing breast cancer research;
Offer emotional support programs for patients and their families; and
Raise public awareness on the importance of early detection and screening.
The Perks You'll Get When You Donate
Besides saving the lives and restoring the health of breast cancer patients, seeing our generous donors with a huge smile on their faces is what we're here for. Your deck boat donation isn't just for the benefit of cancer-stricken individuals but for your own benefit as well.
By taking part in our deck boat donations program, expect these fantastic perks to head your way:
Get a hefty tax write-off.
Since all our nonprofit partners are IRS-certified 501(c)3 nonprofits, your donation to us is fully tax-deductible.
Avoid the headaches of paperwork.
From the processing of your documents to the delivery of your tax-deductible receipt, our professional team will handle everything for you.
Not only are we hauling off your deck boat for free wherever it is stored or moored in the country, but we're also allowing you to schedule your boat's pickup and towing at your own convenience.
Skip the complicated steps of selling a used boat yourself.
No need to waste your time, effort, and money running ads and entertaining potential buyers anymore.
With your deck boat no longer in your possession, you'll get to save a lot of money. No more costly insurance, storage, and maintenance fees to pay.
Team up with leading cancer-fighting organizations.
Working with us automatically makes you a partner of our reputable nonprofit partners.
Get a grand feeling like no other.
The thought of being able to save someone from breast cancer with a simple deck boat donation will surely lift up your spirits.
The Process of Donating
Making a deck boat donation to Breast Cancer Car Donations isn't as complicated as you might think. As a matter of fact, it will only take just two to three minutes of your time in the comforts of your own home. For supporting our cause, we'll repay you with a stress-free donation process, among many other benefits.
Here's a quick guide to our donation process:
1. Contact us.
The first and only thing you need to do is reach out to us. Either fill out our online donation form or give us a call at 866-540-5069. Be ready to provide us basic details about your deck boat, as well as your personal contact information.
2. We collect your boat.
After verifying the details you provided pertaining to your vessel, we'll call you back to schedule its free towing. Give us your preferred time, date, and place, and we will forward the information to a licensed towing company. The towing truck driver will hand you a towing receipt before he leaves with your deck boat.
Depending on your state's policy on title ownership transfer, we might collect your boat title, as well. If you want clarification on this, don't hesitate to ask us here. We can also help you obtain a duplicate title to your boat if you happen to have lost or misplaced yours.
3. You receive your tax-deductible receipt.
Within 30 days after your watercraft is sold, we'll send you your 100-percent tax-deductible sales receipt by mail. The document will reveal your deck boat's final selling price, which will serve as the basis of your tax deduction claim when you file your itemized federal income tax return. Learn more about tax deductions here.
Help Us Fight Breast Cancer Today!
Contributing to our deck boat donations program is one of the most effective ways of fighting breast cancer and supporting affected individuals in your area. If you're ready to turn your no-longer-needed boat into a weapon against breast cancer, get in touch with us today. Call 866-540-5069 or complete our online donation form now!
or Call Us Now at 866-540-5069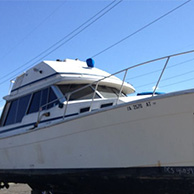 Excellent customer service!