Maryland Boat Donations
Donate Your Vehicle and Save Lives!
Maryland Boat Donations Can Save Lives!
If you have an unwanted, cruddy old boat that you want to get rid of, or if you have an extra vessel to spare that you'd want to give away, taking part in our Maryland boat donations program is the most practical solution for you. Aside from the fact that it's cost-free and convenient for you, you'll have the chance to help individuals who were diagnosed with breast cancer in Maryland!
Before you decide to sell that ancient pontoon boat of yours, hold your horses and hear what we have to say about Maryland boat donations.
All About Breast Cancer in the United States
A person is diagnosed with breast cancer when a malignant tumor is discovered in their breast tissues. If you know someone whose life was touched by this disease, then you probably have a pretty good idea about how devastating its effects could be on an individual's life. Without a doubt, one of the toughest things that could happen to anyone is to be told that they have breast cancer.
According to the National Breast Cancer Foundation, Inc., breast cancer is the most commonly diagnosed cancer type in women across the United States, affecting 12.4 percent of the female population. Furthermore, statistics show that a woman is diagnosed with this deadly disease every two minutes and another woman loses her life to it every 13 minutes.
How Breast Cancer Affects the People in Maryland
The Maryland Department of Health released a report in 2017 about breast cancer in the state, confirming an increase of incidence rates at the rate of 0.8 percent from 2010 to 2014. Such an increase in its incidence rate made breast cancer the second leading cause of cancer deaths in Maryland. According to the same report, the incidence rate among white females went up by 1.3 percent while it increased by 1.2 percent among black females during the same period. It doesn't take a rocket scientist to figure out that breast cancer isn't rare in Maryland.
What Maryland Boat Donations Can Do to Fight Breast Cancer
Although breast cancer may seem to be very intimidating, we can still look at it square in the eyes and fight it until it's completely eradicated from the face of the earth. We at Breast Cancer Car Donations commit ourselves to working with our IRS-certified 501(c)3 charity partners by operating our Maryland boat donations program on their behalf to generate funds for the provision of comprehensive breast health services within the Old Line State. Among the services that will be delivered to every individual regardless of race, ethnicity, age, gender, economic and sociocultural background are:
Free educational literature about breast cancer prevention;
Access to healthcare facilities;
Financial assistance for screening, diagnosis, and treatment;
Community advocacy programs that help newly diagnosed patients make informed decisions when it comes to choosing the right facilities and healthcare providers.
Knowing about these programs would make you think about how much of an impact all Maryland boat donations could potentially make to bring down breast cancer numbers within the area. You can make a difference today by donating your unwanted boat. Call 866-540-5069 today!
How Maryland Boat Donations Can Benefit You
You'll reap heaps of awesome rewards when you decide to go for Maryland boat donations! Check these out:
Quick and painless donation process!
With just one call and within a few minutes, you can help save thousands of lives in Maryland!
Fast and FREE towing services!
Just give us your preferred time and date for pickup, as well as your vessel's location. We'll send over a professional towing company to have your boat hauled away at no cost to you!
No more insurance liabilities!
The moment we get our hands on your boat, our insurance coverage automatically applies to it. This means that you'll no longer be liable for your vessel from the date of pickup. You can use the towing receipt that will be handed to you on the same day to cancel your insurance coverage.
We'll handle the paperwork!
We have an experienced team of title experts who'll readily take on the challenge of handling all necessary paperwork pertaining to your donation.
With your boat donated through our service, you won't need to burn cash on maintenance, storage, and repair! You'll save yourself all the trouble and all that money!
Breast Cancer Car Donations works with charities with a 501(c)3 IRS status. This means your donation would entitle you to a healthy tax write-off.
No need for you to go through the hassles of selling your own boat!
Running ads, dealing with brokers, haggling with potential buyers, and waiting for a good offer for an indefinite period of time – you don't really want to go through this, do you?
Donate Your Boat Today!
You can choose to take the easier route if you want to get your hands off your unwanted vessel. Contact us at 866-540-5069 or fill out our online donation form to get free towing services, maximized tax deductions, and other great rewards for your Maryland boat donations!
or Call Us Now at 866-540-5069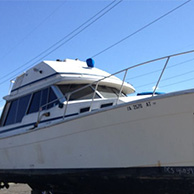 Excellent customer service!