Cuddy Cabin Donations
Donate Your Vehicle and Save Lives!
Cuddy Cabin Donations: Let Go of Your Old Boat for a Noble Cause
Has it been almost a year since you last used your cuddy cabin? Is the excitement of heading out to sea no longer there? Maybe you're thinking of getting your hands off it because of the high costs of its maintenance, insurance, and storage fees.
Here's an idea you might want to seriously consider: Donate it to us at Breast Cancer Car Donations. We transform any seacraft or other types of vehicles donated to us into powerful tools to fight breast cancer. We'll sell your cuddy cabin donation through auction and use the proceeds to help fund the critical programs of our IRS-certified 501(c)3 nonprofit partners. These charities use the funding they get from us to sustain their delivery of breast health services nationwide. Thanks to the support we get from our donors, our charity partners are able to continue providing the following services to various communities throughout the United States:
Connect breast cancer patients to local health facilities that provide free medical resources;
Grant financial aid for uninsured individuals to cover their expenses on treatment, surgery, hospital fees, oncology consultation, and medication;
Fund breast cancer research, particularly on prevention, screening, diagnosis, and treatment;
Provide counseling services for breast cancer patients and their families;
Hold fundraising events for the benefit of breast cancer patients.
Reasons for Choosing Us as Your Charity Partner
It's easy to see why participating in our cuddy cabin donations program is a wise move. Not only will you give yourself the chance to play the hero in your community, but you'll also be greeted by tons of amazing rewards. When you team up with us, get yourself ready to experience these feel-good perks:
Possibilities of a top tax deduction for you are huge.
Easily get rid of your unwanted boat without spending a dime.
We collect your cuddy cabin any day and any time you prefer and wherever it is located in the country.
No paperwork headaches. We do the work on your behalf.
Save time, effort, and money by skipping the complicated process in selling a used vessel.
Stop worrying about money matters once you stop paying for your boat's maintenance, repairs, storage, and insurance fees.
No need to deal with hagglers.
Get that feeling of satisfaction knowing that your cuddy cabin donation can save lives.
We Only Need a Couple of Minutes of Your Time!
While other donation platforms may be a bit too demanding on their prospective donors, we can definitely say that we're not like them. In fact, we'll go easy on you – really easy to the extent that you wouldn't find yourself breaking a single sweat. Just let us know that you want to donate your cuddy cabin and we'll take care of everything else!
To illustrate our fast and straightforward donation process, here's a quick guide to our cuddy cabin donation process:
1. Get in touch with us.
Contact us either by either calling us at 866-540-5069 or filling out our online donation form. Provide us basic details about the boat you're donating and your personal contact information. We'll call you back shortly to arrange the free towing of your cuddy cabin at a date and time of your choice and wherever your boat is docked or stored.
2. We collect your cuddy cabin.
We'll assign a professional towing company to haul off your cuddy cabin. We will issue you a donation receipt thereafter. You'll need this document to cancel your vessel's registration and insurance coverage.
3. You get your tax-deductible receipt.
We place your cuddy cabin donation up for auction. Within 30 days following the sale of your boat, you'll receive from us via mail your 100-percent tax-deductible sales receipt. You can use it to claim your tax deduction when you file your itemized federal income tax return in the upcoming tax season.
For further information, you can browse through our FAQs page. You may also talk to us at 866-540-5069 or send us a message online. We would love to hear from you.
Other Types of Watercraft and Vehicles We Accept
Do you have another rundown boat you'd like to dispose of? We'd be happy to have it as well. In fact, we're open to nearly all types of marine vessels and motor vehicles. We accept catamaran boats, deck boats, motorboats, yachts, sailboats, houseboats, cruise ships, ferries, trawlers, Boston Whalers. Chris-Craft boats, bowriders, center consoles, fishing boats, tugboats, speedboats, and pontoon boats among others.
To find out the other types of vehicles that you can donate to us, browse through our Accepted Vehicles page.
In most cases, we accept even damaged vessels or those that are no longer in good working condition. As long as we see that there's still some cash value in them, we'll give them a go right away.
Now's the Time to Get Involved!
An act as simple as making a cuddy cabin donation is all it takes to save lives. Use your boat to help breast cancer victims win their battle against the devastating disease! Call us at 866-540-5069 or fill out our secure online donation form now!
or Call Us Now at 866-540-5069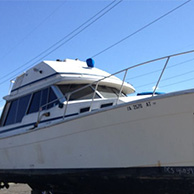 Excellent customer service!