Yacht Donations
Donate Your Vehicle and Save Lives!
Yacht Donations: Help Breast Cancer Victims Live Longer Lives
Before you decide to sell your old yacht whose maintenance alone is costing you a fortune, did you know that less than 5 percent of all yacht listings actually sell within two years? Think about the precious time, effort, and money you'd waste if you decide to do the selling of your marine vessel yourself. To attract prospective buyers to your yacht, you would have to spend a lot of precious money for its repairs and modifications because – let's face it – no one would take interest in buying an ancient boat that's too expensive to maintain and keep in storage.
The good news is that there's a much easier and faster way to get rid of your unwanted watercraft. Just contact us at Breast Cancer Car Donations and hand over your boat to one of our yacht donation programs! Not only will this save you time, money, and a tremendous amount of effort, but it will also give you a great opportunity to play a key role in saving the lives of breast cancer victims in your local area.
We sell donated vessels and vehicles through auction and use the generated funds to support our charity partners. These IRS-certified 501(c)3 nonprofit organizations have one primordial objective: to save the lives of as many breast cancer patients as possible throughout the United States.
They provide uninsured and underserved breast cancer patients with easy access to medical facilities where they can undergo full treatment. This includes surgery, chemotherapy, and radiation treatment. In the case of breast cancer survivors, they provide them with follow-up care such as laboratory work, annual mammograms, and physician visits five years after remission. Furthermore, they offer other beneficiaries with free breast cancer screening and prevention and education services.
Additionally, your yacht donation will help our charity partners in supporting breast cancer research facilities that are working toward finding a cure to breast cancer. When the time comes when the ultimate cure for breast cancer is discovered, you can proudly say that you've played a part in paving the way for such a monumental event.
The Types of Yachts, Other Vessels and Vehicles We Accept
You'd be pleased to know that we take almost all kinds of yachts, other marine vessels, and motor vehicles. Moreover, we don't mind accepting vessels and vehicles that are damaged and no longer working properly.
The common kinds of yacht donations we accept include:
Motor yachts

Express cruisers

Sports cruisers

Tri-deck yachts

Mega yachts

Convertible yachts

Sportfish yachts
In case you have other marine vessels and motor vehicles that you want to dispose of, feel free to donate them all to us. We accept trawlers, catamaran boats, deck boats, motorboats, sailboats, houseboats, cruise ships, ferries, personal watercraft such as jet skis, fishing boats, tugboats, speedboats, wakeboard boats, pleasure boats, and pontoon boats among many others.
A Quick Guide to Our Donation Process
Unlike other vehicle donation platforms in the country, Breast Cancer Car Donations has set up a process that's extremely quick and convenient for donors. Paperwork won't be a problem for you as we have our team of experts to take on that task. Actually, contacting us is the only thing you'll need to do – We'll handle the rest!
Here's our simple three-step guide to our yacht donations process:
1. Contact us.
Reach out to us by either calling us at 866-540-5069 or filling out our online donation form. We'll gather a few details about your yacht. After verifying the information you shared with us, we'll call you back to arrange the time, date, and place for picking up your boat at your own convenience. We can collect your yacht wherever it is located since we have vessel removal service in all 50 states. Moreover, we provide this service absolutely for free!
2. We pick up your yacht.
Before taking away your yacht, we'll hand you a donation receipt. This releases you from any liability on your donation from that point forward. You can use the receipt to cancel your yacht's registration and insurance coverage.
3. You receive your tax-deductible receipt.
We'll have your yacht sent to one of the best auction houses in our nationwide network. Within 30 days following its sale, we'll mail to you your 100-percent tax-deductible sales receipt. You'll need this receipt to claim your tax write-off when you file your itemized federal tax return in the next tax season.
For more information regarding our yacht donation services, head over to our FAQs page. Don't hesitate to give us a call at 866-540-5069 or send us a message online if you have any questions or concerns.
Tons of Perks Await You!
Our yacht donations program isn't just for the benefit of needy breast cancer patients in your community. It's also meant to bring joy to generous folks like you. By supporting our cause through your yacht donation, you'll get to receive the following rewards:
You'll be entitled to a top tax deduction.

You won't have to pay even a single dime for our pickup and towing service.

You won't need to get your vessel in tip-top shape before you donate it to us.

You'll skip the headaches of paperwork filing and processing.

You'll free yourself from the financial burden of maintaining an unwanted watercraft, saving you big bucks!

You'll spare yourself from the headaches and troubles of selling your yacht yourself.

You'll feel great knowing that your yacht donation will play a crucial role in saving the lives of breast cancer patients in your area.
Donate a Yacht Now!
Are you ready to let go of your unwanted yacht as much as we're ready to take it from you? Call us at 866-540-5069 or fill out our secure online donation form now! We can't wait to save lives with you!
Looking for more information about donating your yacht in a particular State? Click on one of them from the list below.
or Call Us Now at 866-540-5069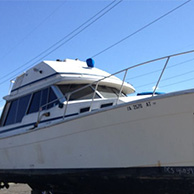 Excellent customer service!